The Outlook is the student newspaper of Monmouth University. It has been student-run since 1933. It is published weekly, with staff meetings held every Monday at 7:30 p.m. The Outlook covers all the news, sports, entertainment, and opinions on campus and in the area. The Outlook has received national awards from the Columbia Scholastic Press Association and the New Jersey Collegiate Press Association for news coverage and layout.
The Outlook is open to all students regardless of major or experience. The Outlook is always looking for writers, copy editors, photographers and graphic designers. Join the Outlook and improve your writing skills, and build a resume while meeting new people. Interested students can earn credit for specified assignments at The Outlook after completing one semester of service to the organization.
Interested in learning more about the practicum course contact The Outlook Advisor, John Morano. Phone: (732) 571-4424 or Email: morano@monmouth.edu
Check Out Our Brochure!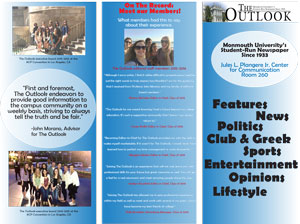 Join us please!
For more information please contact us at outlook@monmouth.edu
References:
http://www.columbia.edu/cu/cspa/
http://www.njcollegepress.org
http://www.studentpress.org/acp/
Learn more about The Outlook