University Goes on Health Alert to Take Precautions
---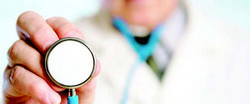 The University was warned of an outbreak of the Norovirus via an email early Thursday evening, urging students to take caution when navigating the campus.
At about 5:15 pm on Thursday, the email was sent out to the members of the University community, informing them of the recent widespread virus that has previously appeared at Rider University and Princeton University.
Although the virus typically only lasts 24 to 72 hours, the Norovirus proves itself a brutal and lingering annoyance to students and staff at the aforementioned universities.
According to the Center for Disease Control (CDC), one can remain ill for a couple of days with symptoms not limited to diarrhea, vomiting and dehydration. The virus also is highly contagious.
Being briefly described as "an intestinal virus that can cause stomach cramping," students are urged to take simple measures to protect themselves.
Precautions such as washing hands thoroughly, washing food before preparing it, not preparing food if infected, cleaning and disinfecting surfaces, not sharing towels, utensils, bottles, etc., and washing clothing and linens will assist in not spreading the virus.
In the email, Mary Anne Nagy, Vice President for Student and Community Services, informs students that the campus is sans virus for now. The University's Facilities Management staff is continuing to clean and sanitize, perhaps even on an elevated level. She also says that students are more than welcome to contact Health Services should they feel symptoms or need attention.
As for taking precautions, the situation is being closely monitored, according to Kathy Maloney, Director of Health Services. She said Health Services is prepared in the event of an outbreak, and that every February and March, "we do see some form of gastrointestinal illness (GI) hit the campus. Spring Break usually breaks the cycle. The last time a true norovirus hit the campus was Spring 2007."
According to Maloney, there have been no norovirus outbreaks on the University campus; however, there have been a handful of cases that resemble more of the seasonal GI virus that Health Services typically see this time of year. "That does not mean that it won't hit here. It just means that we have not seen a true norovirus outbreak yet. Facilities Management is wiping everything down with bleach based products and Aramark is prepared to stock in fluids f or oral hydration, if needed."
However, things seem more immediate to Megan McGivney, a senior at Rider University. Rider Alert, the University's Emergency System, notified students at 3:16 am last Thursday that approximately 40 people had thus far contracted the virus, and at 1:09 pm, they got a follow up email.
"Rider continues to receive reports on both campuses of students and some employees experiencing symptoms of a gastrointestinal ill ness, likely to be caused by a norovirus," said the email.
Kelly Sprouls, a first-year student at Rider University, had the virus herself. "I had it the past three days before the huge group got it," she said. "People have been going to the health center since Monday with symptoms and that's when mine started."
Sprouls added that for three days she felt so-so, but for two days, just as the virus insists, she had the chills alongside all of the additional symptoms.
"There are so many more students and teachers who have it now," she said "The dorms were quarantined last night and they ran out of ambulances so they had to use vans. Forty kids were rushed to the hospital last night and more were rushed just before."
The Princeton University campus also is on heightened alert. Entitling their statement about the virus, "Campus Hygiene Advisory," it encouraged students to have, "increased attentiveness to personal hygienic practices."
Although health alerts of a higher magnitude are being sent out at Rider and Princeton, Monmouth students are making attempts to do what they can to keep the virus away.
Alyssa Caporaso, a public relations major, said that she entertains the thought of the virus. "I am concerned that the norovirus will happen at Monmouth, but to prevent myself from getting it, I will take all the necessary precautions," she said.
Because the University is free from the virus right now, there is seemingly less to be worried about. Although this is true, students, faculty and anyone inhabiting the campus must be constantly aware of their surroundings. Being that the virus is contagious through common daily practices, it makes living and operating the University a lot harder.
As Nagy mentioned in the email, "Prevention is key!"
Maloney added, "The key things to keep in mind with regard to prevention is wash your hands. I just can't stress that one enough. However, the key point here is to wash hands before putting anything in your mouth and wash after using the bathroom facilities. This is how the virus is transmitted. The other key point is if you do experience symptoms, stay hydrated with clear liquids."