Surf Portion of Outdoors Club Gives Paddle Boarding Lessons in University Pool
---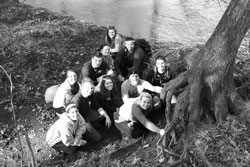 The surf portion of the Outdoors Club had their first gathering this past Sunday, February 12. Steve Steger, junior and surf chair of the Outdoors Club, gave paddle board lessons in the University pool.
The club reserved the pool in advance from 2:00 pm to 4:00 pm. Eight members came out in addition to Professor William Reynolds, advisor of the club. The club brought two of their own paddle boards and one hybrid kayak/paddle board which was supplied by Steve Steger.
Steger described paddle boarding as similar to surfing but with a larger board. Like surfing you stand and balance on the board, but unlike surfing you don't need a wave or even momentum to stand on the board. This made a still pool the ideal place to practice before jumping into the rough waters of the ocean. You use the paddle to sustain balance as well as to steer.
Kyle Reinhardt, senior and President of the Outdoors Club is happy with the club's absorption of the Surf Club and likes where Steger is going with it. "I think the paddle board lessons are a great way to start off the season," Reinhardt said. "I'm excited that people enjoyed it and I think it will increase interest in the club as well as give us an opportunity to expand our activities," he said.
Greg Cenicola, Secretary of the Outdoors Club, considered the paddle board lessons to be a great success. "More people showed interest than ultimately showed up," he explained, "But it allowed for us to help out with lessons more individually. Giving lessons in the pool is a great way for students to get down the fundamentals of paddle boarding on a calm surface."
About halfway through the day the club took a break to relax in the shallow end and hit a beach ball around. "It's all about having fun and making friends along the way," said Cenicola.
Steger said, "I was happy to have had the opportunity to give lessons at the University pool, and I am looking forward to doing it in the near future, I'm glad people were able to come out. This sport is growing in popularity and it's great to be able to introduce it to the University community."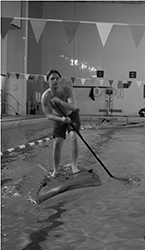 Reynolds stated, "I consider the event very much a success, because now when we do it again, these participants will bring their friends thus expanding interest in the club. Steger has brought a bright spotlight onto the Surf Club activities this semester. He has also been active in giving surf and ocean kayaking lessons in Long Branch, just minutes from campus."
Reynolds also explained how absorbing the Surf Club allows for more expenditures for the club's water activities. The club has asked for money for the 2012-2013 Outdoors Club's budget to buy two foam stand up paddle boards and they are planning a September surfing and camping trip to Montague, Long Island. "As the advisor to both clubs, I observed the Surf Club floundering and losing momentum but after giving them more structure as part of the outdoors club's e-board they are prospering, improving and gaining momentum. This is a win-win for both clubs and more importantly the students of the University."
PHOTOS COURTESY of Nick Hodgins