Hawks Win Back-to-Back Games on the Road
---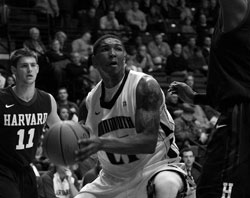 While students were away for Winter Break, the Men's basketball team had a couple of matchups with nationally recognized programs.
The Hawks traveled to North Carolina to face the sixth ranked Tar Heels on New Year's Day. Freshman Andrew Nicholas was up to the task, as he scored 22 points. Junior Jesse Steele also made an impact, scoring 17 points. MU lost to the Tar Heels 102-65, but not many teams are going to go into Chapel Hill and come away with a win. Head Coach King Rice and some of the other coaches are former players at North Carolina.
"That was a great trip. It was a great trip for our school, it was a great trip for our team to be able to play down in North Carolina," said Rice. "It was great for our staff, just to go back and be able to see all the people down there. Wish we could have won the game but our kids played really well."
Monmouth also hosted 25th ranked Harvard on January 10th. With just over six minutes remaining in the game, the Hawks were down 57-56. From here, Harvard took over and won 70-61. Steele led the way with 16 points, Marcus Ware was right behind him with 14.
"One of the hardest things for our guys to understand is that we work as hard as anybody, so we can beat any team in the country when we focus and do the things that we are supposed to do," said Rice. "I'm proud of our kids in the Harvard game. Harvard is a very, very good team. They play the right way. It was great for our kids to play well, but we want to get over the hump and beat those teams."
With 10 conference games remaining, and the Hawks sitting at 4-17 (2-6 in the Northeast Conference), Monmouth needs to improve.
"I want to see us get better every day, and I'm seeing that. We're competing more consistently," said Rice. "I'd like us to be able to play for 40 minutes every night and if we have to go to overtime, still continue to battle."
Thursday against Central Connecticut State, coach Rice's hopes came true. Not only did the Hawks fight for 40 minutes, they went into overtime and beat CCSU 58-56. Allowing only 56 points is one of Monmouth's best defensive efforts of the season. "I am so proud of our kids tonight," said Rice. "Their defensive effort was incredible."
Steele led the Hawks in scoring with 12 points. Dion Nesmith contributed 11 points, going three of five from three-point land. Steele also led the team with five assists.
This was coach Rice's first road NEC win with Monmouth.
Coach Rice picked up his second road NEC win Saturday when the Hawks traveled to Bryant. MU won 78-68 to improve to 6-17 (4-6) on the season.
"We were able to get two straight road wins, which is great. Bryant made a huge push to get the win, but we were able to make the plays down the stretch," said Rice. "I am proud of the way this team continues to improve."
Steele had one of his best games of the season, shooting seven of 17 from the field and scoring 22 points. Nesmith and Austin Tillotson each added 11. Steele led the team in assists with four, and Nesmith paced the Hawks with six rebounds.
Monmouth is tied for sixth in the NEC at the moment.
They look to continue their winning streak with home games this week against conference opponents Sacred Heart and Quinnipiac. Sacred Heart comes to town on Thursday February 3, and the Hawks welcome Quinnipiac on Saturday February 4. Both games are at 7:00 pm. Both of these teams are tied in NEC standings with Monmouth, sporting 4-6 conference records.
PHOTO COURTESY of MU Photography