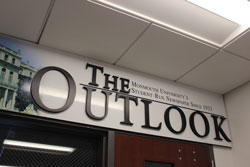 The Outdoors Club
Congratulations to the new Outdoor's Club Eboard! We are very excited to have some new faces joining us.
The 2011-2012 Eboard is: President Greg Cenicola, Vice President Steven Steger, Treasure Colleen Hayes, Secretary Carolyn Taylor and Inventory is Peter Chance. The ODC chairs are Mike Kulik as the surf chair, Stefania Tattoli as the Fundraising chair, Sarah Oseroff and Pat Layton are both the PR chair.
Congratulations once again.
There is no meeting this week but the ODC Facebook page is full of day trip ideas and events. Feel free to post any questions or suggestions regarding the club and any of the trips.
Economics and Finance Club
The Economics and Finance Club will be meeting every Wednesday at 2:30 pm in Bey Hall, room 231.
Students can check out our website for further information as well as our calendar of events at muefc.wordpress.com.
AXD
April is Autism aAwareness month and to kick it off Alpha Xi Delta is sponsoring a Light It Up Blue week the first week of April!
Monday, April 2 from 7:00 pm to 9:00 pm we will be having Puzzlepalooza on the residential QUAD!! We will be having a free puzzle piece competition (Please email s0753481@monmouth.edu if interested with yourself and your partner). There are tons of prizes for those who compete including tons of gift certificates. We will also be selling blue cotton candy for $1, bracelets, and we will be passing out blue glowsticks, ribbons, and information about Autism Speaks!
In the Student Center from Monday to Wednesday we will be selling bracelets, passing out ribbons, and information about Autism Speaks from 10:00 am to 4:00 pm.
Finally on Thursday we will be having a bake sale from 10:00 am to 4:00 pm.
CommWorks
CommWorks: Students Committed to Performance has a new weekly meeting time for Spring 2012!
Visit us on Thursdays 1:00 to 2:15 pm in Plangere room 235.