Theta Xi Holds Their Annual Miss Monmouth Beauty Pageant
---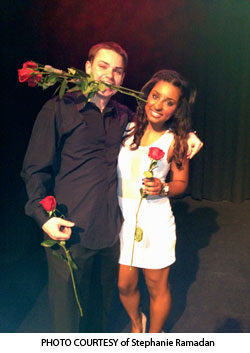 Theta Xi held a beauty pageant called Miss Monmouth on Wednesday, April 4. Tickets were five dollars in advance and seven dollars at the door. Through Miss Monmouth, Theta Xi raised $1,420 which went to their philanthropies, Habitat for Humanity and Multiple Sclerosis.
Joe Nardini, a sophomore and Business major, is the President of Theta Xi. "We have been hosting the event Miss Monmouth for the past couple of years. The fundraiser has been extremely successful and has enabled us to give back to our philanthropic organizations. We're really happy with the turnout this year and really appreciate everyone that came out to support us," said Nardini.
The event consisted of three rounds, casual wear, formal wear, and sportswear. Each contestant was asked three different questions. Some of the questions that were asked were, "What is beauty according to you?" "What makes up your world and why?" "Why do you want to be the winner of this pageant?" "What can women learn from men?" And lastly, "Describe yourself in two words."
There were 16 contestants in the pageant. The names of the contestants were Kimberly Kravitz, Ava Pignatello, Taylore Glynn, Taylor Dickson, Chelsea Addeo, Maria Marinaro, Elyssa Buccieri, MJ Robol, Annelise Delemarre, Lexie Arnold, Victoria Wagner, Jessica Trucillo, Ariana Tepedino, Jessica Sponaugle, Gina Gilanyi and Megan Fitzsimmons.
The judges were Bryan Duarte of Sigma Pi, Joe Dellera of Tau Kappa Epsilon, Nick Auriemma of Theta Xi, Usman Shah alum of Phi Sigma Kappa, Andrew Sutton of the football team, and Jon Guida of the baseball team. James Savage, senior and business finance major, was one of the hosts of Miss Monmouth. "We had a great group of girls who made the contest a close competition, but in the end everyone won because it was for a great cause," he said..
Savage's co-host was Kimberly Rookwood, alum of Theta Phi Alpha. The DJ for the night was Sean Johnstone, of Theta Xi.
Usman Shah, senior and Political Science major and one of the judges, had a tough time coming to his decision. "Overall, judging Miss Monmouth was a good time, there were a lot of beautiful women to choose from and all of the contestants did their best, which made it a difficult decision at the end," said Shah.
The first place prize, which was awarded to Taylore Glynn, freshman and English major, consisted of gift cards to Junior's of West End, Beach Bum Tanning, A.H. Fisher Diamonds, Jersey Mike's, Shore Cab, and Cupcake Magician. "It was an opportunity I never thought I'd get to have, so when I was asked to participate I couldn't turn it down, and it was for a great cause. I had so much fun with the other girls and the brothers, but winning was the icing on the cake. I felt really accomplished, and I'm so happy I was able to have this experience," said Glynn.
Second place, Taylor Dickson, junior and communication major, won gift cards to Stop & Shop, Jersey Mike's, Joe's Pizza, JR's West End, and Cupcake Magician. "It was a really fun experience, the girls were really cool. I was surprised because I didn't expect to place, so it was funny," said Dickson.
Third place prize winner, Chelsea Addeo, won gift cards to Joe's Pizza, Scala's, Shore Cab, Beach Bum Tanning, Jersey Mike's, and Cupcake Magician.
Miss Monmouth brought students from all organizations out to support Habitat for Humanity and Multiple Sclerosis. Miss Monmouth is sophomore Maria Iantosca's favorite event. "I love going to Miss Monmouth because it is always entertaining. I think it is one of the best fundraising events we have here at the University," said Iantosca.
PHOTO COURTESY of Stephanie Ramadan