Phi Sigma Sigma Hosted Their Annual Monmouth Idol
---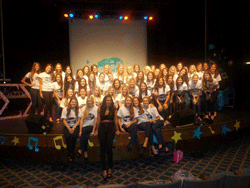 On Wednesday, October 3, the University's students, faculty and Greek organizations, gathered at 10:00 pm in Pollak Theatre for Phi Sigma Sigma's 7th annual Monmouth Idol.
The event raised money for their national philanthropy, The National Kidney Foundation, and was hosted by Stephanie Marte, sister of Phi Sigma Sigma, and Anthony Galbo, member of Sigma Pi. Judging the event and providing commentary on the performances was Victor Nazario from Theta Xi, Steven Casamento from Sigma Pi, Tierra Henry from Alpha Kappa Alpha, and Katie Jaffe from Alpha Sigma Tau. While some judges were hard to win over, others were more generous with praise towards the performers. The event also featured music from DJ Mike Gloria and prizes donated from Gianni's, Jr.'s West End, Perkins and Scala's.
The show included performances by Matt Avellino, Christian Anderson and Brenden Kane, Ray Bogan, Elyssa Bucceri, Alexa Burger, Alyssia "Chippy" Bifano and Jennifer Carter, Courtney Carr, Katie Cozzi, Kristi Hunt and Laura Garcia, Nina Mielcarz, Raquel Warehime, and Natalie Zeller.
Coming in third place and winning a gift card to Gianni's was Laura Garcia (Zeta Tau Alpha) and Kristi Hunt (Alpha Xi Delta) who sang "You Know I'm No Good" by Amy Winehouse. Winning second place and gift cards to Scala's and Jr.'s West End was Natalie Zeller, who sang "Titanium" by Sia. The first place winners of Phi Sigma Sigma's Monmouth Idol and gift cards to Perkin's and Scala's were awarded to Alyssia "Chippy" Bifano (Delta Phi Epsilon) and Jennifer Carter (Delta Phi Epsilon) who sang "Tattoo" by Jordin Sparks.
Other than the singing performances, anyone attending the event was also welcome to perform themselves. During the event's intermission, audience members were invited to come up and dance on stage. The DJ played fad dance songs such as "Teach Me How to Dougie" and "Crank That" to entice the audience to run up on stage and join in.
Students soon started a dance-off that the hosts determined would be judged by the audience's reactions. The contestants were narrowed down to a couple students who were told they had to give their best freestyle dance to win the small competition. After showing off their best dance moves on stage, the audience was told to cheer the loudest for their favorite dancer. Madison Pinto (Zeta Tau Alpha) was chosen as the winner after receiving the loudest audience reaction. She also received a gift card to Jr.'s West End along with balloons in Phi Sigma Sigma's colors, blue and gold.
Phi Sigma Sigma's Co-Fundraising Chairs helped organize Monmouth Idol and put the event together. Fundraising chair Katie Pope said, "It was me and my co-chair Maria Grace Lantosca who ran the event and I definitely would not have been able to do it without her." After the event, Pope said, "In my opinion it was amazing, everything went exactly as planned and all of our performers were extremely talented so it put on a really good show for everyone in the audience."
At the end of the night, Phi Sigma Sigma was able to raise over $1,000 to send to the National Kidney Foundation. All of the money received from ticket sales went straight to their philanthropy. Tickets were sold at the Student Center and the Dining Hall for five dollars the week before the event, and were sold for seven dollars at the door.
Money raised from the event went towards research conducted by the nonprofit health organization. On the National Kidney Foundation's website (http://www.kidney.org), their mission is stated as their dedication to "preventing kidney and urinary tract diseases, improving the health and well-being of individuals and families affected by kidney disease and increasing the availability of all organs for transplantation."
The National Kidney Foundation's goal for raising money is to improve the lives of those affected by or at risk of kidney disease. While putting on an entertaining singing event for their audience, Phi Sigma Sigma was also able to raise a lot of money towards a good cause. Summing up the night, Lantosca said, "The event went really well! All the performers had so much talent and the turnout was great also! It was a lot of fun and a great show!"
PHOTO COURTESY of Renee Oleniacz