University Welcomes New Daily Fitness Program
---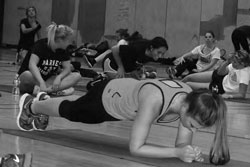 The new fitness program at the University began last week to kick students into shape this spring semester.
Classes are offered every weekday. There is currently no set schedule. Each week, students will be updated via email and can be followed @monmouthrec on Twitter.
"Make sure you have the right form," said Justine Racaza, University fitness instructor at the Core 4 Sure class. "In order to get the most out of the exercise you must position your body correctly."
The class is designed to benefit busy college students that need a quick workout before returning to schoolwork. The class is run by University students that are dealing with the same schedules, workload and stresses as us all.
Throughout the classes, the instructors choose exercises that are accessible for all students. "I like to give everyone time to do each exercise rather than give them a set number to do," said Racaza. "This way, they dictate their speed and the number of reps they want to or can do."
There are currently six different classes to choose from which are Boot Camp, Zumba, Balance and Burn, Core 4 Sure, Butt Blast, Biggest Loser, and Yoga. A majority of the classes are held in the Boylan South gym and a few are offered in the Multipurpose Activity Center. Locations may vary in the future.
The variety of classes allows students the opportunity to focus on the specific areas they wish to strengthen and tone.
"I run a lot of boot camps so I like to do circuits that have four stations: upper body, lower body, cardio, and abs," said Racaza. "Everyone splits up and spends one minute at each station until they get through all four."
The Biggest Loser class has a different approach than the other classes. "It should be called 'Healthiest Loser,'" said John Cascone, the Director of Intramurals and Recreation. "We are trying to welcome students that don't necessarily feel comfortable just coming to the gym to work out or maybe are intimidated by the fitness class setting."
The class, which is more of a meeting with the instructor rather than a full-on workout class, is held weekly for students to go over food logs, exercises and stresses as well as any other topic relatable to health and fitness. "It is a different approach to try and welcome more students into a healthier lifestyle," said Cascone.
Zumba uses dance moves to make working out enjoyable. "I enjoy doing Zumba because it's such a fun and easy way to work out without complication," said Rocio Serey, freshman psychology major. "As a dancer, I love being able to dance and work out at the same time, and the music in Zumba really pumps me up."
The Core 4 Sure class incorporates cardio and ab exercises to create a powerful workout. "One of the most efficient ways to hit your abs is intervals of cardio followed immediately by ab workouts," explained Racaza. "The cardio movements are chosen because they engage your abs and increase your heart rate to help you get better results."
"I liked the high intensity of the class," said Colleen Thomas, junior psychology major. "It was a workout I would not have done on my own so it was good that the class pushed me."
If your weakness is your legs or butt, the Butt Blast class can help. "Legs and butt work together!" said Racaza. "To make your butt look nice, you have to incorporate legs."
The idea for the fitness program came about early last year, when Cascone approached Racaza to ask her if she could become certified to teach classes. "It took the right student to get it started," said Cascone.
Cascone was able to receive funding through the Recreation Department to move forward with the program. Along the way, fitness instructor Britney Laureo took an interest and, based on her previous knowledge and certifications, she was welcomed as an instructor. "We are looking for some more students to get certified and diversify our staff even more," said Cascone.
"I think everyone is doing awesome so far!" said Racaza. "All you have to do is get to the classes and push yourself!"
PHOTO COURTESY of Angela Ciroalo