Viva Mexico: A Tale Of Three Cities
---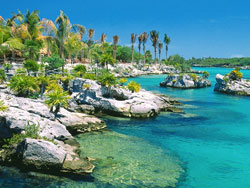 When college kids think of Spring Break, some think of adventures during the day and dancing at night.
According to U.S. News Travel's Best Spring Break Destinations, Mexico holds every aspect college students desire. Home of four out of the 11 Best Spring Break Destina­tions, Mexico is only a short flight away, has many all-inclusive hotels for decent prices and attracts many college kids. If you are looking to find both an affordable and relaxing vacation, the country will definitely please you.
One of the most common spring break destinations for college stu­dents nationwide is Cancún. Gain­ing much of its popularity from an MTV special, Cancún is well known for its partying and wild actions. With clubs that stay open until 6:00 in the morning such as CoCo Bongo and famous bars like Señor Frogs, this destination pro­vides many opportunities for a great night. Though Cancún gets a repu­tation for the ultimate party destina­tion, it has much more to offer.
Sophomore political science ma­jor Dominick Mascitelli shared his experience. "I went to Cancún a few years back. It was beautiful there, I want to go back."
Located on the Yucatan Penin­sula and in the Caribbean Sea, the beaches of Cancún are composed of soft, powdery sand and a clear aqua ocean. Cancún also holds historical value as you can tour ancient Mayan architectural sites like Chichen Itza and Tulum.
An hour south of Cancún lies the Riviera Maya. Nutrition Profes­sor Amanda Enright stayed there for seven days. "Riviera Maya has tons to do," she said. "I love outdoor activities, so I went snorkeling for a few days, did yoga on the beach, ATV riding, jet-skiing, horseback riding, and of course enjoyed time at the beach and pool."
Situated between Cancún and Riviera Maya are two popular parks, Xel-Ha and Xcaret. Both sat­urate visitors with marine life and offer packages for activities such as snorkeling and swimming with dol­phins or sting rays. Enright's hotel was connected to Xcaret where she went one day and saw many animals native to the environment.
Enright strongly recommends the area for anyone looking to visit Cancún. "Riviera Maya and any­where in the Cancun area is a great value," she said. "Just about every resort is all-inclusive, so not only are you paying for your hotel room, but your meals and access to most of the hotel's amenities are also includ­ed. This especially comes in handy when you are planning a trip with a large group of friends."
Also located on the Yucatan Pen­insula is Playa del Carmen, known for great water sports and shopping. "Playa del Carmen was definitely my favorite and next time I plan to stay there. It's just so convenient for more activities, shopping and res­taurants," Enright said.
Another vacation destination on Mexico's west coast is Cabo San Lucas. On the southernmost tip of Baja California, Cabo is bordered by the Pacific Ocean and the Sea of Cortez. The vacation spot is well known for charter fishing and golf.
The area is also notorious for snorkeling and scuba diving, some­times called "the aquarium of the world" with one of the largest reefs on earth. Junior communication major Nick Garcia went to Cabo last summer with his family. "I went jet skiing and swam with the dolphins," Garcia recalled. "We also went whale watching and saw two whales the size of a bus, and sea lions too."
Sophomore psychology major Raquel Warehime also traveled to Cabo. "I stayed a week in an all-ex­pense paid hotel," she said. "It was a lot of fun because each day in the hotel they had activities set up, such as games in the pool and open mic nights."
With all inclusive hotels that make it simple for college kids to deal with budgeting and places that offer anything from yoga on the beach to snorkeling, Mexico ap­pears ideal. After all, the country does not hold a spring break travel record for nothing. Choosing Mexi­co as your spring break destination is your best bet to save money and make memories.
IMAGE TAKEN FROM mexicotoday.org