Update on Progress of New Jersey in the Aftermath of Super Storm
---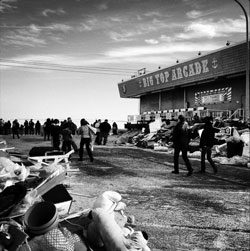 Hurricane Sandy was a super storm that swept the East Coast in late October, leaving many families devastated.
On October 29, 2012, the category 1 hurricane curved north and headed towards New Jersey, New York and Connecticut. Two hundred and eighty-five people were killed in seven countries due to the storms severity.
A majority of people found themselves without homes and possessions. For some, all that is left is the memories they can cling to. Reconstruction began as soon as possible for some people, while others are still waiting for their turn.
Those who were not affected too severely by the storm with power outages and no belongings damaged were able to return to their everyday lives. Madalyn Messina, junior, was able to move on fairly fast. "I lost power for a little over a week but that was the severity of my problems. I went to work every day to keep myself busy. I was lucky," Messina said.
On the opposite side of the spectrum, Judith Cumbia, a retired teacher, lost everything she had. Cumbia was a newly-retired high school teacher beginning to embark on the rest of her life. The storm crumbled her home from top to bottom, leaving her homeless.
"No money has been granted yet because it is unclear if I have to raise the house since the new flood maps have not been finished. I'm at a phenomenal level of frustration," Cumbia said.
Agencies are available and have made efforts to help people affected by the storm. According to the Federal Emergency Management Agency, so far $1.27 billion in assistance has been approved, 525,724 registrations were issued, and 4,004 FEMA personnel were deployed. As of late February, a total of 24 Disaster Recovery Centers have been set up; ten in New Jersey and 14 in New York.
Insurance companies are also assisting in giving money to those in need. However, some insurance companies are working slower than expected and giving families issues along the way.
Tori Rymer, junior, received damage to the entire first floor of her home. She has received no money towards any of the damages. "We paid out of pocket for all of our fixes. The only money we received was a tiny bit from insurance, which wasn't even accessible until we brought the bank receipts as proof of what we paid. They would not give us a cent more than the paper showed."
Rymer has almost finished reconstruction, but everyday needs are still a challenge. Rymer adds, "We haven't been able to cook for four months now since we do not have a single appliance."
People just want to be able to get back to their everyday lives and routines. On February 26, Governor Chris Christie announced that he proposed the establishment of a $40 million Sandy Contingency Fund for expenses not reimbursed by the federal government.
Businesses also took a big hit. Giuseppe Scotto di Rosano, owner of a restaurant in Laurence Harbor, did not lose his business but lost a great deal of revenue during the eight days they were closed. "We had to get rid of a couple thousand dollars' worth of meat and food. So on top of losing all the money from being closed, we lost even that much more from spoiled products," Scotto di Rosano said.
Workers have been out in the field since the day after the storm hit. Christopher Ventola, union worker, was first sent out to restore power lines as soon as Christie deemed it was safe to be out and working.
Ventola said, "It took a while for things to get done, longer then we hoped in some instances, but we are still working to this day restoring really damaged areas. Our job is not done until things are 100 percent back to normal."
For many people, getting their lives back to the way it was prior to Hurricane Sandy will eventually happen, but it is going to be a long journey. Many people are striving off good faith and hope. Cumbia said, "I have myself and good friends and family. With them, I can get through this."
PHOTO COURTESY of Jenna Intersimone