MU Community Volunteers in Helping Hurricane Sandy Victims in Union Beach
---
President Dr. Paul R. Brown volunteered for Habitat for Humanity International (HFHI) alongside former President Jimmy Carter, his wife, Rosalynn, some University students, and 650 other volunteers on Saturday, Oct. 12.
The Carter couple worked with HFHI for the 30th annual Jimmy and Rosalynn Carter Work Project in Union Beach, which took please between Thursday, Oct. 10 and Saturday, Oct. 12, to help renovate and rebuild homes that suffered destruction from Superstorm Sandy in 2012.
HFHI is an independent, nonprofit Christian housing ministry that builds houses for people in need, then sells the houses to homeowner partners through non-profit loans. Because homes are built primarily by volunteers, mortgage payments are reasonably lower than they would normally be, and there is also a zero percent interest rate. Habitat homeowners must invest hundreds of hours in "sweat equity," or time spent building their own home.
Mr. Carter said, "One of the most difficult things in life is breaking down the barrier of folks who have everything and folks who don't have much. It's not an easy thing to do because we naturally associate with other folks like us [with the] same color skin, same schools, [and] same establishments. We can cross that divide… And that is the essence of Habitat."
President and Mrs. Carter committed to working with Habitat for Humanity International (HFHI) in 1984 and formed the Jimmy & Rosalynn Carter Work Project as an extension of their religious commitment. In the 30 years since, the Carter Work Project has become an internationally recognized event.
"Literally, the Carters put Habitat on the map. They got on that bus [in 1984] and came up to build in New York City," said Jonathan Reckford, Chief Executive Officer of HFHI.
The Carters have been building affordable houses with HFHI in the U.S. and 14 other countries including South Africa, South Korea, Hungary, and Mexico.
Brown said the Carters and their devotion to humanitarian efforts are inspiring. "It makes me think harder as to what I want to do for community service," he said.
Volunteers took a shuttle to the check-in site at approximately 6:15 am. About an hour later, volunteers scattered to various work sites and continued to work until 4:30 pm.
Located on Prospect Avenue, the house that Mr. Carter and Brown helped build was known by Habitat volunteers as House 15. For Elmer Lamberson, House 15 was the home he grew up in, the house he raised his family in, and the site of where he stood for over 3 hours holding the door to prevent Superstorm Sandy's flood waters from invading his home.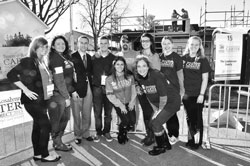 "I lived here my whole life. I wasn't afraid of water, but now I am," said Lamberson, who has been actively building his new house with the help of HFHI for about a month.
Lamberson did not leave his house as Sandy swept the coast of the Jersey Shore. He was eventually evacuated from his home to Fort Monmouth, and his house was completely knocked down.
According to HFHI of Monmouth County Board President, Nancy Doran, 80 percent of the service area in Union Beach was affected by Superstorm Sandy with over $75 billion dollars in damages, making it the second most costly hurricane in United States history after Hurricane Katrina in 2005.
"If I didn't do [HFHI] I would still be sitting in Fort Monmouth… The government didn't do enough. They gave too much money to the boardwalk instead of the people."
Lamberson could not obtain a $150,000 grant from the Federal Emergency Management Agency to help rebuild his home because his name was misspelled on the application – a mistake he blames on the government.
Lamberson now has a 30 year mortgage with payments of $200 a year. His new house is elevated 14 feet off of the ground as required by the state.
Mr. Carter, on the other hand, did not have negative thoughts about Governor Chris Christie and his recovery efforts. "I was filled with admiration for what he did," he said. "I think he's been a very effective governor, both taking care of New Jersey's deficit and helping the people injured after the storm."
Lamberson thanks HFHI for allowing him to live a "normal" life once again. "It will be nice to see all of the other people around here be normal again, too," he added.
According to HabitatNEMC.org, a selection committee chooses the homeowners based on their need and ability to repay the loan as well as on their willingness to work on their own home. A typical applicant earns between $35,000 and $72,000 annually and is provided a partner to make the transition to homeowner easier.
"Habitat provides these partner families with a hand-up, not a hand out so they can become homeowners not through charity, but through hard work," as stated by HabitatNEMC.org.
Only two families are currently living on Prospect Avenue next to Lamberson. A majority of the other houses on the street are either still vacant, in need of repair, or are up for sale. Jessica Walling, neighbor of Lamberson, said, "It is very good that HFHI is helping our neighbors… I appreciate it. It will nice to finally have neighbors."
Brown was saddened that the devastation of Sandy is still apparent almost a year later, but excited for the opportunity to make a difference and help out the local communities. "[Being involved] is essential," he said. "Monmouth is a part of the community and the community is a part of Monmouth. So, we absolutely have to work together."
"I am so proud of the University's involvement with this project," added Brown. He noted that students and employees raised money for the project through Hawk TV's "Rock 'n Relief" concert, and Public Relations Student Society of America (PRSSA) students worked hard on marketing and fundraising for the project. "The campus community really came together to make this Habitat for Humanity event a huge success and help the Union Beach community."
Sheila McAllister, public relations professor, volunteered throughout the weekend alongside her student members of the University's chapter of PRSSA. "What a wonderful organization to work for," she said. McAllister assisted media-related aspects of the event, such as live-tweeting pictures with the hashtags #HabitatCWP and #Habitat. "Habitat volunteers are making a difference, a real difference."
The Jimmy & Rosalynn Carter Work Project seeks to quicken the pace of recovery and quicken this response by attracting new media attention. Jennifer Sneed, public relations coordinator for the HFHI Monmouth County 30th Annual Carter Work Project, said, "We hit volunteer capacity for the week with all the slots filling up. The outpouring of assistance from so many people was incredible."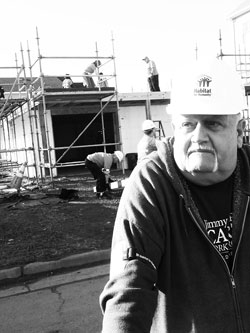 Sneed highlighted that though there has been much progress to rebuild after Superstorm Sandy, there is still so much more to do, and so many people still displaced who are in need of additional help.
"Working with Habitat along with former President Carter and President Brown is a great experience. Everyone makes me feel so welcome," said Sophia Nappi, senior public relations major and member of PRSSA e-board. "I truly feel what these families are feeling, and I am honored to be able to be a part of their recovery process."
Other work project sites of the 30th Annual Jimmy & Rosalynn Carter Work Project event included Habitat affiliates in Oakland and San Jose, California, Denver, Colorado, and New York City.
HFHI has built more than 500,000 homes, providing shelter to more than 2.5 million people around the world.
"Our nation is faced with a lot of crises in politics, in finance, in economics… but, America has a way of producing citizens who can repair any kind of damage and meet any kind of challenge and overcome any kind of obstacle and answer any kind of difficult question. And that is the beauty of Habitat," said Mr. Carter.
PHOTO TAKEN by Jim Reme
PHOTO COURTESY of Jim Reme
PHOTO COURTESY of Brianna McCabe