The University surpassed their record for most registered employers at the Fall Career Day on Nov. 21 in the Multipurpose Activity Center (MAC). The number of employers was up 47 percent compared to the Fall Career Day last year.
William Hill, Assistant Dean for Career Services, said the Fall Career Day last year received 67 employers and the Spring Career Day received 89. "Today I believe we're at 100 and that is great," said Hill.
A total number of 101 employers registered for the Fall Career Day and 99 attended, according to Jeffrey Mass, Career Counselor for Career Services.
In an email from Hill on Nov. 12, the number of employers was 83, on Nov. 14 the number reached 92 and continued to surpass an all-time high of 101 on Nov. 20.
More importantly, Hill said he was very happy about the variety of the employers that attended. "We have everything here from technology, to hospitality, to staffing agencies, to banks, part-time and full-time internships," said Hill.
Students also recognized the increased amount of different employers. "There were definitely a lot of options," said Lixanya Lucas, a senior finance major. "There [was] a good mix of companies so that a lot of people can get something they are looking for here."
Hill said the University hopes to reach a higher number of employers in the future. "I hope to see maybe 110 employers in the spring. You always want to do better," said Hill.
The purpose of a career fair event according to Mass is to provide students with an opportunity to connect with potential employees. "A career fair is a great chance to meet potential employers and to acquire more about career related options in your field of study," said Mass.
Career Services recruit employers for the career events using a number of options. "We have a database of employers that we use every year but we constantly add to that and we do that a couple of different ways," said Hill.
Mass also uses forms of social media such as LinkedIn to reach out to employers and share information about Career Day. LinkedIn is an important part of the job outreach, Mass explains "students and alumni need to start thinking about building a professional online presence."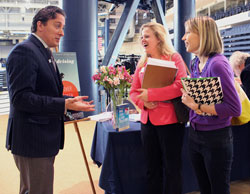 Career Services also offered free LinkedIn photos at the Career Day for the first time. "We had well over 125 students participate in this free service," said Mass. "Even some of the employers jumped in line in order to get their photo for their LinkedIn profile."
Lucas was one of the almost 500 students that attended the Fall Career Day in search of a full-time, part-time, internship opportunity or just exploring their options.
Previous to the Fall Career Day, Hill sent out a Huffington Post article that provided students with tips to prepare for the career day. Hill said success during a career fair is based on preparation, "don't just show up and walk around and go to tables," said Hill.
Career Services advises student to prepare for career fairs. Some examples that Hill mentioned were to research companies students were interested in, bringing plenty of resumes, preparing an elevator pitch when striking a conversation with employers and dressing professionally.
Lucas along with many other students, printed the list of companies attending, completed research on companies of interest, wrote out questions to ask and printed numerous resumes. Lucas spoke with three organizations which she is considering for a spring internship.
Many employees said they were impressed by University student's preparation at the Career Day. Kelly, sales representative for Red Bull, said, "We really have some good candidates from today …I was actually really impressed with [the student's] personalities."
Kelly said that the students seemed very professional and many demonstrated the skills that she was looking for in students to hire. "We are looking for people, people," said Kelly. She added that things she was not looking for were students that were hesitant and shy.
Employers continuously explained that the key trait they were looking for in students was confidence. Melissa Leitch, Product Specialist at Lotus 823 and University alumnus said, "We want individuals who are outgoing …We are looking for people that are personable and ready to be dynamic. You need to be able to motivate yourself to learn new things."
Being open-minded is another piece of advice that employers and teachers expressed. Sherry Wein, associate professor in communication said, "I've learned that students need to be flexible with their skill sets. If you go in thinking 'I am only going to look for communication jobs' you're limiting yourself."
Wein attended the Fall Career Day to ask employers questions about what they are looking for in potential candidates and to learn how job marketing is changing with technology. "The reason I love coming to this every time that they have is that it is good practice to talk to people and it is great to find information," said Wein.
"I ask the employers how important is LinkedIn? Do you put all of your positions just on LinkedIn? Some companies said that the higher positions are just for LinkedIn people. They don't even advertise them. So that's good to know."
Wein also asked if employers are still accepting resumes. She said many said they do at job fairs but many have databases for candidates to apply through or they receive applications through email.
A new addition to the Career Day this year was the career advising table. Michael Thomas, Dean of Humanities and Social Sciences talked to students and provided resources and information to guide students to discover the job that they want.
Thomas said that students quote often will get a job out of college right away without discovering what their passion in and they find out they don't like the job a few months later.
"If you don't know what you are passionate about find out what your passions are and that is what is going to guide you to your career," said Thomas.
Thomas said that as early as freshman year of college students should be asking themselves; what is my mission in life? What am I here to do? What kind of skills do I want to use? What kind of people do I want to work with?
"It's all about discovery and to find what you really love you have got to keep exploring and you have to keep asking yourself those hard questions," said Thomas.
"It's not just the job that you are finding, it's a career path and sometimes it's a little windy," Thomas added. Students often obsess over specific jobs that they must have, although Thomas explained, "The job that you might have 20 years from now isn't even invented yet."
PHOTO TAKEN by Tara Cirincione
PHOTO TAKEN by Angela Ciroalo