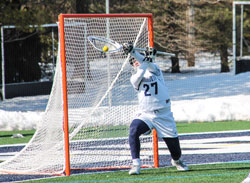 The Monmouth University lacrosse teams have no shortage of quality goalkeepers. With both the men's and women's programs in the early stage of their seasons, a common theme has emerged within the teams: goalkeeping prowess.
Senior goalkeeper, Garrett Conaway and sophomore goalkeeper, Nick Hreshko are battling it out on the men's side while senior goalkeeper, Katie Donohoe and junior goalkeeper, Caroline Huelster provide the competition on the women's side.
During their inaugural season last spring, the starting goalkeeper for the men's lacrosse team was in constant fluctuation. Although Hreshko started the most games, Conaway led the team in minutes played.
As preseason in 2015 began, the fight for the starting spot also commenced. After scrimmages against Holy Cross and Sacred Heart, the call was made. Conaway would get the start for the Hawks as they faced UMBC in West Long Branch for the season's opener.
"Even through the fall and into the preseason it was a very good competition between Nick and Garrett, and Grant Gillan as a freshman is very talented as well and played very well in the fall," said Head Coach Brian Fisher. "But Nick and Garrett were neck and neck for long stretches and Garrett just does some things a little bit better, in particular, saving the ball. But we are confident that we have two very good division one goalkeepers in our program and feel good about either of those two guys."
The Hawks would reluctantly fall to UMBC in a tight contest and a low scoring game, but Conaway would not disappoint. The Maryland native broke up countless scoring opportunities launched by the Retrievers and would ultimately record 10 saves for MU in defeat.
Following the home opener, the Hawks traveled to Piscataway for a match up with the Scarlet Knights of Rutgers on Saturday, Feb. 28. Not only would MU go on to record their first ever win as a program, but Conaway would also tie his career high with 14 saves earning him his first ever MAAC Defensive Player of the Week selection.
"I feel like my poles played very well, they gave me shots that I saw and I saved," said Conaway, a transfer from Howard Community College. "It's not just me out there; there's six other guys on the field."
MU currently sits at 2-1 on the season and fourth in the NCAA for scoring defense with only 16 goals against in three games; conceding 5.30 goals per game on average behind Maryland, Army and Yale, largely in part to the performances from Conaway.
On the women's side, Donohoe and Huelster have been in the cage for the Hawks this season. After consistently starting for the past three seasons, Donohoe came into her senior season as decorated as a goalkeeper could be. Donohoe was most notably named NEC Goalkeeper of the Year, All-Region and NEC Tournament MVP over the course of her tenure with the Hawks.
The starting role was Donohoe's going into the season, and the first two games of the Hawks newest campaign could not have gone better. MU had beaten Lafayette and Drexel with a combined score of 15-5. Conceding only five goals in two games put the Hawks atop the NCAA with the best scoring defense in the country culminating with a MAAC Defensive Player of the Week selection for Donohoe to add to her accolades.
"Everyone is working really hard, I'm really proud of everybody," said Donohoe, a former Canadian National team player. "It's not just the starters, the people coming off the bench too, everyone's just been solid."
In their third fixture of the season, the Hawks met with in state rival, Rutgers University on Wednesday, Feb. 25.
The first half came to a close with the Hawks behind 10-4 following an unconvincing performance from the MU defense. Donohoe would allow ten goals before the half and was subsequently pulled from the cage leaving Huelster to step in, and step in she did. Huelster would thwart the Scarlet Knights attack time and time again en route to a 13-12 double overtime win for the Hawks and only two second half scores for RU.
"We have two good goalkeepers," said Head Coach Denise Wescott, a former German National team coach. "Katie's an exceptional goalie, she's got great hands, she's quick, and she plays outside the crease to get possession for us but yesterday was a tough night and we just decided to try the other goalie. Caroline's got a little bit of a different style; Katie will go out for interceptions and Caroline will come out and mark if somebody's open and she just brought energy in. It's nice to have two goalkeepers we can count on; Caroline was ready to play mentally and that's sometimes tough when you're playing behind someone who's so good."
Following their contest with Rutgers, MU returned home for a match up against current NCAA leaders in scoring defense, Towson University. Towson would end the Hawks three game winning streak and hand MU their first loss; but Donohoe was back in net and finished the day with 11 saves for the Hawks securing her second MAAC Defensive Player of the Week selection.
MU is now 3-1 on the season and sixth in the NCAA for scoring defense averaging 5.25 goals against per game.
The women square off with the University of Delaware today at 3 pm on ESPN3 in West Long Branch.
Following their match up with Wagner, the men will travel to Philadelphia, PA on Saturday, March 7 to face Saint Joseph's University for a 3 pm game. The Hawks, who hosted Saint Joseph's nearly a year ago, fell 11-6 in their last encounter.
PHOTO COURTESY of Taylor Jackson