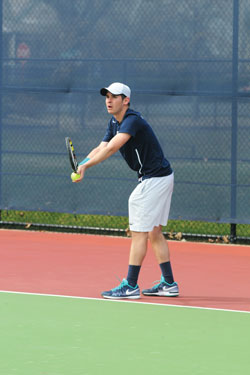 The MU men's tennis team opened MAAC Conference play with a win against the Niagra Purple Eagles on Saturday by a score of 6-1.
The victory for the Hawks comes after a challenging pre-conference schedule, competing with opponents such as Boston College and Yale University.
This season marks the first year in the MAAC Conference for Head Coach Kyle Bailey, coming to MU after coaching at the University of Maryland. He is impressed with what he has seen so far from the MAAC, and believes an early win is great for a team in such a competitive atmosphere.
"Niagara came out strong in the doubles, playing with good energy," said MU head coach Kyle Bailey. "It was good to see our guys step up to the challenge and hold their ground."
Freshman Nicola Pipoli, junior Christian Vieira and freshman Alberto Giuffrida each claimed wins at both singles and doubles as the Hawks improved their overall record to 4-7.
Pipoli paired with junior Przemyslaw Filipek at No. 2 doubles by a score of 6-2 to start the winning ways for the Hawks.
However, the Purple Eagles tied the score with junior Felipe Fuentes and junior Francis Nadeau's 6-4 victory over MU junior Vidit Vaghela and sophomore Ale Gomez Estrada at No. 1.
Vieira and Giuffrida's 7-5 win over sophomore Chris Grossi and senior Mark Mackowski at No. 3 clinched the doubles point for MU, but that was followed by a Filipek loss at No. 1 singles, giving MU two losses at the number one spots.
However, singles wins from Ale Gomez Estrada and Vaghela at Nos. 3 and 2, respectively, gave the Hawks a three-point lead, sitting them comfortably in front at 3-0.
Fuentes earned Niagara's only point of the afternoon with a 6-1, 6-0, win at No. 1, before Pipoli clinched the match with a 6-1, 6-1, victory over Smithyman.
Vieira and Giuffrida rounded out the match with wins at Nos. 5 and 6. Vieira defeated Grossi, 6-1, 6-1, while Giuffrida took a 6-2, 6-3, decision over Mackowski.
The Hawks return to action Thursday, when they play host to Maryland Eastern Shore. First serve is set to be hit at 3 p.m.
PHOTO COURTESY of Monmouth Atheletics