With hopes to feed the hungry and reduce campus food waste, the Food Recovery Network collects leftover food items and distributes them to those in need.
The Food Recovery Network is a non-profit organization that aims to decrease food waste on college campuses by collecting uneaten food from dining halls that would typically be discarded and donating it to nearby food pantries and soup kitchens.
Essentially, after the campus has finished serving food to students, members of the Food Recovery Network will work to package all of the leftover food that would otherwise be thrown away. Then, the food is brought to churches and kitchens that provide food for those in need. Therefore, less food is wasted and more people are fed.
Nationwide, the organization has almost 200 chapters and has successfully collected over one million pounds of food for donation since 2011. MU's chapter is now officially recognized by the organization and is only the second school in New Jersey to become an official chapter.
In 2011, University of Maryland students Ben Simon, Mia Zavalij and Cam Pascual, realized that quality food from their dining hall was being thrown in the trash. Taking action, the students organized the first chapter of the Food Recovery Network, and by the end of the school year, they had recovered 30,000 meals overall.
The organization has been featured on such prominent news outlets as ABC, MSNBC, VH1, and The Washington Post. By May 2011, the organization aims to recover a total of 1.2 million pounds of food for those in need.
"Our first recovery was on March 9, and it was absolutely amazing. It is one thing to think about food waste, but to actually see how much food would have been thrown away makes what we are doing so important. Since this recovery, we've already recovered 916 pounds of food (in just six recoveries) for donation," said Susan Pagano, a graduate public policy student. "We have been delivering the food to Reformation Lutheran Church Food Pantry in West Long Branch and Meal at Noon in Long Branch."
Pagano also pointed out that Gourmet Dining has been very helpful throughout the process. The entire staff, especially Chris Ryerson and Executive Chef Erik Weatherspool, has been helpful in aiding them to make their food donations.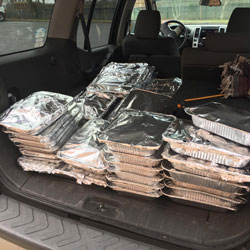 Teaming up with Gourmet Dining, Monmouth University hopes to reduce the rates of those left hungry in West Long Branch and surrounding areas.
Anyone is able to join the fight against food waste, as they can simply take part in the recoveries whenever able.
"The first event went extremely well. Although we had doubts and figured it would be a little chaotic, everything went very smoothly," said Diana Pralgo, an international business student and member of the University chapter of the Food Recovery Network. "Our first recovery we saved 72 pounds of food, which was roughly four weeks ago. Since then, we have recovered about 916 pounds, so we are closely approaching our 1,000 mark! Being a part of FRN means dedicating your time to this program. This means either coming at 9 p.m. to package the food either Wednesday or Friday nights or delivering the food to the food pantries Thursday or Saturday morning. The upcoming club brings students together who have the desire of helping people, which is a great thing to bond over."
"I have only been to a few recoveries so far, but they have all gone well. A lot of the success definitely has to do with how accommodating food services on campus has been. They lay out all the food that we can donate prior to our arrival so it makes it more time-efficient and organized," said Jenna Tornatore, a junior accounting student. "I like being a part of this organization because while you are scooping your fourth container of mashed potatoes you begin to realize that this all would have gone to waste if it was not for this Food Recovery Network. It means a lot to know that we are feeding those in need, while also helping Monmouth's food services diminish the waste produced."
If participation in the recovery is not possible, individuals can also donate 10 meals, which is a total of $10, through the official Food Recovery Network website. The organization also provides free, one-on-one coaching for college and university students to start and maintain food recovery programs on their campuses.
IMAGE TAKEN from https://www.facebook.com/FRNatMU
IMAGE TAKEN from https://www.facebook.com/FRNatMU