Some people are simply born to excel at something, whether it be in academics, politics, art, etc. For senior communication student and point guard Justin Robinson, basketball is what he was always destined to do. It's not easy to pinpoint the exact moment you figured out your passion, but Robinson knew when he was just a toddler.
"When I was about two years old, my mom put a blow up basketball in my crib and she said I would take it with me everywhere I went," Robinson recalled. "She said I would take it to the mall when my mom went to get her nails done, to my grandma's house, I always had the ball with me. So, I guess I naturally fell in love with basketball."
This toy led Robinson to an incredibly successful basketball career- one that he's worked diligently for his entire life. He is set to lead the men's basketball team to a victorious MAAC conference starting Nov. 11 against Drexel. For Robinson, this has been his plan since he was dribbling on the playground as a kid. He began playing basketball as soon as he could walk. "[My mom] would take me to the park and I'd run right to the basketball court," Robinson remembered.
Robinson's journey to becoming the unanimous pick for MAAC Preseason Player of the Year started in Long Island, where he was first noticed by former assistant coach Brian Reese. Two weeks later, King Rice, Men's Basketball Head Coach, noticed Robinson at a tournament in Philadelphia.
"[Rice] offered me to come down here for an official visit the week before my birthday, and I came down here and I loved it," Robinson said. "On my way home he offered me a scholarship. I said I'd think about it. Then, on my 18th birthday, I decided I was gonna come to Monmouth."
Rice has proven to be an influential coach to not only Robinson, but the whole team. Zac Tillman, a senior communication student and center on the team, said, "Coach Rice is a great role model and a standup guy to learn from and look up to. I'm really glad I came to New Jersey to play for him."
"Justin knows, for us to be the team we want to be, he needs to lead us," Rice told the Asbury Park Press. "Whether that means taking shots or getting people involved, he needs to be our leader. He is the main guy right now. We have some other guys that are main guys, too, but Justin has shown to be our main guy."
"He's like another father figure," Robinson explained of Rice. "His primary goal is to make sure he develops young men before he develops basketball players, because he knows at some point the ball's gonna stop bouncing, and he wants to make sure we're prepared to take on the real world."
It's amazing to look at the progress the team has made since Robinson was a freshman. The men's basketball team has grown tremendously over the past few years, creating a name for itself. "We won ten games my freshman year, then my sophomore year we won fifteen, and last year it was a school record with 28 wins," Robinson pointed out. "So each year we've gotten better and more people have been coming out to support us, so it means a lot to look up in the stands and see the people that are behind us."
Attendance boomed last year and a sense of school spirit and pride pulsed through the bleachers during every game. The hype over the Monmouth Bench earned Monmouth a social media presence and even more positive coverage. "Those guys have something special going," Robinson said. "They boosted us up on another level, because if we were having success on the court and we look over at them going crazy it would build our momentum, and just drive us more. It coincided with each other; we fed off of them and they fed off of us."
"I feel as though everyone is excited to see what Justin will do this year based upon his performance last year," Natorye Miller, a senior communication student, said. "And, I am excited to watch the team work together as whole this year because I believe they will do amazing this year and are going to bring home a championship because they have been working so hard."
A huge part of the team's success has to do with the fact that they are a close knit group of men. "It's absolutely a brotherhood, we are one big family. It's very rare if you see one of us by ourselves," Robinson pointed out. "That just trickles down from Coach Rice, because ever since we got on campus he's always made it imperative that we develop a brotherhood, because these will be our best friends for the rest of our lives."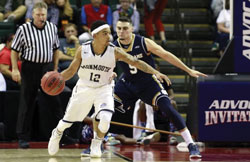 However, being a college athlete isn't just winning games and earning titles. Division 1 athletes undergo a lot of work behind the scenes. Between getting up to make a 6 a.m. practice, running to a morning class, heading to practice after, and then sleepwalking to night classes and study hall, it's a whirlwind. "It's doable, but it's definitely got its tough days," Robinson admitted. "You've gotta find time to do what's most important. A lot of people don't understand how much of a toll it really takes. You've got to go through it for a day to understand how taxing it really is."
When balancing basketball with everything else a college student endures gets to be overwhelming, Robinson knows he has some stellar people in his corner. When asked who has helped shape him into the person he is today, Robinson immediately answered with his mother and stepmother.
"My mother raised me for the beginning part of my life pretty much on her own. Then when I was 12, I moved in with my dad and he definitely played a pivotal role in my life. But, my stepmother, Virginia Robinson, definitely played a big, big role in who I am today." Robinson recalled.
Robinson continued, "If it wasn't for her I probably wouldn't have come to college. There were a lot of nights where I just didn't want to do homework, didn't want to study for tests, and she would sit down on the couch with me and make sure that I was doing my homework and studying for tests, no matter how frustrated I got […] she definitely kept me level-headed and made sure I did what I needed to do."
Because of the influential people in his life, his drive, and talent, Robinson is prepared for another incredible basketball season. While Robinson and the rest of the team look forward to earning many wins, a focus on brotherhood and comraderie is the top priority for the team.
"No matter what ups and downs we may endeavor, it's that we stay together through everything," Robinson said.
This is a tight-knit team, but at the end of the day, they are Monmouth students as well. "Get to know us too, off the court, because we're not just the basketball players, we're not just those snobby kids that everybody seems to think we are," Robinson explained. "We are very personable, we are very approachable and friendly, just come talk to us and get to know us."
For anyone not understanding the hype around Monmouth's basketball team, or any sports team for that matter, just know that it is more than a sport to these athletes. "Basketball is a gateway for me into the rest of the world," Robinson commented.
Kelly Valentine, Marketing and Promotions assistant for Athletics, urged students to come out and support the team at the upcoming games. She said, "Athletics is a huge part of the college experience, and you're fortunate enough to attend a school at the same time where the men's basketball team had a breakout success."
Valentine continued, "Now this year, with the loss of only one player, the same type of season is expected and who knows when that will ever happen again."
It's set to be a remarkable season for the team, and for the school. As the student body is anticipated to crowd the bleachers on Nov. 11 to watch Robinson shoot the ball for a perfect basket, keep in mind that this is the same person who was given a toy basketball at the age of two—and he is now leading his team to victory in his final collegiate year. Anything is possible, and for this team, it's looking good.
IMAGE COURTESY of Justin Robinson.
IMAGE COURTESY of Justin Robinson