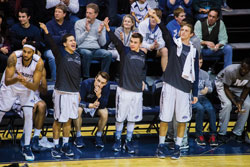 The increased popularity of the University Men's Basketball team resulted in a jump in ticket sales by nearly 52 percent last season, and a 15.2 percent increase in merchandise sales since this time last year.
"Last season was the first time since the OceanFirst Bank Center opened in 2009 that we have seen multiple sell-out crowds, and a fully packed student section for almost every game," said President Paul Brown, Ph.D. "A big part of the success of the team comes from a culture that values and nurtures students with the understanding that most of their maturation as young men happens off the court."
Kenneth Taylor, Associate Athletic Director, cites big wins against teams like UCLA, Georgetown, and Notre Dame as key turning points in the Men's Basketball team's popularity. A surge in game attendance was apparent by ticket sales which jumped last season by 1,860 more tickets sold per game.
This increase ranked tenth among D1 teams last season. More than 1,000 season tickets have been sold thus far, shattering records from recent years, according to an article by the Asbury Park Press (APP) released in October.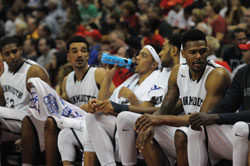 According to Jarred Wiess, the Assistant Athletics Business Manager, Men's Basketball ticket sales increased from $145,119.93 in the 2014-15 season, to $249,203.93 in the 2015-16 season.
"The success of our men's basketball team has been tremendous for the brand of Monmouth University," said Eddy Occhipinti, the Associate Athletics Director for Sponsorships and Broadcasting at Monmouth University. "The national exposure the team has helped generate for our great University is fantastic and will only continue to help show the country how special of a place Monmouth is."
"The recent success of our Basketball team captured the engagement of fans on social media…via free publicity, and creating substantial equity for the Monmouth brand," said Dr. Michael Chattalas, Specialist Professor of Marketing & International Business. "Such brand equity, coupled with the personality of a successful, creative and warm 'underdog' reinforces our competitive position as a relatively-intimate, experiential and transformative university, where big-league dreams can thrive."
Merchandise is another key part in bringing more revenue to the University. The increased flow of people to games means that more money is being spent in the University bookstore on athletic merchandise. According to the article by the APP, the bookstore experienced a high demand for merchandise last season. Staff found that shelves had to be restocked after each game as merchandise sold quickly before and after games.
Maria Sisom, the Merchandise Manager of the University Bookstore said that she cannot pin-point the exact cause of the 15.2 percent increase in profits made since this time last year. She said, "People are buying our merchandise. It might be because the economy is good, or it might be due to the excitement of the basketball team, but we are halfway through our fiscal year and we are making more than we did last year."
Merchandise sales are also stimulated by the bookstore capitalizing on the Monmouth Bench's popularity. When it first caught the attention of fans and TV cameras, Bench Mob-themed clothing and merchandise was introduced to the bookstore's stock, and added to the success of goods sold at the store said Sisom.
She said, "When we made t-shirts for the Bench-Mob students were buying them. Now I make t-shirts off of things that are said on Twitter, or other forms of social media like, 'Pack the MAAC,' or 'Fly Hawks,' and they keep selling."
Basketball players are proud of their ability to grow the Monmouth brand and bring in more cash to the University. "I think it is awesome that our team can help out the university by bringing in more revenue. Our success last year not only helped out our team, but it also helped out the university as a whole," said Collin Stewart, a guard for the men's basketball team, and a computer science student.
"Everyone loves to watch their team win so when we started winning big games like Notre Dame and UCLA, people started to notice…We want to do just as good if not better this year so hopefully we get the same kind of turn out," he added.
Last Friday the Hawks beat the Drexel Dragons 78-65 in their first game of the season, and many students and members of the University community showed their support for the team. "Watching the team on Friday was great. I know a lot of students get pumped up for the games," said Jeremy Waters a freshman business administration major. "We hope they keep up the good work and will be there next Tuesday to watch them beat Cornell."
PHOTO COURTESY of Chris Spiegel