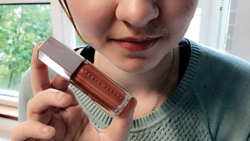 After about two years of development, teasing, and sneak peaks for Rihanna's newest project Fenty Beauty, the wait has finally come to an end. On September 8, the celebrity's beauty line finally became available at Sephora and fans absolutely lost it. This is quite different from work she has done for MAC in the past. Some may question why a successful singer like Rhianna would want to break into the world of beauty. John Inzero, a professor of communication, believes, "Many celebrities want to create a brand based on their lifestyles, giving fans a connection to their idols to be more like them."
Inzero used the example of Michael Jordan and the iconic "Be Like Mike" commercial for Gatorade to illustrate his claim. When we see celebrities endorse certain brands as well as brands of their own, we all get a little satisfaction knowing our favorite celebrities use the same brands we do.
Rihanna's weapon of choice for self-expression is makeup, and her Fenty Beauty line is a direct reflection of the artist's creativity and individuality. The collection consists of a total of eighty products including a KillaWatt/Match Stix shimmer Skinstick highlighter, primer, Match Stix conceal and contour, Invisimatte blotting powder, tools, a universal Gloss Bomb, and lastly the most talked about, forty different shades of foundation, Pro Filt'r.
The entire collection prides itself on being 100 percent cruelty- free. This selling point urges me to let Rihanna take all of my money, and I'm sure many fans would agree. The Pro Filt'r foundations, especially the darker shades sold out within the blink of an eye, being the biggest hit along with the KillaWatt highlighter. The line literally "throws shade" with its multiple foundation shades.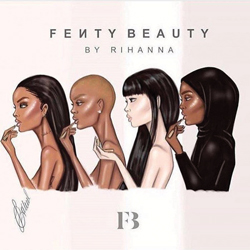 Over the past couple years, most makeup lines have left costumers unsatisfied with their limited foundation color options. Finding a shade that is close to one's skin color is an extremely difficult feat. But Rihanna's line has now made it easy for people to find a foundation that matches their skin color. Shevaitha Shyamalan, a sophomore biology student, is eager to find the perfect shade for her, "I've been hearing really great reviews. I just have to go to Sephora and find my skin tone before I buy it." It's always important to look into and figure out what type of skin you have, test it, and know what kind of look you want your foundation to give you.
The success of the Fenty Beauty line over the past two weeks, is an indicator that Rihanna did something right. When speaking about her beauty line the singer said, "Makeup is there for you to play. It's there for you to have fun with. It should never feel like pressure, and it should never feel like a uniform."
The line really focuses on diversity, and it is evident from the line's products that Rihanna worked hard to deliver that to consumers. The singer's line has definitely threatened the success of Kylie Jenner's Kylie Cosmetics. Two days after the release of Fenty Beauty, Kylie Cosmetics released a "Brown Sugar Matte" lipstick. After Kylie featured a black model for the first time sporting the brand's famous lipsticks, it seemed as if the reality TV star was attempting to follow in Rihanna's Fenty beauty line's nature of inclusivity. We also saw this with Marc Jacobs as well as Estee Lauder. Fenty Beauty absolutely blew up and women of all colors are satisfied to find a shade that is unique to them, it may even turn some Kylie fans away.
How you use the products is totally up to the buyer. Either you can go for a more natural, "no makeup" makeup look as well as a look for special occasions. Price wise, the Fenty line is a bit steep, but many believe it's worth it. If you want a quality product there is not much of a surprise when you see a slightly high price tag.
Matilda D'Orlando, a sophomore health studies student said, "Rihanna is known for her style and from what I see that's exhibited in her makeup line. I've been hearing a lot about it and really want to try the foundation. With all these shades, I know I won't have trouble finding the perfect one for me. If there was a dupe on the other hand, I would definitely buy."
If you don't want to break the bank on the Fenty line, no worries there are plenty of other products that act just the same known as dupes. Now, if you're asking yourself "What's a dupe?", a dupe is a term coined by makeup fanatics all over the world. It's a similarly colored shade, cheaper, permanently available, and sometimes even better than the original.
First, the Pro Filt'r foundation, Maybelline's Fit Me Dewy + Smooth comes in 16 different shades running from about six to eight dollars. Next, the Match Stix trio, the NYX Bright Idea Illuminating Stick comes in a wide range of colors for eight dollars at select stores, and five dollars online. Lastly, the KillaWatt Highlighters thought they come in multiple different colors, JD Glow Cosmetics sells 11 different highlighters online for $16.50. Since Trophy Wife has become the most popular, Egyptian(Revamped) is the closest dupe to it I have seen.
Sometimes you need to treat yourself, and the best way to do that is to purchase at least one Fenty Beauty product to test it out and find out what all the hype is about. Rihanna's passion for her line is inspiring and the work she dedicated to it is evident in the quality of her products. What the Fenty line stands for is best captured with Rihanna's following statement, "You want people to appreciate the product and not feel like, oh that's cute, but it only looks good on her." Find your perfect shade and feel comfortable in skin with Fenty Beauty.
PHOTO TAKEN by Amanda Gangidino
IMAGE TAKEN from Beauty Summary