Welcome Back from the President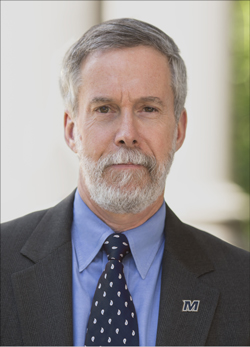 Fellow Hawks:
It gives me great pleasure to welcome to Monmouth our freshmen, transfer and new graduate students for the first time and to welcome back our returning students. It has never been a better time to be a Hawk.
One of our greatest strengths as a university are the close bonds we share as a supportive community. Every member of our dedicated faculty and staff is here to help you succeed. An important hallmark of a Monmouth education is that students get to know their academic advisors, professors, coaches, resident assistants, and even the president. Please take advantage of the opportunities that Monmouth provides.
Over the summer we made many campus improvements to prepare for the 2017-2018 academic year. The most visible projects are the Science Building, which will be completed by the end of the Fall semester, and the recent opening of Kessler Stadium, home base for our track & field, lacrosse, and football programs. Please come out to support the Hawks throughout the year—and more importantly, get involved yourself. Reach beyond your comfort zone by exploring clubs, organizations, internships, and volunteer opportunities. The more time you invest in your experience at Monmouth, both inside and outside of the classroom, the stronger your foundation for personal growth and postgraduate success will be.
We are a family, and families stick together. Please watch out for each other, keep each other safe and lend a helping hand or a friendly ear when it is needed. Do your part to make Monmouth a community where all are accepted and welcomed, no matter their background. Your University years should be a time for intellectual exploration, debate and reflection. Push your boundaries and those of others but do so respectfully.
One of my major goals is to be very visible on campus, whether it is attending student events, eating in the student dining hall or just being out and about. I believe it is important for you, the students, to see and interact with your President.
Whether you are joining our community for the first time, returning as an undergraduate, or enrolled in a graduate degree program, I hope you will stop me and introduce yourself. Nothing makes me happier than talking to you, the students. At Monmouth, students come first. We are at our best when we work together to support one another, and I hope you share my excitement for an outstanding academic year ahead.
Grey J. Dimenna, Esq.
President
---
Writing Services
Dear Students,
Welcome to the Fall 2017 semester! I wanted to take a moment to remind you of the academic resources that are available to all students through Writing Services.
Writing Services is located in the Center for Student Success (CSS) on the lower level of the Rebecca Stafford Student Center and is a free resource that provides individualized writing assistance to all students, regardless of discipline or academic level. Writing Assistants work with students during all stages of the writing process, from the initial drafting of the assignment through the final stages of editing and proofreading.
Writing Services' fall tutoring hours will begin on Monday, September 11th. Hours in the CSS location are Monday through Friday from 9:30am-5:00pm. We also offer evening hours in the Library (Room 104) Monday through Thursday from 5:15-9:00 pm.
Please schedule all appointments through Accudemia, our scheduling software, at http://accudemia.monmouth.edu. Instructions on how to make an appointment using Accudemia can be found on the following link on the Writing Services website: https://www.monmouth.edu/university/schedule-an-appointment.aspx. You can also make appointments by phone at (732) 571-7542 or by visiting Writing Services. Walk-in appointments are also welcomed based on Writing Assistant availability.
For quick assistance with grammar and punctuation skills, research strategies, documentation styles, and discipline-specific writing guidelines, you may also visit our website (www.monmouth.edu/writing) and click on our "Resources for Writers" library.
If you have any questions about our resources, please feel free to contact me. Remember: we are here to help you with your papers throughout your entire college journey. I wish you a successful fall semester and hope to see you soon!
Sincerely,
Neva Lozada
Director of Writing Services and Supplemental Instruction
---
Office of the Vice President for Administrative Services
We would like to welcome you back as we begin a new academic year. If you have any building maintenance or repair needs, The Department of Facilities Management is here to help the semester get off to a smooth start!
In order to assist you, please report your routine (non-emergency) maintenance or repair requests by completing an on-line Facilities Management Service Order form found at www.monmouth.edu/serviceorder. Be sure to include the building, room number, a clear description of the maintenance or repair need, and your name and telephone number in case we have a question about your request.
If you have an emergency maintenance issue, please report it ASAP by calling the Facilities Management office at ext. 3425 (Monday – Friday, 8:30 a.m. – 5:30 p.m.) or the University Police at ext. 4444 at all other times. We have mechanics on duty 24-hours each day from Monday – Friday. If you encounter a building problem after the conclusion of normal office hours, the University Police can dispatch a mechanic to help.
We wish you a successful academic year!
Patricia L. Swannack
Vice President for Administrative Services
---
Welcome Back from the Vice President for Student Services
Dear Students,
A warm welcome to the members of the Class of 2021 and our new transfer and graduate students. Welcome back also to all of our returning Monmouth students! I hope you had a great summer break and you are ready to return for a new academic year that I know will be exciting, academically challenging, and fun!
Throughout the summer, we have worked to plan for your arrival here on campus. The Science Building project continues to unfold and you will be blown away with the building upon its completion. Kessler Stadium is completed and we've played our first official competition there.
The facility has wonderful spaces to handle all of our Hawks fans and I hope to see you there throughout our athletic competition season. Your support for your peers as they compete is critical so come out for some fun times!
As always, I encourage you to get involved in the life of the campus through a club or organization, as a fraternity or sorority member, by participating in our arts programs. Whatever you do, find your niche, explore your passion, take advantage of the myriad of activities and events here on campus to round out your educational experience. I promise you, you will not regret doing so.
Finally, I would ask that you commit yourself to looking out for one another as you progress through this new year. We are a community, and members of a community take care of each other. Taking care of each other isn't just about keeping people safe though.
It means we truly care for and care about one another and our success as individuals and as a community. It means we are respectful of each other's divergent and similar points of view. It means we are civil and embracing. It means we are human.
Have a great semester and year!
Mary Anne Nagy
Vice President for Student Life and Leadership Engagement
---
Catholic Campus Ministry
Dear Students,
Here at Catholic Campus Ministry, we would like to welcome you back for the 2017-2018 school year! We pray that this will be a year filled with blessings for all of you.
If you would like to receive details about our events, please download our app by texting "App" to 88202 and searching for Monmouth. There you will find our complete calendar and will have access to wonderful Catholic content including videos, readings, prayers and, news!
Please do not hesitate to contact either myself or our Chaplain, Fr. Mark Nillo, if we can help you in any way! We are here for you.
God bless,
Cristina D'Averso-Collins
Campus Minister
---
Tutoring Services
Dear Students,
Welcome Back! Tutoring Services will resume all activity on Monday, September 11, 2017. Appointments can be made at Accudemia.monmouth.edu, by calling 732-263-5721, by completing a Tutor Request form at https://www.monmouth.edu/university/Request_a_Tutor.aspx, or come see us in the CSS, Student Center- Lower Level Room CS6. Walk-in/drop-in tutoring is also available in Mullaney Hall, Hesse Hall, and MU Library.
Please see website for details.
---
Office of Equity and Diversity
Students:
The Office of Equity and Diversity welcomes all new and returning students. Monmouth University provides equal opportunity to all students and employees.
Our office monitors the University's compliance with laws and regulations regarding Affirmative Action, Equal Opportunity, and Title IX of the Educational Amendments of 1972.
Students and employees have a right not to be discriminated against because of race, color, creed, ancestry, national origin, nationality, sex (including pregnancy and sexual harassment), affectional or sexual orientation, gender identity or expression, atypical hereditary cellular or blood trait, marital status, domestic partnership or civil union status, age, liability for military service, protected veteran status, or status as an individual with a mental or physical disability, genetic information or AIDS and HIV-related illnesses, and provides a work environment free of bias based on such categories.
Monmouth University has appointed Nina M. Anderson, Director of the Office of Equity and Diversity, as the ADA/504 and Title IX Coordinator.
Our website can be found at https://www.monmouth.edu/OED. A copy of the procedure for filing complaints of discrimination/sexual harassment can be obtained from our office or https://www.monmouth.edu/resources/HR/OED/harass.asp. Any member of the Monmouth University community may report incidents of discrimination/sexual harassment to the offices listed below.
Nina M. Anderson Wilson Hall
Director of the Of Room 304
Equity and Diversity (732 571-7577
Mrs. Patricia Swannack Facilities Management
Vice President for (732) 571-3546
Administrative Services
Mrs. Mary Anne Nagy Student Center
Vice President for Student Room 207
Life and Leadership Engagement (732) 571-3417
Dr. Laura J. Moriarty Wilson Hall
Provost/Vice President for Room 211
Academic Affairs (732) 571-3405
---
Student Employment Office
Hello Students! The Student Employment Office Welcomes You to Fall 2017!
Did you know that you can begin earning income while gaining valuable work experience here at Monmouth University?
Finding a Federal Work Study or Student Help job right here on-campus that is flexible with your class schedule is easy, just a few clicks away! Begin by setting up your profile at www.monmouth.edu/hawkcareerlink, upload or create a resumé using our resume creator tool and you are on your way!
Search and filter for jobs, create favorites, be alerted when a position becomes available, and simply click the apply button when you find something you like! JOBS CHANGE DAILY.
Interested in working for a meaningful non-profit organization off-campus? Filter your search to Federal Work Study Off Campus Jobs where many of our affiliates such as Monmouth Medical Center, Holiday Express, SPCA, local public schools and many more are looking to place Monmouth University students!
These Off-Campus jobs are flexible with student class schedules and provide valuable experience to our students, particularly students looking to pursue a career with the organization or similar field.
You may view several positions online at www.monmouth.edu/hawkcareerlink and filter your search by Federal Work Study Off Campus Jobs . For a complete list of organizations and to be alerted when an off-campus opportunity becomes available call 732-263-5381 to make an appointment. Off Campus agencies are transferring to the system.
* All student employees complete Ultipro, Emergency Response Training and Preventing Discrimination and Harassment Training.
All returning student employees need to reapply for their position by Friday, September 15th! (If MU departments would like to hire student employees is costs approximately $2.11 / hour!)
Smile, work hard, and all the best for a great semester,
Rose, Raul, Aimee & Angela
---
Monmouth University Police Department
On behalf of the University Police Department, I would like to welcome everyone back to campus for the 2017 Fall semester. Students are encouraged to familiarize themselves with all parking regulations as parking is strictly enforced on campus. Over the summer, there have been several changes made to parking on the north campus that you should be aware of.
Lot 4 is reserved for faculty, staff and employees who have a valid Lot 4 decal. After 5PM, non resident students with valid decals may park in Lot 4 from 5 PM until 6 AM.
Lot 20 is reserved for non resident students who have a valid decal from 8 AM until 6AM the following morning. Parking is prohibited in Lot 20 from 6AM-8AM.
Non resident students may also park on University Road and in Lot 2 "Library Patrons/Non Resident Students" assigned spaces. If these spots are filled, overflow parking is available in Lot 23.
If students have any questions concerning parking on campus they may contact the Police Department at 732-571-4444.
Thank you for your anticipated cooperation and have a safe and enjoyable semester.
---
Student Alumni Association
Welcome back, Monmouth Hawks!
The Student Alumni Association is ready to kick off another wonderful year. As always, we will continue to promote pride in our school, build student awareness of campus tradition, and strengthen the bond between past and current students. Be on the lookout for the number of networking events we have planned on campus!
We will also continue our initiative towards becoming a more philanthropic based group specifically through volunteering, fundraising and educating our peers on the importance of giving back.
Our monthly meetings are packed with brainstorming sessions, visits from successful alumni and delicious pizza! We are looking forward to enriching life in and around our university this year.
---
Colleges Against Cancer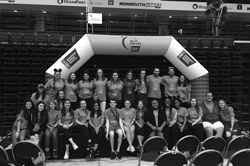 Dear Monmouth Hawks,
Welcome back! All of us here at Colleges Against Cancer of Monmouth University wish everyone a successful, fun, and memorable year!
Some comforting news for all new students and incoming freshman: there's a place at Monmouth for everyone. If you're looking to spend time with a group of caring, passionate people who want to make a difference, give Colleges Against Cancer a try!
We meet every Wednesday at 2:45 in Bey Hall 231, and are always looking for new members to help raise awareness and fight for a cure.
Throughout the year, we have numerous fundraising and awareness events plans, all culminating in the Relay for Life we host every year in the Spring. No matter what you do this year, we wish you the best of luck, and hope that you find your home at Monmouth!
Yours for the cure,
Bridget Nocera
Colleges Against Cancer Co-President
---
Counseling and Psychological Services
Dear Monmouth University Campus Community:
Welcome to the Fall 2017 Semester! Monmouth University is committed to the health and well-being of all students. As part of that commitment, we want you to know that Monmouth University has a wide range of mental health and suicide prevention support services available.
Free, confidential mental health counseling and crisis intervention services are available through Monmouth University's Counseling and Psychological Services (CPS) office. CPS is located on the 3rd floor of the Rebecca Stafford Student Center in Room 301. The office is open Monday – Friday, 8:45am – 5pm. Appointments can be made by walking into the office, calling 732-571-7517, or e-mailing mucounseling@monmouth.edu.
If you, or someone you know, is in a crisis situation and having thoughts of death, dying or suicide, emergency walk-in appointments are available at CPS during normal office hours.
The following additional resources are available to you 24 hours a day, 7 days a week.
· Monmouth University Police Department (MUPD)*:
732-571-4444
You can call MUPD in an emergency at the above number at any time and from any location, regardless if you are a residential or commuter student.
· Residential Life:
Contact your Resident Assistant or Area Coordinator.
If appropriate, Residential Life staff will work with other University units (i.e. CPS, MUPD).
*MUPD and Residential Life staff have access to CPS counselors who are available 24 hours a day, 7 days a week.*
· Local Police (Off-Campus): 911
· Monmouth Medical Center-Psychiatric Emergency Screening Service (PESS):
Call – 732-923-6999
Go to – 300 Second Avenue, Long Branch, NJ 07740
· National Suicide Prevention Lifeline:
Call – 1-800-273-TALK (8255)
Text – Text "START" to 741-741
More info: http://www.ulifeline.org/page/student/Home.html
· NJ HopeLine: 855-654-6735
Visit the CPS website at https://www.monmouth.edu/counseling/ for additional information about mental health services and resources.
You are not alone! All of us can play a role in supporting one another.
Remember, Monmouth Hawks fly together!
Best wishes for a successful semester.
---
Welcome Back from The Outlook
The Outlook would like to welcome back all Monmouth University students and faculty. The Outlook office is located on the second floor of the Jules L. Plangere Center for Communication.
We encourage students of all majors to stop by and see if you would like to write for the newspaper. We cannot stress enough how impressive it is to write for a well established newspaper such as The Outlook, which has been in production since 1933.
Editors will be in The Outlook all day Monday and Tuesday. Story deadlines are Saturday at 9 p.m. and require a minimum of two student sources and one faculty member.
If you have any more questions, feel free to email us at outlook@monmouth.edu or just stop by!