The University held its annual Open House in order to give prospective undergraduate students and their families the college experience on Sunday, Oct. 8.
The event, which ran from 9:30 a.m. to 1:30 p.m., gave these prospective students insight into the many different opportunities the University has to offer. Each department at the University was involved in welcoming these potential new students and answering any questions they, or their parents, might have had.
The day began with an opening reception at the OceanFirst Bank Center, where faculty and administrators were able to answer questions and provide advice to the potential new students. The Monmouth University alma mater was performed in front of the audience of attendees by the Sea Sharps, the student a cappella group on campus. Shortly after, University President Grey J. Dimenna, Esq. addressed the attendees with a warm welcome.
Laura Yankowski, an undergraduate admissions counselor, explained that while the numbers are not in yet, the University counted over 1,400 registered families before the actual day of the even. Yankowski believes that that number could be much higher. "We last counted around 1,400 families who signed up originally, so it is really important that we have the available resources for all of them," she said.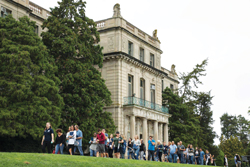 Yankowski believes that what makes open house such a great experience is the diversity of the places on campus these families can visit. "We have seniors in high school, and even freshmen and sophomores, so it's really important that they are able to see what interests them to help them choose what they want to do. We try to accommodate them in that way," she said.
Prospective students had the option to meet current students, tour the campus, speak with department faculty from a variety of disciplines, and learn about the clubs and organizations available to them.
Isabella Partazana, a sophomore tour ambassador and business administration student, expressed how much she loved seeing new faces, and said, "I think open house is a cool experience because it allows potential students to see how great Monmouth is. I hope they love it as much as I do."
One of the more unique facets of open house was the Academic Session option, according to Yankowski. During that time, the prospective students had the opportunity to visit an academic department that they wished to learn more about.
These students were able to attend as many departments as they wanted in order to get a better understanding of the programs, majors, and professor at the University.
The event also made it possible for these students to learn how to become more involved in the event they do choose to attend Monmouth.
Michael Qualiano, an undergraduate admissions counselor and Monmouth alumnus, was doing his best to make sure that these potential new students had access to every resource while there, including giving them access to another side of student life.
Quailiano worked primarily with all of the on-campus organizations who wished to be involved at the Open House. Nearly 45 organizations came together to educate prospective students on how to get involved, and the many tables set up in Woodrow Wilson Hall represented the variety of clubs one can join once they become a Hawk.
These organizations included academic/major base, club sports, cultural/multicultural, event planning, and governing, Greek life, publications and media, religious and faith-based, and special interest organizations.
Qualiano stressed the importance of having an open house event, "Open House is huge because it is crucial in terms of gearing up for our next freshman class. It is a fantastic opportunity to show prospective students what we have to offer and show off some of the great resources and facilities, and what we've been doing," he said.
Multiple organizations voiced their excitement on meeting potential students.
"I really like open house because I feel like it's the deciding factor on if incoming freshman commit," said Kristin Milligan, a marketing and graphic design student and member of Alpha Omicron Pi. "It shows all we have to offer and it's really great I get to share my organization with someone completely new and have them take interest in it," she said.
Other organizations also voiced their opinion on the importance of open house, especially for on-campus clubs.
"I think it is a great experience to see the school environment first-hand. These potential students might be our future club presidents, so it's really important to talk to them," said Summer Shaheed, a junior biology student and Commuter Student Mentor.
Overall, the event was a great success, according to the Office of Undergraduate Admissions, and the whole campus came together to help out and support these prospective students.
PHOTO COURTESY of Kris Woung-Fallon
PHOTO COURTESY of Anthony DePrim