I always talk about how the stars have to align for an athlete to become a professional; I've seen guys with more talent than I ever had never make it. Finding the right place to develop, avoiding injury, playing in front of the right coaches, picking the right agent, every little aspect matters. One thing goes wrong and it could all fall apart.
First Team-All Region, Goalkeeper of the Year, conference championships, a good enough resume to find an opportunity. I was going to get my shot, I thought. I had seen too many of my friends, with better resumes watch their professional aspirations crumble to not over analyze every step I took when it was my turn. This was something I wanted, something I'd dreamt about all my life. But there are some things you just can't control.
Aug. 26, 2016 at home against the 20th ranked team in the country, first game of the season. Up 1-0 with a little over thirty minutes to play, corner kick Denver. It was just another play, just another ball I had to deal with, nothing I hadn't seen before.
Everything had gone according to plan thus far. I made it to a division one program, I was playing, I was wearing the armband. This just wasn't supposed to happen.
I remember trying to push the bone back into place after it happened. "It's just dislocated, I just need to pop it back in," I thought. The game ended 1-1, I got on a golf cart with my athletic trainer once it had ended, and went straight to get an X-Ray.
"You have the most severe thumb fracture there is, you're going to miss most of your senior year." Words that would give me nightmares.
Fifty-six straight games and it was a thumb that was going to hold me back and jeopardize everything I'd ever wanted.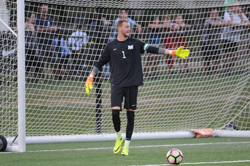 A month later with one win, four losses and a cast in hand, I couldn't watch anymore. Standing on the sidelines wasn't how I was going to go out. We cut my glove open, put my cast inside and taped my glove to my hand. Sept. 27, with a broken thumb, I was back on the field.
I'd love to say everything was back to normal, but playing with one hand, especially your non-dominant hand, certainly makes things complicated. This season was the hardest I had ever been through, both physically and mentally. We managed to scrap our way into the playoffs as the sixth seed, not ideal, but we were there. Away to Siena we went.
I remember thinking back to a phrase my high school coach used to repeat over and over to us. "Don't look back after this game thinking I should've done this, I would've done that, I could've done this." That was all I could hear in my head leading up to the game.
It was one of my better games. Would I like a play or two back? Sure, but I have no regrets. The game ended 0-0 and we went to penalty kicks. I could feel my heart beating out of my chest as the last kick was taken knowing that at this point, whether my college career continues or not was out of my control, it was an unsettling feeling. We missed. I looked up to the sky for a moment and then put my head to my chest as the tears ran down my face. My college career was over.
Did I do enough? Was this the last competitive game I'd ever play? Two regular season championships, one conference tournament win and a National Collegiate Athletic Association (NCAA) tournament appearance, that's my legacy.
From that last kick on, my life was filled with uncertainty. I've been playing this game since I was five years old and in a couple of months I would either make it and sign a contract or be completely lost and have no idea what to do with my life.
Then the emails started to come and my stress levels subsided a bit. My opportunity was coming. Invitations for about six different combines came. The most significant of the invitations came from a place every young soccer player dreams of, the English Premier League.
"We would like to invite you in for a trial at Everton Football Club." My first reaction, is this fake?
About a month after my college career had ended I was on my way to the next challenge. Leaving school was a risky decision but it was something I had to do. December 4th the journey began. From New Jersey to Canada for the Toronto FC Combine for four days, from Canada to Las Vegas for the Seattle Sounders, Columbus Crew and Orlando City Combine, from Las Vegas back to New Jersey and from New Jersey to Liverpool, England. I had flown more miles in two weeks than I had the entire past year.
When I landed in England, it was my first time outside of North America. There was a driver waiting for me sent by the club to take me to my hotel. After four days on trial Everton called my agent and said they want to keep me longer. A trial that was originally supposed to be from Dec. 15th to the 22nd was now prolonged for an undetermined amount of time. This was a good sign.
I had been training mostly with the reserves. The first team had a match against Liverpool on the 19th, known as the Merseyside Derby, one of the most historic rivalries in all of Europe. Maarten Stekelenburg, the starting goalkeeper, was injured during the game, which meant on Dec. 20 I was called up to fill in during first team training. Going out to training walking next to Gerard Deulofeu, currently of Barcelona, and Romelu Lukaku, currently of Manchester United, was probably the most star-struck I had ever been.
The level of play in training was ridiculous. You watch it on television, and you see the highlights and it looks great, but until you're in it and your head is spinning with how fast the ball is moving it is unimaginable how good these players are on the ball. The following day I was back in reserves training.
They gave us off for Christmas Day as well as the day after Christmas. Thankfully one of my former teammates at Monmouth, David Acuna Camacho, was studying for his master's degree at the University of Nottingham so we didn't have to spend Christmas alone. We took Dec. 26th to explore a bit of Liverpool. As we're walking on the side of the road, no one around, I get a call from my agent.
"You did it, Everton wants to sign you. We're in negotiations now." I dropped my phone.
I would've been thankful for a second division contract in the United States but somehow I was standing in a foreign, European city with one of the biggest clubs in the world offering me a contract. I was speechless.
I wish there was a fairytale ending to the Everton saga, but unfortunately, it all fell apart for lack of a better word. They needed to sign a goalkeeper in the Jan. transfer window and I wasn't going to be able to get working papers before the window closed, which sadly is an issue many Americans have when trying to play in Europe. The bigger issue, however was the time frame in which this all unraveled in.
The news that I was not going to be signed by Everton was relayed to me on January 3rd. With check in for the Major League Soccer (MLS) combine on the 5th and me without any flights arranged, I needed to get things done quickly. The only flight I could find going back to New Jersey at the time was in two hours with a 19 hour layover in Lisbon, Portugal. I booked it and spent the night in the airport, which funny, enough is not the most comfortable place to sleep. Exhausted would be an understatement.
I landed at the Philadelphia airport late on the 4th and got my first night's sleep at home in about a month. But my trip wasn't done yet. The next morning I was on the first flight to Los Angeles and was actually on time for the start of the MLS Combine. I may not have been completely awake, but I was punctual.
The next few days were very stressful. When you get to this point as a college senior and you're trying to find a professional contract, you're quite literally playing for your life, which makes every moment that much more significant.
I didn't play my best at the combine. I would definitely want to go back and do it over if I could, but I am thankful for the opportunity. Although I didn't play my best, I did play well enough to hear my name called on the 13th, thank God.
Draft day was the longest day of my life. The director from the MLS who organized the combine and the draft explained to all of us attending the draft the day before that they did not serve breakfast the morning of. I thought that was odd. He went on to explain how in years past, players would get so nervous that they would be throwing up before the draft started. I still don't know if he was joking or not, but I didn't eat breakfast just to make sure. I'm not sure that was my best decision considering I didn't hear my name called until about 3:00 that afternoon.
It was the most stressful day and also the happiest day. I remember being so anxious. I was projected to go somewhere late in the first round but that's not exactly what happened. I was so nervous; my suit was completely covered in sweat. Around the 32nd pick I got a tap on my shoulder. My agent was standing behind me.
"D.C. is taking you at 34," I felt immediate relief. I whispered the information to my mom sitting next to me who, relayed it to the rest of my family and friends who had made the trip to LA. One second you're worrying yourself to pieces, the next, and all your dreams are coming together.
"D.C. United selects, from Monmouth University, the goalkeeper, Eric Klenofsky," Words I will never forget.
You know, they say every athlete dies twice. The first being when they have to retire from their sport and the second being their actual expiration date. I am proud to say that for the time being, in regard to my professional career, I'm still breathing.
PHOTO COURTESY of Getty Images
PHOTO COURTESY of Monmouth Athletics