Monmouth students enrolled in the Peace Corps Prep program harvested apples with Farmers Against Hunger to donate to disadvantaged families in time for Thanksgiving on Sunday, Nov. 5.
The event was hosted at Eastmont Orchards in Colts Neck by Farmers Against Hunger. The goal of the event was to gather surplus crops and harvest them with the purpose of donating to families in need of nutritious foods. Farmers Against Hunger accepts volunteers from various organizations and schools, including the Returned Peace Corps Volunteers of New Jersey.
It was officially announced by Elyse Yerrapathruni, the Gleaning Coordinator of Farmers Against Hunger, that the event successfully collected over 6000 pounds of apples.
"For many people who suffer financially, healthy food and produce can be extremely difficult to come by," Yerrapathruni said. "Farmers Against Hunger provides tons of fresh produce to these families in need and thus provides nutrition and life."
"I think it is very important that we connect directly with our food supply," said Frank Cipriani, Director of the Peace Corps Prep Program. "The chain from farm to stomach is so long that we really should reconnect with what it takes to feed us, and to be aware of how our work can feed those who, for economic reasons, are disconnected with the chain."
According to the University's website, the Peace Corps Prep program at Monmouth University audits the courses students take to see if they qualify for the prep certification. After the auditing process the program director will assist students in charting their schedule to reach the qualifications of the certification. While being a member of this program students are connected with internships and opportunities that make them especially experienced in fields relevant to the Peace Corps service positions.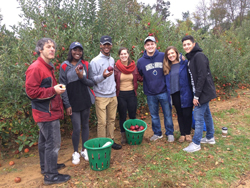 The Peace Corps is a United States federal government agency. This agency sends United States citizens to foreign countries for a two-year deployment period. While in service the members assist underdeveloped countries learn languages, and develop efficient systems in agriculture, sewage and plumbing, and economics. The Peace Corps website lists its mission to be "dedicated to building and sustaining relationships with global communities through the service of our dedicated Volunteers."
Cipriani organized this event for the students after receiving the monthly event listing from the Returned Peace Corps Volunteers of New Jersey. Cipriani notes that students showed interest for this event in particular.
"They showed wonderful energy and enthusiasm for the project," he said. "I was surprised how, on a wet, cool day how wonderful the energy could be. Our students also got to connect with returned Peace Corps volunteers."
"It rained a little while we were there and it was a little chilly," said Andie Malie, a sophomore economics, finance, and English student. "All in all it was a great experience that I thoroughly enjoyed. It was not a terribly taxing task. Even though there was bending down to pick the best apples possible and lifting buckets full of apples, we were only there for a few hours. It did not hurt us at all to take a few hours out of our day to do a little hard work. I really enjoyed following through with my commitment to help gather the food we did for families who need it, so even though it was tiring work it was well worth it."
Though the event was hosted by the Peace Corps Prep program, attendees included outside students with an interest in the Peace Corps Prep program. Janna Bogan, a senior nursing student, said, "I was astonished at the amount everyone had collected. I think it's very easy to forget how fortunate I am. I was filled with gratitude from this experience, knowing all these families would have food donated for them for the holidays. This experience definitely put things in perspective for me."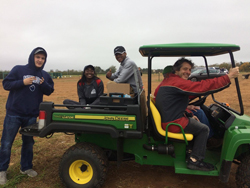 "I am so happy I am in a position where I can have the chance to help others," Bogan continued. "Picking these apples not only is a positive for the families, but it was also a positive experience for myself. My thoughts on the Peace Corps prep program is that it's an amazing program, and I am very happy to have been a part of this day."
PHOTOS TAKEN by Joy Morgan