As you grow up and the past starts to fade, your youthful days pass and the fun of high school dims. College shows up just in time for adulthood to start gnawing at you. Just like any other adolescent, this process is the same for an aspiring professional athlete.
If you've wanted to be a professional all your life then you've always been a dreamer. Playing our sport and dreaming of making it your job are synonymous but only a lucky few turn those dreams into something tangible.
For me, it happened.
Draft day was special, I think back to hearing my name being announced with goosebumps on my arms. You work your whole life for a chance to be a professional; one second you're an amateur with all the aspirations and the next you're a freshman in college again, but this time they refer to it as rookie year and classes don't exist.
Draft day only comes around once in a life time so when those words get spoken, and you hear your name called, stop scrolling on Instagram and pay attention. No one had to tell me twice, I had never been more anxious in my life.
"D.C. United selects, from Monmouth University, the goalkeeper, Eric Klenofsky." It's crazy how one sentence can change everything.
When you wake up the next morning and you start to figure out what those words actually mean, the anxiety really begins. After all, preseason was in ten days. Two things came to mind; I need to train, and I need to pack.
The fastest ten days of my life came and went. Jan. 23 had arrived and I was a young professional soccer player with the open road ahead; I made it, 22 years of dreams and work to get to this point.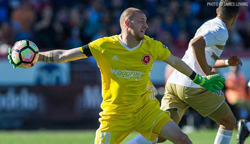 Going from a two and a half week preseason in college to a month and a half preseason in the pros was a grind by every definition of the word. This was a job now, and it was time to work.
As we went through preseason at IMG Academy in Bradenton, FL, lessons were learned, mistakes were made, and growth was happening. Obviously, everyone would love to walk into their first job after college and be the best at it from day one, but this was the pros now and it was always going to be a process.
I managed to get my feet wet in preseason friendlies against the Montreal Impact, the Philadelphia Union, the Jönköpings Södra IF and the U.S. U17 National Team. The season began and, like many other rookie goalkeepers, finding games to get experience was my next hurdle.
For me, that meant heading south to our United Soccer League affiliate, the Richmond Kickers, was a welcomed opportunity. Training went well and I was ready to make my regular season professional debut. On April 8, against the eventual champions of the league, Louisville City FC, we would fall 1-0. A penalty kick with nine minutes left was the difference maker but I was happy with my performance otherwise.
During the second half I started to feel my left knee tighten up, something I didn't think anything of. The next morning my knee was too swollen to play soccer with. I made my way back to D.C. to get my knee looked at.
Injuries, especially knee injuries are a part of the game that everyone wants to avoid. The fact is they are a very prevalent part of professional sports and sports in general. Unfortunately, I had torn my meniscus in my pro debut. Surgery would put me out until early July but it had to be done.
Rehab came and went and before I knew it I was back on the field. I'd love to say that my knee was as good as new but that just wasn't the case. I finished out the year relatively healthy from July to October.
Traveling to Seattle, Montreal, Dallas, Portland, Columbus and many other cities was a dream and at times it really felt like a movie; especially when your flight gets cancelled due to inclement weather and you're forced to take a private jet the morning of the match, but that only happened once.
I'd be lying if I said I wasn't star-struck sharing a field with Tim Howard, one of my childhood idols, and so many other high level players. I made the game day roster a handful of times but unfortunately I didn't crack the starting eleven this year; patience is something every young goalkeeper must have. As the year came to a close, it became very obvious that I needed another knee surgery.
I think back to an interview I watched of Tim Howard referencing his jump from the NY/NJ Metrostars to Manchester United years back. His message was clear: It doesn't matter who you are, whether you're the most established goalkeeper in the world or a rookie just breaking in, at some point you're going to face some sort of adversity. He spoke about the natural ebb and flow of a career, how every career has its peaks and its valleys.
For me, these two knee surgeries in my rookie year are part of the ebb and flow of my career. I am not the first professional athlete to go through this and I won't be the last. This process takes a whole lot of patience and a whole lot of trust. With my career on hold, rehabbing my knee and getting back to 100 percent is my job now.
Some people look at having two knee surgeries in one year or getting released as tragic events, I know, I've been getting texts about it for the last week or so; that's just not me though. I look at the situation I am in and I can't say that I feel stress or worry. More than anything, I feel thankful and blessed to be on this journey. When it comes down to it, it's about the journey; it's about enjoying life and enjoying the short time you have on this planet. Stressing just doesn't make sense; you don't have enough time to waste on it.
Being released and rehabbing for the first part of next season is a new challenge to fight through and it will bring a new opportunity. When you go through hardships in life you can look at them two ways, as an optimist or a pessimist, I encourage you all to be optimists. See the light in a dark situation. Sometimes the wrong things need to fall apart for the right things to come together, enjoy the journey and be thankful.
Six months of recovery time is just another obstacle and that is all it is, just another bump in the road a breath away from being in the rearview mirror.
PHOTO COURTESY of D.C. United
PHOTO COURTESY of James Loving