Studying abroad is an opportunity that some students agree can be life-changing. Students are able to live in another country and take courses at a foreign university. While grateful for the opportunity, some students and faculty believe that the University's study abroad programs should be improved.
Currently, the University offers four undergraduate programs for study abroad in Florence, Italy; London, England; Sydney, Australia; and Cadiz, Spain. Programs starting in the near future will also allow students to study in Buenos Aires, Argentina or Heidelberg, Germany.
According to Jon Stauff, Ph.D., Vice Provost for Global Education, 315 students participated in some form of education abroad, through either a semester or summer study abroad program, a faculty-led program, or a service trip last year. Approximately 100 students specifically studied abroad in the same time frame.
The Global Education Office (GEO) is responsible for these programs. According to their website, the GEO's mission is "to provide curricular and co-curricular opportunity for immersive and transformative experiences for faculty and students to promote interdisciplinary international education, a compassionate understanding of the world, and global engagement toward creating socially responsible citizenship."
While each of these programs are overseen by the GEO, each location is unique in a variety of areas, including living arrangements, University faculty involvement, language requirements, and general program preparation. Students are required to attend a number of pre-departure meetings prior to their time abroad.
Each program is partnered with a university abroad that hosts Monmouth students. Lorenzo de' Medici is responsible for Florence students, Regents University is responsible for London students, University of Cadiz is responsible for Cadiz students, and Macquarie University is responsible for Sydney students.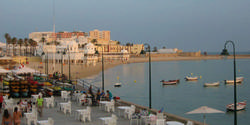 The differences in these programs have affected the experiences of some students, both positively and negatively. After hearing how some programs are run, those who studied in other locations believe that the site they experienced could be improved.
Faculty, as well as students, have voiced their concerns for the programs, including worries about pre-departure preparations, the living arrangements abroad, the academic rigor of the locations, the presence of University faculty, and the general safety of the program. Some have even offered alternatives and advice on what may help GEO better accommodate their students.
Pre-Departure Preparations
Meetings and Prior Information
While study abroad experiences varied, most students interviewed agreed that the preparation prior to leaving the country was what needed the most work in terms of improvement.
According to Stauff, the pre-departure arrangements were "just overhauled" during the fall 2017 semester.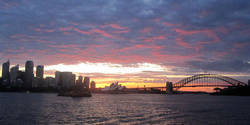 "We had a four-part pre-departure series of workshops prior to this year," he said. "Those four workshops were focused on things such as health and safety and site-specific orientations about Italy or England or Australia. They provided specific information about where [students] would be headed, information with parents at a parent workshop, and some group bonding so that the students would get to know each other a bit and have a peer mentor who had studied in that location before."
According to Stauff, who referred to the former pre-departure preparations as the "old way," the previous methods revolved around being prepared to be away from home and taking advantage of what the site had to offer, as well as informing students about "do's and don't's" for the location. Many of the sessions were panel-based discussions, which Stauff described as very hierarchal.
"I felt that this wasn't the way that our students were learning in the 21st century," Stauff said. "I felt it was very 20th century in its approach."
Students were also concerned about the previous system.
"The meetings were hyped up and not realistic," said Nicole Ingraffia, a senior communication student who studied in Sydney during the fall of 2016 and came home early because she felt the program had been misrepresented to her. "The student panel is helpful, but none of what they say about the program is negative. The student representatives reflect on their best memories to talk up the program."
Students also believed that the previous system did not help with group bonding or forming friendships before going abroad.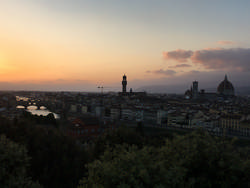 "Even though we had three meetings, I looked around the room and the faces were familiar, but I didn't know anybody," Ingraffia continued. "I spent the semester with them and really only had one person that I was close with. My other friend was left out the whole time."
The new methods will use two sessions instead of four. According to Stauff, one will be a workshop focused on cultural competence and learning how to evaluate one's own goals about going abroad, encouraging students to consider their personal and academic reasons for going abroad.
He said that the workshop also begins the process of students understanding that their goals will be achieved in a "very different cultural context," and that they will be leaving the University for an extended period of time. He felt that the session also covers the tools that will be provided to students by the University.
The second workshop focuses on information about the counseling center, Title IX, risk management, and how to use insurance while abroad.
"We were not sending [students] to a new place without people on the other side to greet them," Stauff said.
"That host institution has offices like mine and offices like Student Life and offices of Academic Affairs that they need to use, because those people on the other side are also going to have orientations," Stauff added. "They're also going to have information about what to do in London, what to do in Sydney, what not to do in Sydney. They might reinforce some of the things that we said, but it might be something new."
"Personally, I did not feel very prepared when we landed," said senior communication student Brianna McGuire, who studied abroad in London in the spring of 2017. "The arrangements made to get our group of students from the airport to Regents University were unclear and it made the arrival day more nerve wracking than it had to be."
Stauff said that he has also been working with staff and faculty at these institutions, helping ensure that when a Monmouth student goes abroad, they are well-received by the foreign institution and making sure that that institution can help students in the ways that Monmouth regularly would.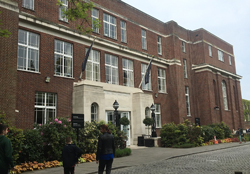 "Sometimes the study abroad experience can be so powerful for the student who is sort of looking to see where they fit in the wider world," Stauff said. "The pre-departure workshops that we have created makes the student aware of the tools she has in her toolbox to help her achieve those goals, and the people that can help her along the way."
The program in Cadiz, which is run and was designed by Alison Maginn, Interim Chair of the Department of World Languages and Cultures and the Director of the program in Cadiz, does a six-week summer program. However, Maginn says the program has more thorough pre-departure measures, including general information sessions, PowerPoint presentations, and conversations about graduation and academic goals. She also said that she has students meet with her privately and have a conversation about expectations, behavior, responsibilities, and the code of conduct that students are expected to follow.
"I just make sure students have organized themselves in advance," Maginn said. "Then the next thing is we have different orientations. There's a whole set of orientations done by the University itself. They go from general to really, really specific, so my students would do all the general ones and they'd also do a lot of one-on-one with me. Ours is definitely much more personalized and tailored [than the other programs]."
Maginn also mentioned that she often sent links about upcoming events and information in Cadiz to students as their departure date nears "to start getting them into the mood" of going abroad.
"Maginn would send us articles, testimonials from past students, and lots of coverage on current events," Lally said. "The more you know about the state of the country you're visiting, the more prepared you are. Knowledge is power."
Stauff stressed the importance of students understanding their goals, as well as knowing what support the University could provide and understanding when they needed to instead rely on the foreign institution.
Resources Available
According to Stauff, students should feel free to reach out to University offices for support and questions even while they are away.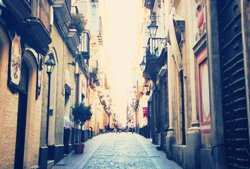 "At the time I was abroad, Robyn [Asaro, the former assistant director of study abroad] was in charge. She was very prompt with e-mails, as prompt as possible with the time difference," said Ingraffia. "Even though there were resources available in Australia, nothing was immediate, everything was prolonged. It was a lot of my own research. The Australian liasion was able to just focus on us, so she was able to be more helpful."
"Just because you're away from Monmouth doesn't mean the counseling center isn't available to you 24/7. Just because you're away doesn't mean you can't have a question about Title IX," Stauff said. "You are still a registered student of Monmouth University — your relationship with the offices will just be different since you're away."
Despite Stauff's comments saying that students have full access to University resources, the study abroad website advises that "services available abroad may not match the support services offered on Monmouth University's home campus" and "the Monmouth University Counseling and Psychological Services does not conduct ongoing therapy via phone or videoconferencing."
"Things on the campus were hard to find overseas," said Ingraffia. "The campus gym I had to pay for in addition to already paying Monmouth-priced tuition, and I tried to use it as an outlet for my anxiety since I couldn't talk to someone. I'm paying for that experience so why am I not getting the same things?"
Students going abroad for a semester pay the same price as a student attending Monmouth, even though the foreign institution might be cheaper. They also pay a $250 study abroad fee.
"I asked Jonathan Kull [the academic advisor of the GEO] why it costs full tuition to go to Lorenzo de' Medici when the school costs five thousand euro (approximately $6,150)," said Lauren Maraday, a junior graphic design student who studied in Florence in fall 2017. "And he never got back to me."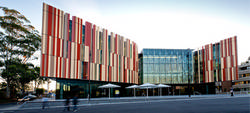 "There are costs involved to the University with study abroad programs, including the staff we hire to run those programs and administer those programs, and the costs of travel for the staff to go over and visit the programs," said University President Grey Dimenna, Esq. "There are costs associated with the program."
He pointed out that the University, being a non-profit organization, may have overflow in one area of University operations, but that excess money would be used to help students in another area.
"Everything we do is for the students," he continued.
Language Requirements and Cultural Values
There are currently no language requirements for studying abroad, even in a country such as Italy or Spain, which are not English-speaking countries.
"I think it's important that if students are going to do study abroad in a non-English speaking country that students should take a course or two in that language," said Joseph Patten, an associate professor of political science, who visited the Florence program last year. "It's very important when you go to a non-English speaking country not to come across as rude, and when other countries see Americans who make no attempt, or just assume everybody speaks English, I think people are insulted by that."
According to Patten, who is not affiliated with the GEO but was the Chair of the Undergraduate Studies Committee for six years, as well as previously being the Chair of the Political Science Department, the University used to have set language requirements, but they have since been removed.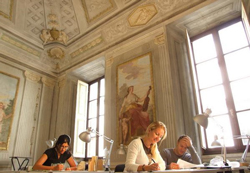 "International students from non-English speaking countries study English before coming here," said Patten, who also believes that cultural values should be studied. "We, too, should study that language before going to a non-English speaking country."
Corey Inzana, an international student advisor, oversees the Global Experience Program, where students participating spend a week in a third-world country doing construction for the community. Inzana believes that having a language proficiency requirement would restrict students from studying abroad, despite instructing Global Experience Program students to learn some of the native language of the country they are visiting.
"I wouldn't want to bar students from having a great opportunity based on them not being proficient in something," Inzana said. "I think that would be limiting students from growing."
"It will restrict the students, but the reason why we need that kind of discussion and conversation is literature shows those students who do have language and know the language, at least a little bit, prior to study abroad – their overall experience is much better," said Marina Vujnovic, Ph.D., Director of the Corporate and Public Communication (CPC) Program and associate professor of communication. "We also believe it's a safety concern, especially in areas where not too many people speak English."
"I've heard before, from students 'Well, I just want to study in Italy, I don't want to study Italian,'" said Vujnovic, who does not speak English as a first language and researches best practices in global education. "Well, if you don't want to study Italian, you shouldn't go to Italy. Italian is an intrinsic part of Italian culture, and it gives you a kind of access into a culture that nothing else really does, other than language."
According to Mirta Barrea-Marlys, Coordinator/Advisor of Spanish/Education Programs and an associate professor of world languages, students in the semester-long Italy program take two Italian classes while abroad. Students who go during the summer do not take any language courses, something that she hopes changes.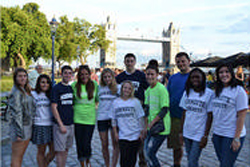 "I only took one Italian course," said Maraday, who took four classes while abroad. "They tried to convince me to take the second one, but I felt like it would be too much of a course load."
Maginn said that while she is in Spain, she offers free Spanish tutoring to the students studying abroad, since the classes are all taught in Spanish.
"We can have a variety of programs," Vujnovic said. "The Spanish program requires more proficiency, and it is such a program in which language is very, very important. We have other programs where courses will be in English, but still, at least one semester of Italian, for instance, prior to going to study abroad shows an intention of wanting to take this trip seriously."
"Everything is in English when you get there," said Francesca Moore, a senior business administration student who studied in Florence in summer 2017. "I thought it was going to be harder than it was, but [knowing the language] still would have been really helpful."
"Taking a language gets you more immersed into the culture, and you can't separate culture from language," said Barrea-Marlys. "I've seen students that did study the language and ones that didn't, and the ones that did got so much more out of it. Even if you're not in a homestay and you're studying the language and you're integrating with the community you can have a fabulous experience."
Jenna Lally, a University alumna who went to Spain in the summer of 2016, said that having a language barrier made cultural assimilation much harder.
"Being culturally aware before you go is essential," said Lally. "Read about the cuisine, read about the day-to-day life. With Spain, siestas are to be expected, breakfast is light, lunch is the biggest course of the day, and dinner is just tapas. Be prepared to adjust. And when you get there, do it."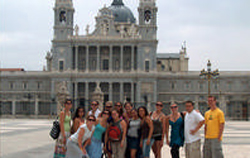 While Abroad
Living Arrangements
Students abroad have a number of living arrangements, including on-campus dorms, on-and-off campus apartments, and homestays, where students stay off-campus with a family and one other Monmouth student. According to 2014 research in the field of global education, published in the Journal of American College Health, a homestay is considered the best practice, allowing for increased cultural immersion and various other benefits.
"A homestay is the best practice overall because it offers the most support and total cultural integration," said Maginn. "Students are able to have access to culture, and networks of people who are there for them."
The Spain program, which was established in 2002, is the only currently operating program that offers the homestay option for students. The families are partnered with the university, and according to Maginn, only two students have ever had to change families, saying the program had "a 99 percent success rate" with their placement.
Students at Regents University in London live in on-campus dorms. However, no local students live in the dorm, only other global education students. In Italy, students live in off-campus apartments with other Monmouth students, and in Australia, students live in on-campus apartments with students from other schools.
"From what I see with the apartment option, people stay in their comfort zone, speaking English, staying with their friends, and there is less cultural immersion," Maginn said.
Students who studied abroad agreed that living in apartments can be both positive and negative.
"It's nice to live with other Monmouth students, but it is easy to stay just with the people you're living with, and the apartments can be spread out," said Moore.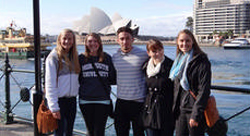 "Some [of the apartments] are really dated, and some are far from the classes and some are close," Moore said. "The apartments are also all different. Some are nicer than others. None of them have air conditioning, and I was surprised when I got there how hot it really was, and I feel like I wasn't told that."
Jackie O'Dor, a junior business administration student who studied abroad in Florence during the summer 2017 program, said that some students on the trip with her lived in apartments that were more than a 20-minute walk from campus. O'Dor added that these students were not informed that their housing would be as far as it was.
"When I first got there, it was eye-opening," said Moore. "[The GEO] tell you that you shouldn't walk alone. Everyone has classes at different times. [Walking alone] was scary, because we usually travelled in groups."
According to Stauff, the homestay option is not provided in all locations due to cultural differences.
"Hispanic countries are more accepting of a homestay," he said. "A homestay in Italy is not a very attractive option to the Italian family in part because there are very few residence halls in Italy; if you went to an Italian university you would be living at home. The typical Italian family has their university-aged children living with them. That's not as common in Spain. A homestay is fantastic. Unfortunately, some cultures don't make that available to use in the same degree."
"A homestay is optimal, but if those are not the goals of the student who wants to go abroad, do we force them to live in a homestay?" Stauff continued. "That's a question the faculty could raise. The problem is, with the volume of students we sent to Italy and Florence, if we insisted on a homestay for each of those students, there aren't enough homestays to meet the demand."
However, according to the housing accommodations page of the Lorenzo de' Medici website, "students attending LdM have various housing options… they can choose to live in homestays with a local Italian host." The website elaborates on the benefits of a homestay, as well as stating that students "who are committed to learning the Italian language and deepening their knowledge of Italian culture" should choose this option.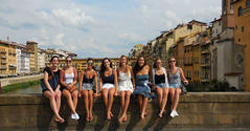 According to Maginn, homestays are also beloved by students. The students engage with the families they are staying with, often staying in touch with them after the program ends.
"The homestays are a great option because you have the support and the knowledge of someone who's lived there their entire lives, and they're looking out for you," Lally said.
Stauff did not offer an explanation for not offering the homestay option in England or Australia. According to Marlys, the GEO is looking to expand into further programs in Italy, including an option in Sorrento and another in Milan. While the Milan option does not allow for homestay living, she said that the Sorrento program might have a homestay option.
"I lived in an apartment and it was hard. We all got our own rooms which was good, but it was hard because we were living with another boy from school. Living with the opposite sex was difficult to adjust to, and on top of that, it was difficult living with girls from Bangladesh because we had to make sure we were respecting their culture and adjusting to that as well," said Ingraffia, who said that while they had been told in advance that there was a possibility of a mixed dorm, the experience was still hard for her.
Academic Rigor
To apply to study abroad, students are required to have a 2.75 GPA and sophomore status, having completed 29 credits. Stauff said that he believes students should wait until at least their fourth semester to go abroad.
Students must also be in good academic standing with no active judicial student conduct probation. According to Stauff, less than ten percent of students are rejected from the program, because the application is "self selecting" — he said that often students that did not reach the criteria often did not apply, leading to fewer rejections.
Courses at the host universities range in difficulty, according to students, with some schools being easier than others. Grades earned abroad, while recorded on a transcript, are not factored into a student's grade point average (GPA).
"Certainly, the fact that your grades don't count towards your GPA – you get credit for them, it's like a transfer credit – I wasn't aware of that," said Frederick McKitrick, Ph.D., an associate professor in the history department, noting a potential problem with the academic rigor of the program. "The problem of 'How do you transfer a B from Australia, what does that mean' – well, there are agencies that do that, that know what different grades in different places mean. So one would think that would be pretty easy to get straightened out."
"I don't think classes [abroad] should factor into the Monmouth University GPA because I personally think study abroad is an escape," said Christabel Tulashie, a senior political science student who studied abroad in London during the spring 2017 semester. "Study abroad is also a journey and part of that journey means going to new places and experiencing new things; you cannot fully indulge in these experiences if you're worried about classes or exams."
Students in Florence felt that their classes were very difficult at times, and were unprepared for the workload. While most courses were taught in English, some students in Florence also felt that their professors could be difficult to understand, and were even unhelpful at times.
"They told me classes were going to be really hard, but I was unprepared for how difficult they really were," said Maraday. "They tell you that you go abroad for the experience and the academics, but the academics were really hard."
Stauff also explained that courses and scheduling could sometimes be difficult, especially at Regents University in London.
"We've had some issues with [the school] not guaranteeing that courses would be available for students to have the exact class that they needed towards graduating," said Stauff. "They had been shifting their calendars a bit, so that it's increasingly difficult to get the classes we need to make the program work."
Stauff said that in the two years he has been at Monmouth, he has noticed a decline in interest in the London program due to the difficulty in scheduling, saying that the academic program at Regents changes as the school changes.
"We set up shop with them 20 years ago when we didn't have so many nursing majors and so many communication majors and so many health studies majors," he explained. "We don't have as many history and political science majors to take advantage of all the great things that Regents has. We have students who are looking for nutri tion courses and radio production courses, and it's hard to find those. Maybe Regents isn't the right match for us today. Maybe the school in Italy isn't the right match for us academically."
According to Jonathan Kull, all of the study abroad programs are designed so that students can complete their general education requirements regardless of their program or major. However, in previous years, students did not receive their schedules until their arrival in the new country. Kull says timetables are now being provided in advance and the class modules will be set up the semester prior, hopefully removing some complications.
However, in situations where classes were not available, Kull said that he worked with students to select alternative classes to fall into their audits, and he pointed out that if a student marks a class as "necessary for graduation," the foreign institution will offer it. Student schedule difficulties are resolved within a week of their reporting, he said.
McGuire, who had a problem with her classes upon arriving at Regents, agreed with the timeframe Kull provided, saying that the issue was "resolved quickly" and saying that Kull cleared up the confusion she had.
Students who studied at other locations also had difficulties with their schedules. According to Moore, all of the students in Florence had one advisor, who "was not helpful at all."
"The scheduling is really bad because you need to get changes approved by both Monmouth University and the university you're at," said O'Dor, who also noted that the advisor at Lorenzo de' Medici was unsupportive and difficult to get in touch with. "I was trying to switch out of a class and the move wasn't being approved in time. The head of the department came to help with my schedule because they were having problems with the school [Lorenzo de' Medici]."
Other students mentioned that their advisers had been more helpful, with Maraday calling her advisor from Florence in the fall of 2017 "delightful" and "very accessible." Ingraffia said that her Australian adviser was helpful as well.
Maginn noted that summer programs were more popular with some student populations due to the more flexible scheduling – rather than taking a full semester's worth of courses, students doing a summer session only take two classes.
"You've got to make the grades count," said Maginn. "I have advocated for that ever since the beginning. Students pretty much do well."
Stauff also remarked that fewer students are going abroad for academic reasons, but more for the cultural immersion and the opportunity to travel and experience other ways of life.
"If [students] are only treating study abroad as a party and vacation, I think that does not fulfill what the intention is, first and foremost: to study abroad," Vujnovic said. "I think that we need to be balancing better the experience between studying and traveling and having fun. We all understand that we are dealing with [students] who will have gun, and they should have fun! They also should, as much as their budget allows them to, travel, and see different parts of the world. But the first and foremost goal of study abroad is to study, so academics should be as important to them there as they are here."
"It depends on the person, but I have seen Monmouth students really not care about their courses," said Maraday. She agreed that many study abroad students don't take classes there seriously, and are more going abroad to have fun.
"I didn't go to Florence for school, I went to go explore," said Moore. "Honestly, especially with Monmouth kids, not so much other schools, Monmouth students didn't really care. We just did not go for classes and studying. We wanted to travel."
Concerns with scheduling and a lack of emphasis on the academics abroad led the GEO to create a new application system which made it mandatory for students to speak to their Monmouth academic advisor about the classes they would take abroad and how they would fit into the academic programs at the University, rather than having the conversation after their application was accepted.
Stauff also said that students needed to write a reflective essay upon returning to Monmouth so that the GEO can read about how the students have been changed by their time abroad. These essays show how students appreciate the experience as transformative both academically and personally.
However, there is currently no way of reviewing programs or possibly changing the schools in which they are based, according to Stauff.
"In the faculty, there's concern that they haven't had a voice in the past," Stauff said. "These programs were created, by the administration, for reasons that may or may not have connected well with the academic project of the University. And at the time, those schools that we partnered with were great matches for Monmouth. But that was then. And you need to have ongoing program review and ongoing site visits, by both the administration and the faculty, to ensure that those sites are serving the University students well in the present day."
Faculty Presence
Research within the field of global education indicates that having faculty from the home institution present to support students is the best practice, said Maginn.
The majority of the study abroad programs do not have faculty present during the time abroad. However, Stauff mentioned that he has visited each program at least once, and Marlys indicated that a faculty member always went to Italy during the summer program for "at least a week" and said that they also started sending a faculty representative during the fall program within the past few years.
However, students indicated that they had not seen University faculty visiting the Italy program until the fall 2017 semester. Australia and London students said that their programs had no visits from University faculty.
"My predecessors did not visit programs regularly," said Stauff. "They would send a faculty member or member of the staff once in a while."
The Spain program has a University faculty member present for at least half of the six-week duration. According to Maginn, there have been previous years where she has gone the entire time. She emphasized that she "is not a chaperone," instead serving as a point of support for students seeking help.
Lally agreed that Maginn's presence, paired with homestays, was extremely helpful.
"Having her there to help gives students peace of mind and living with a family who knows the culture and is looking out for you is really important, and I think a lot of us were comforted having that extra support," Lally said.
Maginn attributed her desire to go on the trip with the students to her role at the University. "One of the roles of an academic professor is to teach, and we know things. We have experience," she explained. "I want to guide. I want to guide our students, and it is very good to have a faculty representative from Monmouth there. Students like to know that."
"It would be really nice to have someone who is both American and knows Monmouth, but then knows the country well, to give advice, because they can understand both sides," said Ingraffia.
Safety
Location
One major concern among students and faculty was the safety of the locations that they were studying abroad in.
Approximately ten percent of the Florentine population is made up of American study abroad students, according to Maginn, who noted that it was the second-most popular destination for American students. Research from 2014 in the Journal of American College Health indicates that the high population of American students and their seeming disregard for Florentine cultural values has led to high amounts of resentment among the city's local population.
"I would say that I got a mixed vibe about the people of Florence," said Maraday. "We keep them employed, because a lot of their economy relies on tourism, so they like having us here. However, the locals really don't appreciate Americans screaming in the street. Americans, to Italians, are fat, loud, and annoying, and we felt like we were resented by the locals at times."
"Both the environment of Florence itself, as well as the attitude of students who go there – it's a potentially dangerous situation," said McKitrick. "Of course, something bad can happen anywhere. It's a question of 'Is it more likely to happen under these circumstances?'"
"Monmouth does not prepare to face the culture differences and language barriers that you face once you arrived in Italy," said one anonymous student who studied in Italy, who said that Lorenzo de' Medici provided the students with contact information for the police and other authorities, and said that while it was good at that they were provided, students could not communicate with the dispatchers.
"What they forget to point out, or do not realize, is that all of the numbers are Italian authorities, whom do not speak English, and are not required to, since in the country we are in, the national language is not English," the student continued. "When I called these numbers and sought help, they did not understand me and we could not communicate. It was useless and I felt helpless."
The student said that while a language barrier with Italian dispatchers may not be the University's fault, they believed the school needed to "prepare [the students] better and warn us that this could happen," believing that this information could encourage students to learn key words on their own, and be prepared for the possibility.
The student pointed out that Lorenzo de' Medici also provided an emergency number to contact the school, allowing them to reach a professor or advisor on duty in a less serious situation.
Vujnovic also noted that, in her opinion, knowing the language made students safer, since she believed that locals might be more protective of those who made an effort to connect with the culture.
Some faculty interviewed indicated that they believed that the programs needed to be more proactive about relocating if they were not working out.
According to Maginn, the Spain program used to be based in Madrid. However, she said that the program there was not the best fit for Monmouth students. "It was the capital city, it was huge, they weren't living with families at the time, and they were scattered across the city," she said. "Students had to deal with the metro, and pickpocketing was also an issue."
She said that by moving the program to Cadiz, the students felt safer, and noted that the city has an extremely low. crime rate."
Lally agreed that the move to Cadiz was better because the new city was more secluded, less touristy, and felt safer. She also said that everything was in one place.
Ingraffia said that despite living in an on-campus apartment in Australia, when an emergency concerning her roommate drinking too much and needing medical attention arose, it took emergency services more than an hour to respond to the incident.
"It was really scary in the moment," Ingraffia said. "While my roommate was fine, it was worrisome that it took them so long to get there, because who knows what could have happened."
"Regents University is in central London, which is one of the safest and most affluent areas of London," said Tulashie. "I felt safe, not to mention that the university had key card doors which ensured that only students and staff with key cards could get into the compound."
As of the fall 2017 semester, the Office of General Counsel and the GEO have been planning a review of their emergency services, according to Stauff. The protocols are being reviewed "at the cabinet level" and he said that they are likely to be done by spring break.
"I feel very strongly that they are adequate for our needs, and certainly we also have been discussing adding additional protocols," said Stauff. "This office has been working with the Vice Presidents of Student Life and Administration [Mary Anne Nagy and Patti Swannack], and the Chief of Police [William McElrath], reviewing products that we can add to our existing emergency response system to enhance the response for study abroad students, as well as for international students on our campus."
Drinking Culture
Safety issues and drinking culture within the study abroad sites were closely related, according to both students and faculty.
"Most of us tried to have mutual respect for the culture [of Florence], but there are also stupid people who are abroad," said Maraday. "It's a mixed bag. The majority of us are respectful. The other percentage [of study abroad students] went to go get drunk and get lit. It's really easy to go out and drink. The bars in the area know their target audience. They specifically have deals for college students. They create Facebook groups, they have no cover charge for Americans at times, so it's really hard to escape the drinking culture there."
McKitrick added that while some students are going for academic and cultural reasons, others may be going abroad to "get smashed out of their minds."
Both professors and students indicated that it was concerning that students who were underage in the United States were of age abroad, and some of them did not know how to handle their liquor or how to deal with a new drinking culture.
"To be frank, I believe Americans need to get with the program: the other half of the world does not binge-drink the way we do," Lally said. "They just don't. Or, if you think they do, you see they eat in between drinks with tapas or nurse their drink. It's just different."
Disclosure of Statistics
According to Stauff, students abroad report very few crimes back to the University. However, when they are reported, they are disclosed through the Clery Act, which is a federal statute that requires all colleges and universities that participate in federal financial aid programs to keep and disclose information about crime on and near their respective campuses.
While the Clery Act makes this data readily available to the public, statistics involving crimes reported abroad are combined with crimes committed on Monmouth's campus, making them indistinguishable from each other. The most current statistics available right now for the 2017-2018 report only have data collected through the 2016 academic year.
"Just as bad things happen at Monmouth, sometimes bad things happen abroad, but we don't want students to feel that they're on their own," Stauff said. "We don't distribute crime statistics to the students, and there's very little we can say about one particular incident because of FERPA."
Global Education Oversight Committee
According to faculty and administrators, a Global Education Oversight Committee is currently being established. The goal of the committee is to give faculty more awareness and input on what is going on academically at the study abroad sites.
"There is an increasing amount of interest in global education," said Stuaff, who said he has been trying to develop a committee like this since he arrived at Monmouth in February 2016. "The faculty are concerned that they haven't had a voice in the past."
"I felt very strongly that the lack of a systemic review by faculty of these programs had led to a situation that the partner institutions may or may not have been serving the students of today," Stauff continued. "They definitely served the students of 20 years ago, but are they serving the students of 2018? I've worked in this field for years, and I felt that many of these partners are not the ones that Monmouth needs today. There are better ones out there. However, I wasn't comfortable making that decision unilaterally. I felt that any changes needed to be vetted by the faculty and their recommendations to the provost would bring about the necessary change."
While Stauff said he introduced the idea of an oversight committee in February 2016, Eugene Simko, Ph.D., Chair of the Faculty Council and associate business professor, said that the faculty council did not express their concerns until the fall 2017 semester.
"It was brought to our attention back in the fall that there may have been some issues regarding the academic oversight, the quality of the academic experience, in not only one given individual area, but in all of the areas," Simko said, noting that there had also been some safety concerns that he could not comment on since he was not privileged to any specific details or information. "It was enough for us to sit down and meet with the president and the provost to express faculty council's concerns."
Members of the University community might be confused with the idea that Stauff has been trying to develop a committee and it has taken until February 2018 for the Faculty Council to form one. It is unclear what the delay was, and when asked if a specific incident had led to its sudden formation, Dimenna said that he was "not the catalyst behind forming the committee" and "I can't speculate as to why that committee was formed."
According to Vujnvoic, who will be the chair of the committee, they are currently in the process of searching for candidates. Qualifications necessary include being interested in and knowledgeable in the field of global education. According to Simko, the committee will include four tenured professors and two professors who may or may not be tenured, all from a variety of schools on campus.
Simko said that the committee would be appointed hopefully by the beginning of spring break. Vujnovic said that once the committee was appointed, they would start to work "immediately."
"There might be a list of things to prioritize, but that's going to be discussion in the committee," Vujnovoic said. "Some of these things may be perceived as more urgent than the others, too – for instance, whether we should count the GPA or whether there should be a language requirement, among other things."
Audrey Conforti, a sophomore health studies student who will be studying abroad in Florence in the summer, hopes that these issues are addressed and that changes are made soon.
"I'm leaving in less than four months, and I hope study abroad and the faculty council will be accountable, and that my study abroad experience will be better than those who have gone before me," she said. "I want to be certain the University has their students' best interests in mind."
PHOTOS TAKEN by Kerry Breen (Image 1, Image 4 , Image 6)
IMAGES TAKEN from monmouth.edu (Image 2 , Image 3, Image 5, Image 9 – 12)
IMAGE TAKEN from komconsultants.com (Image 8)
IMAGE TAKEN from goabroad.com (Image 7)