Uber Whistleblower Talks About Workplace Sexual Harassment
---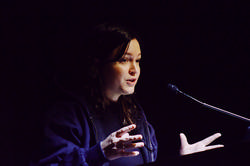 Software engineer and former Uber employee Susan Fowler came to the University on April 11 to share her story on overcoming sexual harassment and to show students how they can protect themselves upon entering the workforce.
"The Adventures of Susan Fowler at Uber: Sexual Harassment in Silicon Valley" is part of a lecture series hosted by the Leon Hess Business School. Fowler was chosen to give the 2018 H.R. Young Endowed Lecture. Donald Moliver, Ph.D., Dean of the Business School, believed that Fowler was a perfect candidate for the position. 
"This is a topic that sadly involves business and needs to come to the forefront," explained Moliver, before introducing Fowler.
Before becoming one of "The Silence Breakers" and the 2017 Financial Times Person of the Year, Fowler graduated from the University of Pennsylvania with a degree in physics and later worked at two startup companies before joining Uber. 
"Uber was the great disrupter," said Fowler. "That was something that spoke to me. I came from a very poor background and made it into an Ivy League school. I viewed myself as a disrupter as well."
Great disrupters not only disrupt businesses, but laws as well, Fowler said. They argue that the laws that are meant to moderate their work are in the past, which sets the tone for their innovative processes. However, Fowler got more than she bargained for. 
On her first day of work, Fowler received inappropriate sexual text messages from her manager. Immediately going to the Human Resources department of Uber to report this incident, Fowler expected the aftermath of her report to be relatively easy. Unfortunately, her expectations were not met.
"You have two choices," Fowler recalls the Human Resources department saying in terms of her options, "You can either stay on his team and know that he's going to retaliate against you, or you can go to a new team."
 Fowler ended up switching to another team and continuing her employment at Uber for a year, but she still felt uneasy about how her harassment report was handled. After hearing the similar stories from multiple coworkers, she decided that Uber's time was up and she needed to speak up. 
A blog post that Fowler shared about her experiences put Uber under fire. Shortly after her post was published, an investigation was conducted and it was evident that there was a history of sexual harassment cases at the company. This investigation caused not only the resigning of Uber CEO Travis Kalanick, but also the firing of 20 employees.
Fowler explained that even now sexual harassment exists as a silent problem that needs to be heard. The Civil Rights Act was created in 1964, which included recognizing sexual harassment as a crime along with racism.
In the 54 years since this law passed, sexual harassment is still on the rise. According to the United States Equal Employment Opportunity Commission (EEOC), 75 percent of workplace harassment goes unreported.
The EEOC also noted that three out of four harassment victims experience retaliation after reporting the abuse. Sexual harassment is often seen in male-dominating industries, such as business, construction, and information technology. 
Due to the prominence sexual harassment is in the workplace, some question how professionals, let alone new college graduates entering the workforce, can protect themselves against its aggressors. This is mainly due to the Non-Disclosure Agreement (NDA) and the forced arbitration clause, both parts of a new employee's contract. These two pieces of documentation are protection for the company, and very few employees understand what signing these forms entails for them. 
"The protections for the company begin before you even start," noted Fowler. "You sign away your silence before you even start your job."
A NDA ensures the confidentiality of the company, and the employees who speak about these matters are often sued, Fowler explained. The forced arbitration clause is an agreement in which the employee promises not to sue their place of employment if any legal disputes occur, opting to discuss concerns with Human Resources.
Many college students are blindsided by these corporate practices. Chanel Eskridge, a junior honors psychology student, learned key details about what being a professional employee means. 
"Because of this talk, I will be more cognizant of agreements I make at work, as well as keeping a close eye on workplace policies as I merge into the workforce," said Eskridge. "Sexual harassment is just one of the many issues people face in today's organizations."
William Gorman, Ph.D., an instructor of history, believes that it is imperative for students to be aware of the blind spots in taking on real world jobs. "Students should be cognitive and aware of their rights when they go into internships because they lead to jobs," explained Gorman. "That way they won't be victims."
These documents do not protect the employees, but instead hurt them, almost as much as the crimes that they suffered do. 
"Somebody else did something wrong to you and you pay the price," said Fowler. "You've lost a part of your life that you can never talk about."
Students related to Fowler and are inspired by her tenacity in fighting this dirty battle against sexual harassment in the workplace.
Danielle McClelland, a junior psychology student, was inspired by Fowler's resilience. "It was enlightening for me as a woman because this is something that has been going on for so long, and I'm proud to be in a generation that fights back," said McClelland.  "She is an inspiration to a lot of people, and the title is well deserved."
PHOTO COURTESY of Emily Filippo