Nearly 400 students and faculty participated in an event hosted by the Chabad club called #PittsburghStrong in front of the Rebecca Stafford Student Center on Oct. 30.
This event was held in light of the shooting on Sat. Oct. 27., the holy day of sabbath in the Jewish religion, which claimed the lives of 11 people according to CNN.
The #PittsburghStrong campaign garnered the attention of members of the Monmouth community stopped by their tables in the Student Center to partake on various activities to show their support to the victims of the shooting and stand up to hate. While at the tables, supporters were given the opportunity to write letters to the Pittsburgh victims and pledge good deeds, or Mitzvahs, in their honor.
"In Judaism we look at bad situations with love so we wanted to do something positive and not negative," explained Sophie Hans, a senior social work student and president of Chabad. "That is where the board on good deeds came into play."
Good deeds were written on bright post-it notes and placed on a giant poster board. University President Grey Dimenna, Esq., did the honors and placed the first good deed on the Mitzvah poster and by the end of the day, the board was overflowing, Greenberg further explained.
"This affects me on a personal level," said Rabbi Greenberg, an adjunct professor of religious studies and advisor for Chabad. Rather than be a solemn event, Chabad strived and succeeded at celebrating the lives of those lost and promoting the potential for goodness in the world. "The Jewish people are all one family and 11 people from my family were murdered for being Jewish." Greenberg explained that, the shooting itself, was a personal attack because of his status as a leader in the Jewish community, as well as how he has friends in the Pittsburgh community from his time teaching in Squirrel Hill, the neighborhood where the shooting took place.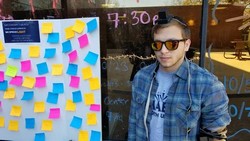 "Our message is when there is darkness, add some light, do an act of kindness, do a good deed. Make this world a better place," noted Greenberg.
Chabad's stand against this act of terror began Monday morning, a day before #PittsburghStrong took place. Greenberg and the executive board for Chabad knew that they had to act fast if they wanted to do something to remember the lives of those lost in the shooting and to stand in solidarity against antisemitism on campus.
Mary Anne Nagy, Vice President for Student Life and Leadership Engagement reached out to Rabbi Greenberg Monday morning with a phone call to send her condolences and sympathies to him, as well as check on students in the campus community that may need extra support in the wake of this traumatic event. "It doesn't matter if you're from Long Branch or Pittsburgh, members of the Jewish faith were tragically killed," noted Nagy. "I'm sure that for students it's very upsetting and unnerving and I wanted to make sure that they're ok."
During this phone call, Greenberg expressed the club's interest in holding an event to remember the lives lost in the Pittsburgh as soon as possible, and Nagy supported Chabad's idea for the #PittsburghStrong campaign.
According to an article published by The New York Times on Oct. 27, the gunman took the lives of 11 congregants and wounded four police officers. According to the article, this act was "among the deadliest against the Jewish community in the United States."
Nagy weighed in on the impact the attack has on what can be defined as a place for people. "It is despicable that we are at a point that we cannot even go to our places of worship and be safe," argued Nagy.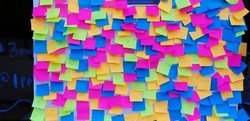 Students shared Nagy's sentiment in the fact that religious sanctuaries are no longer the safe haven they once were, being tainted by the aftermath of terrorism. "A synagogue is a sanctuary where we should feel safe," argued Shelby Davis, a sophomore health studies student and program director for Chabad. "How can we now feel comfortable going forward?"
Brielle Saunderson, a sophomore nursing student and vice president of Chabad, voiced her concerns over the hate behind the Pittsburgh shooting. "It is heartbreaking to know that antisemitism is still so prevalent in today's society, and that this hatred is so fierce that our lives could be stolen from us," commented Saunderson.
Members of Chabad channeled their frustration surrounding the attacks towards actions to combat hate and promote tolerance. "We need to act and speak up toward hate speech. Today more than ever, we need to confront hate with love and unity," stressed Davis. "We need to continue to be proud of who we are."
Chabad planned a follow up event for the #PittsburghStrong campaign on Nov. 2 during their weekly sabbath dinner to honor the victims of the Pittsburgh synagogue shooting. The service was held at Chabad of the shore and extended an invitation to the entire community. Chabad also plans on donating half of their holla breads to the victims and their families during their monthly baking session.
The University's chapter of Chabad has been active on campus for over six years, a Jewish organization governed by rabbis. There are over 200 chapters at universities in the United States. Chabad holds meetings every Wednesday, where members chat about their religion and every day topics over sushi. They also celebrate the sabbath and have dinner on Friday nights. If you have any questions about the Chabad, please contact Brielle Saunderson at s1189273@monmouth.edu.
PHOTOS COURTESY of Sophie Hans