Excellence, professionalism, and health promotion. Those are some of the values of Eta Sigma Gamma (ESG), the National Health Education Honorary.
At Monmouth University, ESG holds events for health education and community service such as CPR certification training, blood drives, and donations to various organizations.
"Through many of these events, we give our members the opportunity to propel into careers in health," said Justin Badamo, a senior health studies student and Vice President of ESG. Badamo's passion for health bleeds into his involvement in ESG.
"This semester, we collected and delivered donations to the Monmouth County SPCA in West Long Branch. The animal shelter was extremely grateful for the much-needed supplies and food, and our members were happy to have participated in such a wonderful event," Badamo said.
Badamo showcases his enthusiasm for health by leading the organization, promoting health-related activities, and giving back to the community.
The chapter is an embodiment of the hard work and success of health studies students across Monmouth. Being inducted into the accomplished honor society is a path toward new, fulfilling experiences.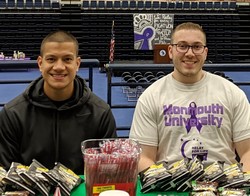 Anthony Cabrera, senior health studies student and President of ESG, said, "These experiences also help our students strengthen their resumes and make them more competitive candidates when continuing onto graduate school or the health field."
Cabrera said that his position as president has given him confidence in his professional and communication skills when interviewing for Physical Therapy programs. "It has shaped me into a better person," he said.
This past December, ESG gathered holiday presents for families in need for an event called Operation Sleighbells. Jaime Myers, Ph.D., faculty advisory of ESG, said that the service event was a tremendous success, with over 36 members donating items.
Involvement in ESG as a health studies student means furthering an ambitious and rewarding college career. Membership into the esteemed honor society is a focal point in a fulfilling journey in the realm of health studies.
"ESG nationally is a large recognized honorary," said Myers. "It connects you to others in the field of Health Education, and opens doors for networking."
The honor society participated at the American Cancer Society's Relay for Life on Friday, April 5. ESG held a fundraising table to help fight back and find a cure for cancer.
Students can get involved in ESG by attending monthly meetings, future events, and participating in a points system. Three points are required for membership, which can be earned by participating in ESG recognized research, teaching, or service events.
"Attending meetings allows for students to meet and speak with peers who share their same interests," said Badamo. Induction into the honor society is a way of recognizing and celebrating academic achievement and commitment to public health.
"ESG will continue to contribute to the community and will also continue to expose students to different experiences in order to develop them into better people as they enter the professional health field," said Cabrera. "For upcoming years we plan on developing a more effective way to communicate with our members."
On April 19, an induction ceremony will be held for new members of ESG. Each new member will soar into new opportunities while becoming a part of an inspiring community of health students and professionals.
PHOTOS COURTESY of Eta Sigma Gamma