Who run the world? Girls. And who does Hollywood want to run to the movies? Girls.
It's clear that Hollywood wants to host a fun G.N.O.- not just here and there, but almost every other month. I noticed this while sitting through trailers at the cinema over the summer that every other movie featured a stellar cast of leading women. Then I thought these movies have become quite common in the past few years.
But where did this trend start? We can look back toward the classic female ensemble movies like 1980's 9 to 5, 1996's The First Wives Club, or 2004's Mean Girls, but the success of Bridesmaids sent shockwaves through the theaters. The film that featured an incredible comedic cast of stars like Kristen Wiig, Melissa McCartney, and Rebel Wilson was an instant hit by earning over $288 million; almost nine times its budget.
The following year, a similar tune was hit with Pitch Perfect, which made over $115 million in the box office, almost seven times the movie budget. When Hollywood saw the success of these two films, it would lay out years to come of similar flicks.
In recent years, female ensemble movies have been churning out like shopping sprees. In 2017, we were graced with a third Pitch Perfect, Rough Night, Girls Trip, and Bad Moms Christmas, a sequel to 2016's hit Bad Moms.
The following year, Hollywood released six female ensemble films, most notably with the stacked Ocean's 8 and to appeal to AARP crowd, Book Club.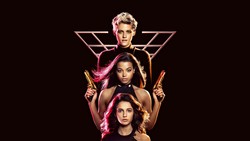 The trend continued into this year, with seven movies. Hustlers came out recently with great acclaim and box office numbers, while the big budget Charlie's Angels are assembling this November.
Sure, there's a ton out there, but are they making any dough? Well, can you say "cha-ching?"
In 2017, these movies flexed their girl power globally with Pitch Perfect 3 making a staggering $185.4 million, Girls Trip with $140.9 million, Bad Moms Christmas at $130.6 million.
The following year, Mamma Mia 2 sang to $395 million, Ocean's 8 hit the grand jackpot with $297.7 million, while Book Club made $104.4 million.
However, their power has taken some hits worldwide this year. The Kitchen whipped up a sad $15.4 million and Poms shimmied to $16.2 million. However, there's been some flashes in the pan with The Hustle reaching over $90 million, Hustlers with a strong opening of $34 million, and Charlie's Angels showing promise down the road.
Other than cashing checks, the films have a check box: they feature an impressive cast of popular female leads, where the characters with all kinds of personalities go on an incredible adventure that brings the group closer together.
Any group of friends can relate to the ensemble on screen, which makes it appealing for a fun G.N.O. It could also be a cheaper alternative to a typical G.N.O. that would feature expensive stuff like drinks, dinner, or strippers; I mean, board games.
The movies also give more options to ladies for a trip to the theater too. Nowadays, major releases are bogged down with male dominated casts like the recent Hobbs & Shaw, Rambo: Last Blood, Shazam, or Joker. Of course anyone can see these, but the ensemble movies are catering towards women.
Most importantly, it gives greater representation to females in cinema. Gender studies professor Jennifer Mcgovern, Ph. D., noted that there's been a shift of more women in lead roles and an behind the scenes that work on movies, which both contribute to how women are portrayed in movies. McGovern said, "There are more women behind the scenes as well, who have their voices heard and tell their stories through characters."
With their work off the camera, it builds strong types of female characters and what their stories are. There are even actresses who will only sign movie contracts if they promise a certain percentage of staff to be female.
Considering there's such great momentum toward the ensemble movies, it looks like the trend will still go strong next year. DC's Birds of Prey will bring together a complete group of female superheroes with stars like Margot Robbie and Mary Elizabeth Winstead.
This along with female leads in blockbusters like Black Widow, Mulan, and Wonder Woman 1984.
Don't worry, it looks like girls will continue to run the world-and cinema-in 2020 and beyond.
IMAGE TAKEN from theirishtimes.com
IMAGE TAKEN from wallpaper-hook.com