The subject and screenwriter of the acclaimed Bruce Springsteen-themed film Blinded by the Light, Sarfraz Manzoor, came to speak at Monmouth's Pollak Theatre to share his story and the truth behind the movie's main character, Javed, on Oct. 8.
Inspired by Manzoor's true life story, Blinded by the Light is set in 1987's Luton, England and follows Javed, a teenager starting his freshman year in college. Although he's unsure of what direction to take his life, he gets inspired to become a writer when he discovers the relatable music and words of Bruce Springsteen.
At the event, Manzoor gave a lecture with a slideshow and spoke about his own family life. His father moved to England before he was born to begin a life there for his family. Manzoor was an immigrant in England from Pakistan who lived in a small town and faced racial hardships.
What inspired him to pull out of town and make a name for himself was the powerful lyrics of Springsteen. In particular, Manzoor said the final line of 'Thunder Road' encouraged him with, "It's a town full of losers and I'm pulling here to win."
Not soon after Manzoor got out of town and pursued his college dreams, his father passed away when he was in his early twenties. Manzoor discussed how it was one of the darkest times of his life.
However, he made the decision to turn this pain and hardships into something amazing. Manzoor wanted to channel all of his energy to be something that would help him heal, so he began his healing process through his writing.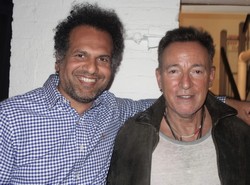 He wrote his book Greetings from 'Bury Park about his connection to Springsteen's music and about hardships in life. This would lay the foundation for Blinded by the Light.
At a concert after this novel was published, Manzoor went to a Springsteen concert, one of hundreds he's been to in his life. He wanted to bring a copy of his book for Springsteen to read. However, in seeing him, Springsteen immediately recognized Manzoor and told him "I loved your book."
After so much success with the book, Manzoor began working on the script for Blinded by the Light. In May 2017 when it was complete, a letter was sent to Springsteen to ask for the rights to his music. His "I'm all good with it" response put no restrictions on the use of music in the movie, something lifechanging for Manzoor.
After the casting was complete in 2018, Manzoor took his best friend and the actors that would play them in the movie to Luton where he grew up so they could get the full feel and pour everything into their roles. The movie was filmed in April and May 2018 and part of it was even filmed in Luton.
At Sundance, his movie was immediately picked up by a producer and the process of getting it onto the "big screen" was in full swing. The movie premiered in Asbury Park, a tribute to his novel, where Springsteen surprisingly attended in full support of Manzoor's work; something that was extremely validating and rewarding.
At the end of telling his story, Manzoor opened up for questions from the audience. A lot of people wanted him to speak on the topics and themes throughout the movie and how touching the film is for a wide audience.
He discussed the movie being all about love and connection to others, along with going through dark times to get to the good times.
There was a question from a high school teacher who asked how he dealt with coming from a family who was not always supportive of his writing as a career. The teacher shared that so many of his students, first generation Americans, were pushed towards engineering and the medical field and away from the arts.
Manzoor replied that he studied economics in college and not something like English, literature or film. He noted that his family still has a hard time accepting this as a "proper" job. He conclued that people should do what makes them happy because we only have, "One shot at this. One time around this world. Do something for you."
His reactions, especially his response to the last question, furthered the message of Blinded by the Light that shines through. Of course, it's about Spingsteen's music and one character's journey, but the themes of family, acceptance, love, music, and passion are all universal.
The determination and hard work portrayed by the main character, Javed, and the writer, Manzoor, can be inspiring for anyone that comes from any walk of life.
IMAGE TAKEN from Letterboxd
IMAGE TAKEN from NJ.com