Alicia. She's a musician so renowned, you know her by first name alone.
Mrs. Keys has returned with her seventh record and her second namesake album, ALICIA. Released on Sept. 18 from RCA Records, this 54 minute-long record is a daring return to her R&B side.
Now for some heartbreaking news. Alicia Keys is rumoring retirement at age 40. Being she is currently 39, I'm hoping that is just a rumor.
Alicia Keys was born in Hell's Kitchen in 1981 and fell in love with music early on. As a classically trained pianist, she composed her first song about her departed grandfather after seeing the film Philadelphia at 12 years old. Keys was then signed to Columbia Records at a mere 15 years old, and became a hot commodity for the recording industry.
A bidding war between Arista and Columbia Records ensued for Keys' talent. After a tennis match of contract litigation, Keys was negotiated out of her Columbia contract with help from Clive Davis. After being outed from Arista, Davis formed J Records, and signed Alicia immediately.
Her debut album, Songs in A Minor, was a highly anticipated record. Keys had performed her single "Fallin'" six weeks before the album release on Oprah, The Tonight Show, amongst others, and her record debuted at #1 on the charts, where it stayed for six weeks. In the first week alone, 236,000 copies were sold, but it has since sold 18.6 million copies worldwide. Keys was nominated for six Grammys, winning five, including Best New Artist and Song of the Year because of Songs in A Minor. Fifteen Grammys and 64 million global record sales later, Keys is unstoppable.
Out of her seven full-length albums, five debuted at #1 and two of them debuted at #2.
ALICIA was originally supposed to be released in May, but because of COVID-19, the album's release was delayed. The "Alicia-World Tour" slated for this summer has also been postponed. The first single, "Show Me Love" featuring Miguel was released back in November, and the second single "Underdog" was dropped back in January. Keys performed "Underdog" as host to the 62nd Grammy Awards.
Produced largely by Keys herself alongside a team of established producers, including husband Swizz Beats, ALICIA is a return to her R&B form and not so much pop. The common thread through all 15 songs are notions of hope and affirmation through struggle.
The opening track, 'Truth without Love,' includes the wistful lyric, "All in time, one day/You'll find that truth without love/Is just a lie." Here, she poses a question to her fans: Would you love me if I wasn't Alicia? "Time Machine," the second track features a funky bassline groove in the vein of Parliament. But the best apart this song isn't the groove; it's the return of the canon of her own vocal harmonies she utilizes occasionally. The canon seems exclusively hers in recording today. Few can pull off a canon like she can and she remains unopposed.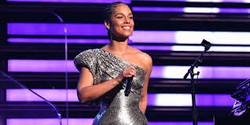 Socially conscious as ever, songs like "Authors of Forever," "Perfect Way to Die," and "Underdog" are all narratives of unity through unfairness. Despite loss, working yourself to the bone, and the common despair of hopelessness, she reminds listeners, "We're all in this boat together/And we're sailin' toward the future and it's alright/We can't make the whole thing better/We're the authors of forever and it's alright." Between all that gets us down, here we are; you and me and a life full of beauty. One day, the sun will shine for you, even though you're in a maelstrom.
The album ends with a strong affirmation to anyone who needs some positivity in this bizarre 2020, with just her voice and her piano on "Good Job." A three-and-a-half minute ballad that is way too short, Keys acknowledges those who don't get any praise, but deserve it.
"Six in the morning/As soon as you walk through that door/Everyone needs you again/The world's out of order/When you're not around." Alicia performed this song back in May for a Robin Hoof Relief video, and the performance features photos of all the essential workers in her native New York, coupled with her clad in white playing a matching Steinway.
Sometimes, just telling somebody they're appreciated and doing a good job despite their own belief is all someone needs. To all the students whose semester is now virtual, you're doing a great job.
Parents juggling work-from-home and teaching, you're doing a good job. The recognition essential workers, like myself, deserve during these uncertain times is not received from many. But Alicia sees us, and I'm okay with that.
If this is in fact Alicia's last serenade before retiring, fans will be pleased. ALICIA is Alicia at her strongest. And although we could use her uplifting compositions more than ever, she is bowing out gracefully.
I foresee her cleaning house again at the Grammys.
IMAGE TAKEN from Complex
IMAGE TAKEN from Rolling Stone