The second annual Toni Morrison Day, hosted by the Department of English, took place via Zoom on Thursday, Feb. 18. The all-day event celebrated the life of late African American author Toni Morrison and the conversations of race and marginalization highlighted throughout her novels. The event was co-sponsored by the Office of the Provost, the Monmouth Review Club, and the Intercultural Center.
"This event, although only being held for two years, is so important to the Monmouth English Department community," said Gabriella Arabio, a senior English student who presented at the student symposium portion of the event, where students presented academic pieces surrounding the topics of race and gender. "Through the works of Toni Morrison and other great writers, students and faculty can expand their interests and points of view on important topics such as gender equalities and race."
The event began with a faculty pedagogy panel featuring Dr. Heide Estes, Beth Swanson, and Dr. Abha Sood of the English Department, Dr. Walter Greason of Educational Counseling and Leadership, and Anne Deepak of the School of Social Work. The event followed with a keynote address from Dr. Keisha N. Blain, Associate Professor of African American History at the University of Pittsburgh.
"When we began planning Toni Morrison Day back in September, we knew there was a strong likelihood that it would need to be all virtual this year to accommodate the COVID-19 health crisis, and we decided to approach it as an opportunity, rather than a challenge," said Beth Swanson, Lecturer of English and Advisor of Sigma Tau Delta, the English Honor Society. "Hosting the event remotely actually worked in our favor be-cause it enabled us to expand our outreach beyond campus. We were able to invite guests and include participants from a much larger community, which resulted in a much more high-profile event."
The student symposium continued afterwards, featuring scholarly readings from five students: MA English student Anthony Clark on the topic of colorism in Morrison's novel The Bluest Eye; sophomore music student Jenae Louis-Jacques on race and cinematography; senior English education student Nikki Ortt on the oppression of women in a male-dominated society found in Morrison's novel Sula; senior English education student Gabriella Arabio on feminism within the entertainment industry; and English student Latisha Liang on the racial injustice and violence explored in Marilyn Nelson's poem "A Wreath for Emmett Till."
"Presenting my paper for Toni Morrison Day was such a profound experience," Clark said. "Given the powerful literary titan that Morrison is, it was such an honor to be able to discuss her work. She is someone who I have always looked up to both personally and in my writing life, because of her courage to write about emotionally taxing subjects that shift our consciousness."
"The experience of presenting my work at the Toni Morrison Day Event was very rewarding," Arabio said. "The entire audience at the event were extremely supportive and asked thought-provoking questions about the works presented."
Swanson said, "I felt really inspired by the Student Symposium because so many of the participants were either members of Sigma Tau Delta or former students of mine, and it was wonderful to see how empowered they were by sharing their work and how their presentations led to really important cultural conversations with other students and faculty who attended the session."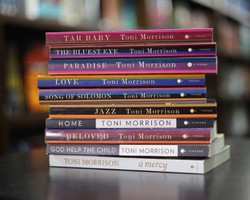 The day concluded with a reading by multi-award-winning author, Tracy K. Smith, who received the 2012 Pulitzer Prize for Poetry and served as 22nd Poet Laureate of the United States from 2017 to 2019. Smith recited poems about femininity, racial identity and culture, sexuality, and power.
"Planning and participating in Tracy K. Smith's readings was truly an honor," said Melissa Lauria, senior English student, President of Sigma Tau Delta, and Editor-in-Chief of the Monmouth Review, the student-run literary magazine. "Smith's poetry beautifully follows in Morrison's footsteps, but also celebrates its own nuance and uniqueness. I was absolutely thrilled with the turnout from both faculty and students alike."
Swanson also said that she was thrilled with the turnout of each event. "I couldn't believe the surge in registration we received when our registration went live," she said. "I'm also very grateful to many of our campus partners—like the Honors School, the Intercultural Center, and PGIS—who helped us with promotional outreach. I remember watching the waiting rooms on each Zoom call and being amazed by how many people not only participated in the celebration, but also attended multiple events throughout the day."
Morrison received the Pulitzer Prize for Fiction and the Nobel Prize in Literature. Notable works include The Bluest Eye (1970), Sula (1973), Song of Solomon (1977), Tar Baby (1981), and Beloved (1987). Feb. 18 would have been Morrison's 90th birthday.
"I believe that students and faculty alike can connect with Toni Morrison's works and legacy, because every archetype of African American people are represented in her books," Clark said. "Thus, she is one of the many authors who have reminded us that African American people are not a monolith. Her works are just as timely in the present day as they were during their initial publications, because the topics that she wrote about are still happening today."
"I hope Toni Morrison Day eventually evolves into an annual whole-campus event, so it sounds like we are off to a promising start," Swanson said." Toni Morrison's legacy is so far-reaching…I think as a campus community—and as a human community—we share the responsibility to advocate for cultural change that will cut paths towards equality, equity, and the type of shared future Morrison envisioned. I believe this is what Toni Morrison Day really stands for—an opportunity to come together and recommit ourselves to being better, more self-aware, more culturally-responsive, more empathetic, kinder."
IMAGE TAKEN from Yale University Website
IMAGE TAKEN from @barnesandnoble Instagram