Monmouth nursing students administered COVID-19 vaccines at Brookdale Community College as a part of their clinical experiences, their third time administering vaccines in total, on Tuesday, March 23.
Rachel Blackwell, a sophomore nursing student, described it as a very rewarding experience, as about 1200 people arrived for either their first or second dose. "As a nursing major, this vaccination clinic helped me practice skills that I will continue to use here and in my nursing career," Blackwell said.
"My experience throughout the day giving the vaccines was really good," added Heather Orgonas, another sophomore nursing student. "I was nervous at first, but as the day went on, my nerves subsided and I really enjoyed it."
Laura Jannone, Ed.D., Associate Professor and Coordinator of the Nursing Program, organized the clinicals. She was asked by the Dean of the School of Nursing and Health Studies, Ann Marie Mauro, Ph.D., to coordinate the participation of the Pre-Licensure Baccalaureate nursing students in local COVID-19 vaccine clinics.
"They are part of history," Jannone said. "Nursing during a pandemic is extremely important—not only in caring for the sick, but also in preventing illness by participating in vaccine clinics. They get to witness how the response team sets up and rolls out the mass point of distribution (POD) clinic…Students have the opportunity to provide essential health care during a pandemic and to protect the public from COVID-19 through mass vaccination efforts."
The students have worked with RWJ Barnabas Health, Monmouth Medical Center, and the Monmouth County Health Department to administer vaccines at various New Jersey locations. Currently, the School of Nursing is working with the Visiting Nursing Association of Central Jersey (VNACJ) to have students participate at the organization's vaccination sites as well.
Jannone reflected on the experience nursing students gained from their participation at vaccination clinics. "I am very proud of the Monmouth Pre-Licensure BSN students," she said. "They arrive at 7:15 a.m. and work a full day giving vaccines, going over health questionnaires, and observing for side effects. The students are compassionate and empathetic. They listen to the stories of the people getting vaccines, some of whom have lost loved ones to COVID-19."
Orgonas noted that this experience was very beneficial to her educational journey. "Being a part of this vaccine clinic not only allowed me, but my other fellow nursing students as well, the opportunity to put some of the skills we learned in the lab into actual practice. This definitely helped us to further strengthen our education and performance," she said.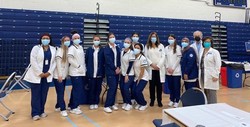 If getting the vaccine is scary for some, administering the vaccine is at a whole other level. However, these students were up to the challenge.
Orgonas said, "At the beginning of the day, I was pretty nervous to be giving out the vaccines as I did not want to hurt anyone or possibly perform the skill incorrectly. But once the day went on, and I had given out a few rounds of injections, I definitely calmed down and was really able to focus on the goal of the day."
Blackwell agreed, "I was anxious to administer my first dose, [but] after I gave the first injection, I gained more confidence and felt more relaxed. I felt proud being able to give an individual a vaccine that can keep them from getting seriously ill and ending in a hospital."
Both students felt that Monmouth have prepared them for this moment. "We have nursing labs which allow us to practice on a Derma pad with all types of injections," Blackwell said. "We tested out on our skills which included all injection types, this gave me the practice and skills that I needed to administer injections in the future."
Through this experience, Orgonas was able to see first-hand how a large-scale vaccination clinic runs. "There were many different components to how the site operated that made the goal of vaccinating a large quantity of people easy to reach," she siad.
Although the nerves were there for the first time, Blackwell and Orgonas said that they would participate again.
Blackwell shared, "I am very excited that I have the opportunity to go to the clinic two more times, and I would love to keep on vaccinating in the future. It is a very rewarding and unique experience to be a part of the solution in a global pandemic."
Orgonas agreed, "We met and spoke to a lot of great people that day and it overall felt really rewarding to be able to help out in distributing these vaccinations in the fight against COVID."
Jannone mentioned that student response has been tremendous, and she has been there support them every step of the way.
"They are thrilled to be part of the experience. The people receiving vaccines are so thankful and appreciative. I tell them they are part of history to prevent a deadly disease. [The students] are excited and nervous at first. By the end of the day, they are confident in their role and skills."
As a nurse, Jannone has received both doses of the shot in early February. Blackwell was also able to get vaccinated in early December, since she worked in a long-term care facility as a nursing facility.
Blackwell said, "I highly recommend thinking beyond yourself and thinking of the people who you love and the public that could possibly be exposed and potentially have extreme side effects and ending up seriously ill."
Jannone added, "It is safe and effective and will save lives. There are some side effects, especially after the second dose, which simply shows your immune system is responding. The disease of COVID-19 is much worse and can be deadly."
PHOTOS COURTESY of Laura Jannone