Amanda Bucci, Executive Assistant to the General Manager of the Brooklyn Nets, joined the Sports Industry Club for their virtual speaker series on Wednesday. Apr. 7.
Bucci detailed her job's expectations while sharing her journey towards the position. She grew up outside Boston, attending Union College with a degree in Environmental Science and Policy. "Out of college, I had a consulting job in the environmental field," Bucci said. "My title was literally 'environmental scientist'. I was taking oil samples and water samples and writing up reports."
After a few years, Bucci was looking for a change and began teaching spin classes, a type of bike-exercise meant for a more intense and short workout. Around 2011, a friend at the time told her of a position at Soul Cycle in New York City.
"I took a leap and I worked on the Upper East Side," Bucci explained. "[SoulCycle] is a very hospitable place. As someone who worked there, you're required to know everyone coming in."
In February of 2016, a frequent SoulCycle customer alerted Bucci that Sean Marks, former NBA player, coach, and now newly appointed General Manager of the Brooklyn Nets was looking for an assistant.
Bucci interviewed with Marks and was hired. She credits her time at SoulCycle as the main experience that drove her skills once hired by the Nets.
"[SoulCycle] is a public facing business," Bucci said. "You're having people come in all the time throughout the day, people calling you and you have no idea what they're going to ask you. You just kind of wear a lot of different hats and that translated easily over into the Nets."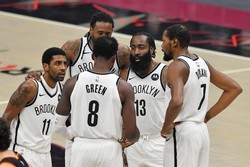 This year marks Bucci's 5 year anniversary with the organization. She explained the state of the Nets during her arrival and the organization's eventual evolution to a playoff fighting team.
"[When I began], we won 21 games," Bucci said. "We'd go weeks losing game after game. There was no pressure because everyone knew that we weren't supposed to be good and it was this rebuilding process. We wouldn't just be good overnight, and it's been really cool to watch this whole process [of becoming a playoff team]."
"Sean is a truly amazing person," Bucci said. "Everything you read about him or see in the news is true. Sean is such a cool guy, so humble and easy going. It makes my job a lot of fun and I think things come from the top down and he's just done such a good job of hiring people with the same values, beliefs and a common goal of working really hard, having a lot of fun and taking care of each other."
At the Nets, Bucci considers herself a catch all. "Any day, I have no idea what's coming," Bucci said. "I know there's certain things to do that day or week, but you never know what's going to come up."
She does administrative work that involves player and staff on-and-off boarding, handling game day operations and planning events with people's significant others.
"We really try to create a network for them because some people have never been to Brooklyn before," Bucci said. "They get traded, have to come here and don't know anything or anyone. We really try to make people feel at home and let them know that we're there for them, especially when they first move here."
Everyone in basketball operations has a very specific role, whether it be performance, physical training, coaching, videography or analytics, she explained. Bucci specifically handles Human Resources questions, finance questions and direct player engagement such as helping entertain guests who fly in to Brooklyn.
"Me and the other assistant are kind of liaisons between the business side, which is ticket sales, partnerships, sponsorships, legal, HR, and finance. There's only a few people in basketball operations who really deal with those departments, and I'm one of them."
IMAGE TAKEN from Nothing But Nets