The Biden Administration has been criticized for a wave of new migrant arrivals on the United States-Mexican border. This recent influx has been the largest spike of undocumented arrivals since 2019, many being unaccompanied minors, according to NPR.
In April 2020, the numbers of immigrants had fallen due to the coronavirus pandemic. However, since February, the numbers have been increasing to nearly 100,000 immigrants, according to Pew Research Center. Some of the immigrant restrictions, that were put in place by former president Donald Trump, are being reversed by The Biden Administration. Pew Research Center reported that the Remain in Mexico Policy was included in this.
"The message is quite clear: Do not come," noted Homeland Security Secretary Alejandro Mayorkas.
The White House has dismissed claims of a crisis occurring. President Biden has argued, "Nothing has changed" and "It happens every single, solitary year." However, Senate Republicans have blamed President Biden for mishandling current issues on the southern border.
Migrants that are seeking asylum are originating from Mexico and Central American countries, according to BBC. Due to high numbers, Homeland Security and ICE said there is a need to reopen more detention facilities. Typically, parents and children are separated until further notice due to a concern for potential human trafficking connections. Journalists who have had access inside have criticized the facilities for tight conditions, making social distancing and other COVID-19 safety protocols a challenge.
Joseph Patten, Ph.D., Associate Professor of Political Science, discussed the recent history of politics and immigration. He said, "I think it's a shame how weaponized our politics has become, especially with this issue. Immigration is of course both a social and political issue we need to fix as a country. If you talk to an average Republican and an average Democrat, I am sure you will find they are not as far apart politically on this issue as it seems to be."
Patten continued, "For example, during the Bush Administration they passed a bill to build some border fencing and there really was not an issue with Democrats. At the same time, I think it has become extreme that the federal government is allowing a no tolerance policy like keeping children in cages."
The Biden Administration has taken a different approach on immigration compared to the previous Trump Administration. Former President Trump has advocated for tighter security at the border while President Biden has promised he will discontinue funding additional border wall construction and to generally allow more immigrants to have opportunities to stay in the United States.
The Biden Administration had planned to undo Trump's restrictions on immigration policies when Biden was inaugurated into office, according to Reuters. However, since then, The Washington Post has reported that not much has changed in regard to the immigration policies. The Washington Post also stated that former immigration restrictions placed by Trump still are in effect and continue to block all legal immigration into the country.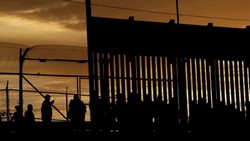 Jen McGovern, Ph.D., Assistant Professor in the Department of Political Science and Sociology, discussed the background and connections of socioeconomics and immigration. McGovern noted, "The problems at the border stem from much larger issues of global inequality. While the United States has its fair share of poverty and economic equality, it also has opportunities for employment and education."
"With fewer opportunities in their home countries, many migrants are being driven by these "pull" factors. However, other migrants are motivated more by "push" factors, such the desire to escape the brutal gang violence that is too often paired with economic depravity. There are plenty of opportunities for reform within the American immigration system; however, migrant flows will likely continue as long as extreme inequalities between countries remain," she added.
The growing numbers of immigrants crossing the border has a lot to do with the COVID-19 pandemic and how the economic impacts have caused certain regions to struggle even more, according to Rescue.org. With more children immigrants coming into the country, Rescue.org reported that there are not enough shelter beds available. The Biden Administration is also struggling to find more housing.
Rescue.org also reported that Title 42 is still in effect to this day. Title 42 is a policy that came under The Trump Administration that used the COVID-19 pandemic to be the reason to expel or turn away asylum seekers coming into the country.
Sabrina Amato, a junior political science student, offered criticism towards the current border situation. She explained, "This issue can be fixed by transforming immigration laws and regulations into attainable and non-punishable goals. No one should fear their own or a family members life when wanting to become an immigrant. I truly believe no one is illegal on stolen land."
IMAGE TAKEN from Reuters/Andrees Latif
IMAGE TAKEN from CNN