After serving as the faculty advisor for 33 years, overseeing 800 issues and over 12,800 pages of the newspaper, John Morano, Professor of Journalism, has decided to step down as faculty advisor for the student-run University newspaper, The Outlook.
Morano has been the only faculty advisor for The Outlook since it was first published in 1933, and he is also the founder of the journalism program at Monmouth.
Under his leadership, the paper has won five national championships from the American Scholastic Press Association, one national championship from the Society of Professional Journalists, and was awarded 'Top Ten in the Nation' from the American Collegiate Press.
Morano said that his feelings on leaving the newspaper are complicated. "I mean, it's time. It's time for me to step away and let someone else step in," he said.
Marina Vujnovic, Ph.D., Associate Professor of Journalism, will take over as the new faculty advisor for The Outlook, starting this upcoming fall 2021 semester.
"She's wonderful. That makes it that much easier for me to hand it over to a colleague," Morano said. "But it's been a really big part of my life, and a great joy in my life. On some level, after all of that time, it becomes part of you. But nothing lasts forever, and it really shouldn't last forever. So, the time is right, this is the time to do this. I don't want to overstay my welcome."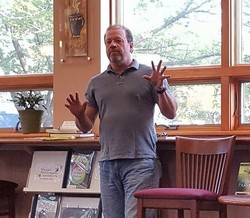 Morano said he was originally going to step down as faculty advisor last year, but since the COVID-19 pandemic hit, he felt that he could not leave under those conditions. He decided to stay another year and make sure all of The Outlook staff was able to get through this pandemic and their new work environment through a temporary remote setting.
A year later, since he feels that The Outlook has adjusted to the pandemic, now is a better time to leave.
Aaron Furgason, Ph.D., Chair and Associate Professor of Communication, used to have Morano as a professor back in 1988, and they have now been colleagues since 2000.
"I would describe John as incredibly knowledgeable, very much about student success and the difficulties of journalism. His expectations were very high. You worked in John's classes, and at the end when you finished, you were a better journalist for it," said Furgason.
Furgason said that as he got to know Morano more over the years, that he is one of the most kind and personable people he knows.
"I feel bad for the students since he is leaving The Outlook because John has done it so well for so long. I think that Professor Vujnovic, who's coming in, will do a fantastic job, but she has some big shoes to fill," said Furgason.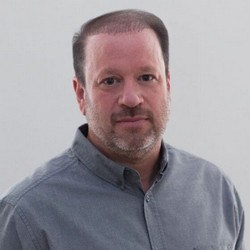 Furgason also said that Morano was hired because there was no journalism program at Monmouth University. "Without John, there is no journalism program here. There is no way for students to get those skill sets. He had come with so much great professional experience that students benefitted," he said.
Morano said, "You know it's funny. People come to universities to do all kinds of things. I'm a journalist. I came to do journalism."
According to Morano, being able to teach students about journalism is great, but it is not enough. He said to be able to get his students into a newsroom and to guide them on how to do it is where the real experience comes in. "To be in the trenches with the students doing this, and to be recognized beyond the walls of Monmouth as a successful publication, is a wonderful thing," he said.
Morano explained that having a dedicated newsroom space is central to a successful learning experience, and that the paper enables students to perform journalism at a very high level. He said that he has high expectations for his students, especially those who are a part of The Outlook staff, because he knows what they are capable of and hopes to push them to be the best they can be.
"He is not just a professor, but also a mentor," said Melissa Badamo, a senior English student and Editor-in-Chief of The Outlook. "He has helped me sprout into a skilled journalist and has given me guidance that I will take with me throughout my entire career. Almost everything I learned in journalism, I learned from him."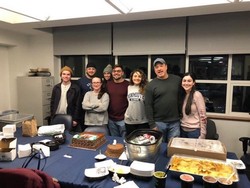 Badamo first met Morano as a sophomore when she took his Intro to Journalism course. Now, as a senior, she said she feels honored to be the last Editor-in-Chief he works with.
"Professor Morano gives countless guidance to students at The Outlook, whether it's advice on writing articles, gathering sources, etc. He brought his expertise into the newsroom 33 years ago and has been inspiring journalism students ever since. The Outlook wouldn't be the award-winning newspaper it is without Professor Morano," said Badamo.
Eleanor Novek, Ph.D., Professor of Communication, has known Morano for 25 years, and Morano was even an advocate in hiring her. Novek also said that Morano has had an enormous impact on the Monmouth journalism community, and he is also a defender of student press freedom.
"Sometimes, when The Outlook has been reporting a controversial story, Morano has had to defend the students from people who would like to silence them. And after publication, he has had to remind people that The Outlook is a student voice, not a marketing tool for the university. And he has stepped up to do that week after week, year after year," said Novek.
She also said that she admires his dedication and his clarity about his role in supporting, but not controlling, The Outlook staff. She said Morano is dedicated to honest, hard-hitting, truth-seeking journalism, and has been fighting the good fight on Monmouth campus long before she arrived.
"He's also demonstrated to me the importance of finding a way to pursue what you love. He loves journalism and nature and has written a beautiful eco-adventure series of novels that combines elements of both in a way that young people and old can appreciate… He loves a good story – and can tell one, too, like nobody else. If you haven't heard him tell the story of the birth of his eldest son at home, it will take your breath away," said Novek.
Morano said that he has loved every second at The Outlook. He now plans to reclaim a little more time for him. He plans to also write more books and read more too.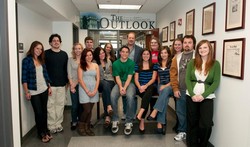 "I'm still Professor Morano. I'm still going to be in my office doing my thing. My door is always going to be open. Anybody at the paper, who thinks talking to me will help them understand something a little bit better, continue to do that. I'm thrilled to do it," said Morano.
Morano said that The Outlook will do what it does without him. He hopes that the paper never settles, the paper is always fair, the paper always tells the truth, and that The Outlook staff always gives it their best effort.
"If we just do that, The Outlook will always be an amazing newspaper," said Morano.
PHOTO COURTESY of Mark Ludak/JohnMorano.com
IMAGE TAKEN from JohnMorano.com
PHOTO COURTESY of Monmouth University
PHOTO COURTESY of Brianna McCabe
PHOTO COURTESY of Brett Bodner