The School of Education invited Sohyun An, Ph.D., Professor of Social Studies Education at Kennesaw State University to virtually discuss Anti-Asian violence amid the COVID-19 pandemic and its implications on education, general citizens, and critical media literacy on Wednesday, Mar. 31.
Jiwon Kim, Ph.D., an Associate Professor of Social Studies and Foundations of Education in the Department of Curriculum and Instruction, introduced An and the context behind the speaker's research.
An studies, teaches, and parents with a hope for anti-racist, anti-oppressive school and society for all children, Kim explained. Her research centers on social studies and teacher education from Critical Race Theory, AsianCrit, social justice, and critical civic literacy perspectives.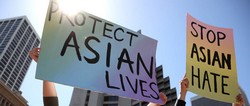 An analysis released by the Center for the Study of Hate and Extremism at California State University, found that while hate crimes in 2020 decreased overall by seven percent, those targeting Asian people rose by close to 150 percent. These increases were found mostly in New York City and Los Angeles.
A series of mass shootings occurred at three Asian-operated spas or massage parlors in Atlanta, GA, on Tuesday, Mar. 16. Six of the eight killed were Asian women. The suspect, a 21-year-old white man from Woodstock, GA, was taken into custody later that day.
"It was heartbreaking and horrifying, but to many Asian Americans, it wasn't a surprise," An said. "Since the beginning of the COVID-19 pandemic we've been in grief with this upsurge of Anti-Asian violence."
In Minnesota, last March, an Asian-American family came home and found a hateful note taped to their front door, An explained. "The note said we are watching you. Take the Chinese virus back to China. We don't want you here infecting us with your disease."
In Texas, April 2020, the xenophobic trend continued as a Burmese-American man with two children, ages two and six, were stabbed by a 19 year old at a Local Sams Club, An said. The man was quoted as saying "Chinese are infecting people with the coronavirus. That's why I did it."
"Stop AAPI," a service reporting anti-Asian harassment and violence, began tracking hate crime information since the beginning of the COVID-19 pandemic. "Within a month, they received near 1,500 cases of Anti-Asian harassment, violence and hate crimes," An said. "Last year, total caseload was 2,808. Including this year, 2021, January and February, we have now 3,795."
"This is a lot, and we wonder why we see this upsurge in Anti-Asian violence today," An said. "It's not hard to guess, right? Since the beginning of the COVID-19 pandemic, then President Donald Trump, along with his political allies and media outlets, started to call coronavirus the 'China Virus,' 'Chinese Virus,' 'Wuhan Virus,' and 'Kung Flu."
The World Health Organization (WHO) has a guideline which states when a new human infectious disease begins to spread, you never name that new infectious disease after a group of people, An explained. "When they announced this guideline, it's based on history. History shows and demonstrates that doing so can harm the people whose name is attached to the new infectious disease. A virus doesn't know who you are. It doesn't know your nationality, ethnicity, race or gender, or your class background."
An went into detail regarding the troubling pattern of racializing disease and scapegoating racially marginalized groups throughout United State's history.
During the 1832 Cholera epidemic, the infection was spreading rapidly throughout Irish immigrant neighborhoods in New York City, An explained. The dominant group, Anglo Saxon Protestants, said the spread was due to Irish immigrants.
The 1900s Tuberculosis epidemic was spread heavily amongst Jewish Immigrants. "Again, you see a similar parallel with Irish immigrants," An said. "As poor, new immigrants, they're living in really congested, crowded urban housing. If you're living in really congested, crowded housing and one person gets the disease, it's more likely to be spread out. The dominant group, based on their long held anti-semitism, called it a Jewish problem. They used this to push the government to restrict Jewish immigrants."
A similar parallel also occurred during 1960s polio cases. The first case was noted in an Italian neighborhood in Brooklyn, An explained. "All the parents and grown ups were panicked, and in this panic, they said it's an Italian problem," An said. "Despite that, there was a lower rate of Italian polio cases, but the government listened to the dominant group who demanded that you need to quarantine the Italian neighborhoods despite the fact that there's lower case numbers in the Italian neighborhood."
"Think about 2009," An said. "Barack Obama becomes the first [minority] president and there's a huge political divide; a growing anti-immigration movement. In that context, when H1N1 was first announced and noted from a Mexico village, these anti-immigrant activists started to call it the Mexican Flu. It's a build up of long held Mexican racism in the United States and the racism was fueled by the media and politicians who called it the Mexican Flu."
The first case of Ebola in 2014 can be traced back to a Liberian man traveling to the United States. The media's insistence on associating the man with his African roots caused Americans to associate Ebola with Africa. "There's people with irrational fear, discrimination and hate crimes against the West-African community."
"With the 2019 COVID-19 Pandemic, we see the pattern of how this goes," An said. "The first case was reported in China and then back in the United States. The political leaders who have the power to sway people's opinion in spite of the WHO's guidelines [to not associate infectious disease with groups] chose not to. We saw the spike of Anti-Asian violence cases nationwide."
IMAGE TAKEN from Kennesaw.edu
IMAGE TAKEN from NPR