Prospective Students and Families Get a Taste of Monmouth
---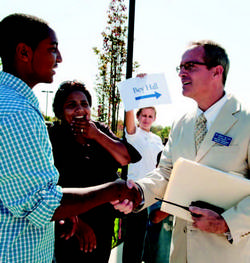 Prospective students and their families wandered around campus in summerlike warmth under a sunny, cloudless blue sky during the University's annual open house last Sunday.
"I'm glad it's such a nice day because I feel like when people look at colleges, they remember the weather," Melisa Safchinsky, a sophomore, said.
Approximately 1,400 families visited the campus during the event, which is comparable to its attendance for the past two years. Over 200 students and 200 faculty, staff, administrators, and administrative services personnel assisted the Office of Undergraduate Admission in hosting the event, said Lauren Vento Cifelli, the Assistant Vice President of Enrollment Management.
Some of those who helped run the event noticed a wide range of interest among the prospective students, such as Barbara Reagor, the Director for the Rapid Response Institute and a member of the School of Science. "A lot of students have been interested in all of the different fields," Reagor said. "For me, I think it's gone even better than last year in terms of the number of people. I think we've had a nice attendance today for the number of students that have come."
Prospective students began the day with registration at 11:30 am and then received a welcoming speech by President Paul G. Gaffney II in the Multipurpose Activity Center in the afternoon. Informative sessions about the University's different academic departments were held from 1:00 to 2:40 pm.
There was an Admission/Financial Aid tent in front of Wilson Hall where families were able to learn what was needed to become a University student. Campus tours, inclusive of the residence halls and Guggenheim Library, were provided by students every 15 minutes.
There also was a Department and Student Support Services Fair where academic and administrative offices in Wilson Hall were represented by students, faculty and staff, who provided information about programs and services available at the University.
"This year, we adjusted the schedule to include more activities for families who arrived early," Cifelli said. "We are happy to have offered these activities and plan to continue a morning schedule next year."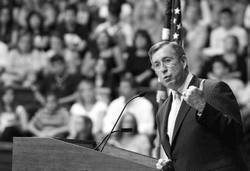 Student clubs and organizations soaked in the day's sun and sat at tables in Erlanger Gardens outside of Wilson Hall. They gave visitors an idea what the University has to offer from the perspective of current students.
"Feedback from families has been very positive," Cifelli said. "They were thoroughly impressed with the beauty of our campus, the welcome they received from our students and faculty, and the organization of the day. We hope to see more students applying to Monmouth as a result."
According to Cifelli, there are a great number of first-year students who help at Open House. "Each year we have a great turnout from first-year students, Cifelli said. "This is typically because they remember attending this event just a year ago and are excited about having chosen Monmouth University."
Brielle Wanamaker, a first-year student, said she helped because she wanted to get involved in the University community. "I thought it would be something interesting to do, to get involved on-campus and to help out," she said. "I hope it goes well; I think it's good that everybody comes and is able to get the information that they need before they make the decision to come here."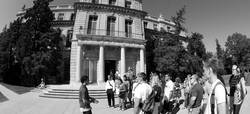 Upperclassmen also have noticed the participation of first-year students in running the event. "It is really good to see freshman involvement," said Jessica Eme, a senior. "I have seen a lot of freshmen helping with Open House, so I think this is helping them get involved."
Cifelli said she enjoys participating in the event because she gets to show how proud she is to be a member of the University community. "Open House is a time for us to share our MU pride by showcasing our programs, offerings, and students," she said.
PHOTOS COURTESY of Blaze Nowara