Ravindra Sharma, Former Sports Journalist and Current Author
---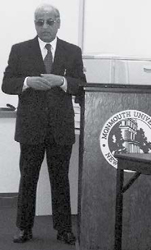 Surrounded by a wealth of information, books and reference materials, Ravindra Sharma, Dean of the Library, remains enthusiastic in his passion for research and writing. With roots in journalism, his love for writing holds strong.
This November, the first volume of his twelfth book, "Libraries in the Early Twenty-First Century: An International Perspective," will be released. Edited by Sharma, the two-volume book contains chapters written by authors from around the world. From countries such as Hungary, Japan, Russia, Morocco and New Zealand, the future state of library science and technology is discussed. The second volume is planned for release in March of 2012.
"For the first time in the history of the International Federation of Library Associations (the book's publisher) all the living Presidents of IFLA have contributed chapters in this book," Sharma said. "History has been made."
Many of the book's chapters focus on the future of libraries and integrating technology from the present day until 2025. Sharma said that a balance needs to be maintained between traditional sources and technology. With access to 150 online databases and information available on mobile devices, books and traditional reference materials will remain a research tool.
Sharma's hope is that world leaders will spend more time on education and improving libraries than fighting wars. "I wanted to give a complete picture of what's happening in libraries all over the world," he said. Many libraries in third-world countries do not have basic necessities.
"There's hunger, there's poverty, there's so much going on all over, and education can really reduce all of this if we all work together as a team," he added.
Sharma received two awards for his dedication and accomplishments in the field of library science and research. In June, he received a special recognition award from the Association of College and Research Libraries (ACRL) for his distinguished service as chairperson of the constitution and bylaws committee for the Asian, African, and Middle Eastern Section.
In 2010 he was awarded for his excellent contributions and service to the Asian Pacific American Librarians Association. Both awards were presented at the annual conference of the American Library Association. Also, in 2005, ACRL presented him the Academic Research Award which is the highest award given by the organization.
Although Sharma has made many accomplishments in the field of library science in the past 25 years, his career began in journalism. Working as a sports writer in India, he covered events for national magazines and journals. He described reporting on the 1976 Olympics as a "very unique experience" and a most memorable news story. "It was so nice to sit down with the athletes and talk about their experience and how they became good players and what they want to achieve," he said.
When Sharma migrated from India to Canada in 1967, his career as a journalist came to a standstill. In Canada, he was unable to find a job in journalism without a master's degree in that field. "People look at your credentials, not what you have to offer," Sharma said.
With his brother's encouragement, he made the decision to go back to college in 1968 and made the move to the United States. He went on to receive a master's degree in Library and Information Science at the University of North Texas and a doctorate degree in higher education at the State University of New York.
Transitioning to library science from journalism in 1981, Sharma still enjoys writing and research. "Writing is my passion," he said. As he reminisces about his days as a journalist, Sharma is also enthusiastic about his position as Dean of the Library.
Meeting the research and information needs of students and faculty is a priority for Sharma. In March, the library staff introduced new technology allowing students access to resources through their mobile devices. This technology gives students access to 1.6 billion items from 10,000 libraries around the world. "Our job is to make sure that students and faculty get what they're looking for here, all information for their research," Sharma said.
Sharma advises students to ask for help with their research and if they have any problems he encourages them to talk to him. He is willing to go out of his way to make sure the students and faculty are happy.
PHOTO COURTESY of Monmouth University