Conservative Radio Host Refers to Law Student as "Slut" and "Prostitute"
---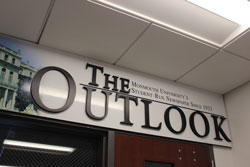 In today's modernized and constantly connected society, being able to captivate an audience's attention, is no small feat. Conservative talk show host and political commentator Rush Limbaugh has been able to do so. Instead the causation for the audience's attention stems from brash comments used by Limbaugh to describe 31 year old law student Sandra Fluke and her positioning regarding contraception.
According to an article in the Huffington Post on March 13, Limbaugh had first regarded Fluke as a "slut" and "prostitute" during his radio show after the third year Georgetown law student had been denied the opportunity to speak before a Congressional panel backing the thought of insurers covering the cost of contraception. Professor Michael Phillips-Anderson, a Communications professor at the University states that, "While she was not allowed to testify before the official House committee she did make a statement to the House Democratic Steering and Policy Committee. It was those remarks that Limbaugh responded to. Limbaugh's comments echo those of many criticisms of those seeking greater equality for women throughout the 18th and 19th centuries. Women who entered the public sphere were often identified as prostitutes for leaving the private sphere and entering into public discourse."
As reported in an article in Time Magazine on March 8, ever since the first snubs towards Fluke had been delivered, Limbaugh had ridiculed and released taunting comments regarding Fluke a total of 53 times over the course of three days. Jessica Davis, a freshman, recalls some of the crude mentionings spoken by Limbaugh. "I remember that [Limbaugh] went so far as to say that all women who get contraception should post videos of themselves having sex on the internet as a way of "paying it back" to society. Not only did I find the comment disgusting, but it really made me wonder why anyone would choose to take this guy seriously when he is saying such nasty and immature things about a very serious issue," says Davis. The very comments had sparked national outrage, resulting in several companies second guessing the relations tying them to Limbaugh's name.
ABC News had stated on March 14 that although some companies such as LifeLock and Lear Financial had publicly stated that they will not be withdrawing their ads from Limbaugh's show, over 100 companies have demanded that their ads not be mentioned during the selected time segment. Some other companies have also requested that their advertisements not be run during programs that might contain any "offensive or controversial" content that is "likely to stir negative sentiment" amongst the viewing public. Such programs include shows run by Sean Hannity, Glenn Beck and now Rush Limbaugh.
Limbaugh has since apologized for his comments towards Fluke, but maintains his position on contraception funding and the issue overall. Professor Nancy Mezey, Associate professor and Director of the Sociology program at Monmouth, like many others questions Limbaugh's sincerity, "I really can't say if Rush Limbaugh was earnest in his apology. Earnest or not, pressure from a financial source such as advertising is a powerful tool to convince public figures to apologize for their actions. My father used to tell me, "Don't be sorry; just don't do it." I think Limbaugh might want to take that advice. Public figures, because they are so public, should choose their words very carefully before they speak them out loud and on air," says Mezey.
Freshman Alexandra Ferrell also can't help but be skeptical towards Limbaugh's concession. "He probably only did so because people weren't responding to what he was saying in the manner that he expected. He was losing support and most likely figured that an apology would be a good enough band aid to hold everything together until the situation was forgotten and healed over," states Ferrell.
Rumors surrounding whether Limbaugh's show will be cancelled have been quickly dispelled. Premiere Network's spokeswoman Rachel Nelson has been quoted in an email to ABC News that there is absolutely no truth to Limbaugh's show being cancelled, and that the show shall continue at its usual time slot as planned.
However with all of the doubt surrounding Limbaugh and his attempts at reparation, Republicans have been fighting to address the issue without insulting Limbaugh's supporters as well as to avoid further insulting those offended by the radio personality himself. Leading Republican Presidential candidate Mitt Romney regarding the controversy has simply stated that "It's not the language I would have used." The very neutralized comment has since also brought Romney under a fire similar to the heat that Limbaugh faces. "Romney is terrified of doing anything to alienate the more conservative wing that now makes up the majority of the Republican Party. To say it's not the language I would have used is not the same as saying what Limbaugh said was wrong," said Phillips-Anderson.
Overall, whether Republican or Democratic views are held, one cannot help but wonder whether this whole controversy was a victory for Fluke or Limbaugh. Phillips- Anderson states "I think ultimately that makes this episode more useful for Fluke and the Democrats because it keeps the discussion focused on women's health and reproductive rights not on religious freedom. And that Limbaugh has lost scores of sponsors may hurt him financially in the near-term and hurt his long-term ability to stay on so many stations and as part of the national conversation."
Ultimately Mezey seems to agree that Limbaugh did a good amount of self-inflicted damage. "I'm not sure if there is a winner or loser, but Limbaugh certainly did not help his cause. He insulted millions of women in the United States alone. To directly insult nearly all women between 15 and 44 years in the US, and to therefore indirectly insult the men with whom those women may be engaging in sexual relations, is a serious error on Limbaugh's part," states Mezey.
All in all one must decide has Limbaugh gone too far this time in his ruthless, no-nonsense commentary or has Fluke simply been used as a pawn in a game of political wit? No matter the case, most everyone can agree that the contraception controversy, and all of the dirty play that follows, is most definitely far from over.