Will Super Tuesday Could Become Crucial to Winner of the Republican Nomination
---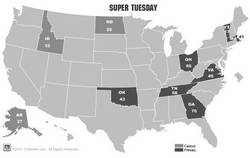 Mitt Romney won the Arizona Republican primary by a wide margin. Romney was also reported to have initially won his home state of Michigan over challenger Rick Santorum by three percentage points, however after a recount it was called a tie. This led to the two candidates splitting the delegates.
While this is not the outcome Mitt Romney had hoped for, it is still a promising result for him going into Super Tuesday.
With the tremendous amount of mistakes he is making it is understandable why he is still struggling to become the clear front-runner in this race. While his win on Tuesday was good for his campaign, he'll have to kick it up a notch and prove to voters in the Super Tuesday states that he is the candidate that is capable and prepared to defeat Barack Obama in a general election. Political Science major Alexandria Todd responded, "I think Romney will ride the wave of momentum he gathered from his victories in Arizona and Michigan."
Rick Santorum has proven to be more than just a dark horse, making every step of this race a struggle for the Romney camp. From what looked like a clearcut loss for Santorum actually turned out to yield big gains and definitely improve his chances come March 6th. Dr. Joseph Patten, Chair of the Political Science Department stated, "Santorum seems to be wounded after making a few political missteps in past weeks. As Romney's main competitor this will be crucial."
Controversy was bred in Michigan, when the Santorum campaign circulated automated calls appealing to Democrats to cross party lines and vote against Romney in the open primary. While Romney still has a relatively safe lead, what Santorum was able to do cannot be overlooked. Santorum took half of the delegates from Romney's home state. Santorum may be able to garner solid support from states like Ohio, which has one of the highest delegate counts of 66. According to a recent NBC News/Marist poll, Santorum has a slight lead on Romney by about two percentage points. He also has a commanding lead in Oklahoma with about 42 percent. Romney currently stands at third place in the state.
While Santorum seems to have the backing of solid conservative voters, this still will not make up alone for the overwhelming advantage Mitt Romney has in the rest of the Super Tuesday states. In his stronghold of Massachusetts, a Suffolk University poll places Romney in the lead with 64 percent support. The numbers are similar in North Dakota, Vermont, and Idaho, where Romney is drawing large blocks of voters. In Virginia, Mitt Romney and Ron Paul are the only candidates on the ballot, since Santorum and Gingrich did not file in time. Still, Romney leads Ron Paul by an extremely big gap, 69 percent to 26 percent. It is safe to say that he will win Virginia's delegates.
Although Romney is leading, the question of electability still looms. Many are struggling to buy the fact that he's a true conservative. According to a USnews. com article "Mitt Romney's Electability Problem", "According to the Post/ABC poll, "By better than two to one, Americans say the more they learn about Romney, the less they like him."
Santorum on the other hand may be appealing to a limited audience by maintaining his extreme right-wing views on matters like contraception and religion in politics. The ultraconservative rhetoric leads many to believe that he will be unable to put up a serious fight against the incumbent, President Obama. Santorum, when asked about religion involved with politics on ABC's "This Week" he stated, "The idea that the church can have no influence or no involvement in the operation of the state is absolutely antithetical to the objectives and vision of our country."
Still, these points may be irrelevant if one candidate cannot draw numbers that exceed those of President Obama's. In the same NBC news/Marist poll, Obama leads Romney in Ohio 50 percent to 38 percent. He also leads Romney in Virginia 52 percent to 35 percent.
These numbers indicate that voters are not satisfied with the Republican field, and if they have to settle, they seem to be doing it for Mitt Romney. Patten commented by saying, "Romney has been given an important advantage for Super Tuesday, but it will be much harder for him to collect enough delegates to secure the nomination with the new rules of the Republican Primaries. Given that it is no longer strictly winner-take-all, all of the candidates have a chance to stick around until the convention and limit the amount of support Romney can receive."
PHOTO COURTESY of 270towin.com