University Dance Club Hosts Their First Annual Dance Recital
---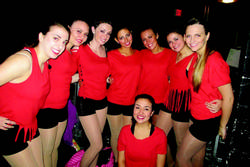 After much hard work, the University's dance club hosted their first annual dance recital in Pollak Theatre on Sunday April 15.
The 5,6,7,8 Club's first recital consisted of 12 routines choreographed by various members in different genres such as lyrical, contemporary, jazz, and break dancing. Members of the club choreographed their own dances and participated in other routines as well.
Taylor Kennedy, sophomore and math education major, is a dance club member and recital choreographer. "I was excited to show my family and friends the hard work we've put into this recital," she said. Being a former dancer and cheerleader, she expressed her excitement in being able to return to the stage once again.
The 5,6,7,8 club also began working with the local Boys and Girls Club this semester. Club members go to the Boys and Girls Club in Red Bank every Wednesday and teach children choreographed routines. The children that participated ranged in age from six to 13. The children of the Boys and Girls Club were also featured in the recital with their own routine choreographed by Sarah Van Vliet and Samantha Binaco. "They are a rambunctious group of kids to work with but it will be fun to see them perform on stage for the first time," Van Vliet said.
The 5,6,7,8 Club's most recent accomplishment is receiving the honor of "Most Outstanding New Organization" on campus. The club received recognition as well as a trophy. SVan Vliet, sophomore and art education major, is the President of the dance club, which she named 5,6,7,8. This name comes from the counts that are used when preparing and executing choreography. She began the 5,6,7,8 club because she danced her entire life prior to college, and upon coming to Monmouth, she realized there were no options for dancers other than the dance team. Van Vliet wanted to establish the club in order to bring dance to Monmouth in this form, giving everyone the opportunity to join without having to try out.
Samantha Binaco, sophomore and marketing major, is the Vice President of 5,6,7,8. She joined together with Van Vliet in order to establish the club. Binaco wanted to participate in the foundation of the club in order to make new friends.
"I wanted to make friends outside from the group of friends that I already had, and with people who shared common interests, like dance," Binaco said.
Binaco danced from age four to eight before joining cheerleading at age eight and continuing with that through high school. She enjoys dance club because she sees it as a break from the routine of schoolwork and it consists of something she likes to do for fun.
Van Vliet and Binaco explained that bringing the 5,6,7,8 club to campus was a long process. They said that they began preparation for the club in February of 2011, and this consisted of various meetings with Student Government Association, a formal proposal of what the club would offer, and various contracts. In March of 2011, they held an interest meeting that had a turnout of about 20 people. Over 80 people signed up to participate in the club at the campus' interest fair that semester.
The 5,6,7,8 club was officially established on campus in the fall of 2011. Now, the organization has 15 consistent members. The members meet twice a week, on Mondays and Tuesdays, from 8:00 to 9:30 pm. Since it has proved difficult to secure a constant meeting place, the club meets in various locations such as Cedar Hall Basement, Anacon Hall, and the MAC lounge. Van Vliet hopes to have an established meeting location by next semester.
A weekly meeting consists of learning choreographed routines created by members, as well as practicing technique. Each member has the chance to choreograph a dance if he or she is interested in doing so.
The overall atmosphere of a typical meeting is casual and informal, with members throwing around different ideas about e l e m e n t s like technique, choreography, and formation. Usually, one dance will be spotlighted at each meeting time, and the entire meeting will focus on that dance along with practicing of technique, whether it is pirouettes or leaps across the floor. At this point in the season, the club has just finished their biggest event, a dance recital showcasing a year of hard work.
Raymond Lee, senior, is a member of dance club. As only one of two male members, he practices break dancing, which he found interest in at a young age after being taught by his brother. Yet, Lee is interested in expanding his experience in various genres. "I have a passion for dance and although I love break dancing, I want to learn other styles which I can do here," Lee said.
Lee also recognizes that the club predominantly consists of females.
He gives advice to other males and anyone else who may want to join the club in the future.
"Be yourself and show some confidence. It is always fun to learn something new," Lee said.
Van Vliet and Binaco hope that although the 5,6,7,8 club is in its infancy, it will gain momentum throughout the University, especially after the upcoming recital. They hope a name will be made for 5,6,7,8 on campus so that it will continue to grow for years to come.
The 5,6,7,8 Dance Club is always open to new members. In order to join, you can email Van Vliet at MU_5678_club@hotmail.com to gain more information or find out where the next meeting will be held.
PHOTO COURTESY of Taylor Kelly