Friday the 13 was anything but unlucky for the American Cancer Society's Relay for Life at the University, as it raised approximately $43,027.
With six months of planning and no budget, Jess Rohr, the event Co-Chair, was very satisfied with how the event turned out. The event is run by Colleges Against Cancer but is an American Cancer Society event.
"We had 50 teams and 633 participants at Relay this year, which is an all-time high," Rohr said.
Everything purchased and booked for the event was donated from different vendors.
"Vendors such as Chick-Filet, Scala's Pizzeria, Joe's Pizzeria and Live Nation as well as the University and students, helped make this event possible. We had two students, Chris Spirito and Phil Nappen DJ our event, as well as a performance from Ross the Magic Man. We reached out to different bands such as Sibling Rivalry to perform as well," Rohr said. According to Rohr, without the vendors and donations, the event would have not been possible.
This year was the first year that the event was hosted inside of the Multipurpose Activity Center. Previously, the event was held on the Kessler Field, which, according to Rohr, wasn't always pleasant. "This was the first year I did not freeze at Relay," Rohr said.
The basketball court was covered with tents and sleeping bags of the different teams and a stage was set up for the performances throughout the night. The track around the basketball court was walked by attendees throughout the night. The tradition was started in 1985 when Dr. Gordy Klatt decided to run for 24 hours straight to fight against cancer.
Luminaires lined the track that could be made by a donation of five dollars. Many bags were in honor of Bertha Hughes, a University custodian that passed away last spring. According to relayforlife.org, "simple white luminaria bags are transformed and illuminated after dark at every local Relay For Life event. Each one is personalized with the name, photo, message or drawing in memory or honor of a friend or loved one who has been affected by cancer. Each luminaria candle represents a person."
The candles in the bags were lit up at 10:00 pm and all lights were turned off in remembrance of all those lost to cancer and those still fighting. Evelyn Herrera, a member of the Desperate Mama's team and a custodian in Plangere Center, thought it was a wonderful touch to the event.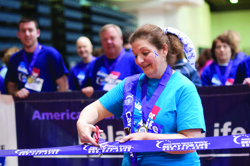 "It was an amazing way to show love and support. Everyone was crying and thinking about their lost loved ones," Herrera said.
The Desperate Mamas came in second place with the most money raised. According to Donna Mancini, co-captain of the group and office coordinator for WMCX, the group raised approximately $7,384.
"The MAC made everything better and it really maximized the event. Everyone paid attention to everything, everyone participated and the night really gave that warm fuzzy feeling," Mancini said.
"We made all that money and I am so proud of our team that we can come all together for sake of the cause and ultimately save lives," Herrera said.
According to relayforlife.org, Relay for Life is a "life-changing event that helps communities across the globe celebrate the lives of people who have battled cancer, remember loved ones lost, and fight back against the disease."
Dan Villanova, the captain of the Desperate Students 2 team, which raised $1,123, said that he was proud of the students who came out and supported the cause.
"To see the generocity that people are willing to give is amazing. We're all just poor college students so to see that amount raised makes it all worthwhile," Villanova said.
"We were able to have non-stop music and entertainment all night, which we were never able to do in previous years," Rohr said. "We had a higher percentage of participants stay the entire night. I am very pleased with how the event turned out and I hope that the University allows us to use the MAC next year as well."
PHOTO COURTESY of Jim Reme