Sigma Tau Gamma Raises Money for the Special Olympics
---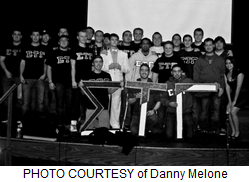 Sigma Tau Gamma hosted their first annual philanthropy event, Sigma Tau Squares, on Wednesday, October 24 at 10:00 pm in Pollack Theater to support the Special Olympics.
This was the first time STG hosted this event. It was set up by brothers Jay Giaquinta, senior, Dan Malone, junior and Mike Tilton, sophomore. Pre show tickets were available for five dollars, and tickets could also be purchased at the door for seven dollars.
"Having the event fulfilled our goal with raising almost $900 for the Special Olympics," said Tilton. The event created a way to spread awareness and encourage fundraising for Sigma Tau Gamma's philanthropy.
The event was co-hosted by Sigma Tau Gamma brother Henry Siebecker and Jessica Simmons. Sigma Tau Squares was also sponsored by local business chain Jersey Mike's Subs, which provided free food for guests who attended the show. Siebecker said, "It was the first time we had done this game as our philanthropy event, so it was very new and exciting."
Sigma Tau Squares was based off of the hit game show Hollywood Squares, which was created in the 1960s. The game was played by two contestants competing during each round in a game of tic-tac-toe. A panel of members from Phi Sigma Sigma, Delta Phi Epsilon, Tau Kappa Epsilon, Sigma Pi, Alpha Xi Delta, and Alpha Sigma Tau were asked trivia questions. The two competing contestants would judge whether they thought the answers given by the panel members were correct or incorrect. If the contestant was correct then they were awarded with either an X or an O. After each round, the losing contestant left the competition while the winning contestant advanced to another round to face another contestant.
The questions composed by Siebecker and Simmons ranged over various topics. These topics included sports and leisure, geography, entertainment, and art and literature. First through third places were awarded with prizes of gift certificates to local businesses. The prizes consisted of 25 dollars to Draft House, 25 dollars to Luigi's Pizza, 10 and 15-dollar gift certificates to Juniors West End, 20 dollars to Bubbakoos Burritos, and two free yogurts from Fro Yo Beach.
Third place was awarded to freshman Natalie Zeller. Second place was awarded to a sister of Alpha Sigma Tau, Alyssa Basile, and first place went to sophomore, Tom Carroll.
Participating contestant Eva Rosamilia, sophomore member of Delta Phi Epsilon, said, "It was exciting to be in a group's event for their philanthropy. It gets members of the school together and it is a fun way to do so."
Casey McCabe, Panhellenic Chair of Greek Senate said, "This was a great idea for a philanthropic event. Greek Senate loves to see organizations supporting each other and getting excited during these events." The hosts tried to bring in the energy and excitement to the event. Siebecker said, "Jessica and I had an understanding that we were just trying to have fun and flow off of each other's energy. I think the audience perceived that well and had just as much fun as we did."
The money raised through ticket sales went directly to supporting the Special Olympics, which is now celebrating their 44th season. At the event, host Siebecker announced that this year's Special Olympics will take place in South Korea starting on January 29.
The Special Olympics is the largest organization for adults and children with disabilities. These athletes receive year round training and participate in multiple events throughout the year. The Special Olympics World Games alternates between summer and winter games. Athletes are able to participate in these events free of charge. More than four million athletes from 120 countries participate in 32 Olympic events.
Tilton said, "It is easy to get involved with the Special Olympics. They have multiple ways you can volunteer, donate or raise money." Students interested in helping the Special Olympics can visit their website, www.specialolympics.org.