Trip Will Run for the Fifth Time Since 1986
---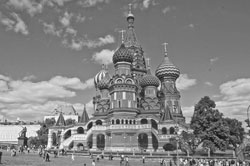 Provost Thomas Pearson will host a guided tour of Russia and Ukraine for the fifth time that will last from May 25 until June 7. For about $4,500, 19 people can join the tour, usually consisting of three to four students, University alumnus, University faculty, and several friends of the University, making for a diverse group of travelers. Currently, nine spots are open.
According to Pearson, the destinations on the tour cover the whole spectrum of Russia and Ukraine's history. The trip begins with Kiev, the capital of Ukraine, and the origin of Russian development and Christianity. Next, the group will visit the "Golden Ring" cities, Vladimir and Suzdal, which became the new centers of Russian life following the fall of Kiev in the thirteenth century.
After, the group will visit Moscow, the capital of the country from the fourteenth to the eighteenth centuries. Pearson said that Moscow represents the "Hollywood, New York City, and Washington, D.C." of Russia because it has 14 million residents and it is the city where Russians strive to live based on its wealth. More billionaires live in Moscow than any other city in the world.
After Moscow, the tour will continue to St. Petersburg, which opened Russia's "window" to the Western world and varies greatly in architecture, art, and culture from that of Moscow. Pearson said that his goal in visiting these various cities is to "give travelers an in-depth appreciation and multi-sensory exposure to Russian and Ukrainian history and culture."
Pearson also said that he recommends this trip not just to history majors but also to anyone who has an interest in Russia. He has had students from the anthropology, finance and biology departments who vary from sophomore students to graduate students.
Even though 19 people can attend this year, in the past years (1986, 2007, 2009, and 2011) between 15 and 18 people could attend. Another new feature is that this year the group will stay in Hotel Pekin, located in downtown Moscow, which is close to the major theatres, concert halls, shopping centers and museums. This hotel was built for Chinese visitors to the USSR when the Sino-Soviet relations were good, making it a site of considerable history in itself.
Also, the tour will be visiting the New Maiden Convent and Cemetery, also known as Novodevichy ,which is the final resting place of many famous Russians. Pearson said that he is particularly looking forward to the group's visit to the St. Petersburg Institute of Law where they will speak with the Rector who will discuss Russian society and culture to the tour to provide attendants with an understanding of the changes and challenges that Russia faces today.
Pearson, who has taught Russian history for over 40 years and has visited the country seven times (and lived there for ten months) feels that Russia is not an easy place to navigate for those traveling alone, but in a tour group, attendants can gain a full understanding of the life and culture of the country. The tours are run with the help of the Russian-American Consulting Company in New York and Intourist in Moscow. The Provost also collaborates with Marina Fokina, his close friend and fellow guide.
He also stressed that he can ensure that students are well-prepared to get the most out of their Russian experiences and that he can help them avoid typical tourist pitfalls, plus, he works with Russians who are equipped to handle possible issues.
In relation to why students should visit the country, Pearson said, "Russia is different in cultural and historical complexion from most European countries, in part because of its size, its physiognomy, and its historical experience." He continued, "Knowing Russia's history and culture and being there will enable our group members to understand better what is going on in the world, especially as it involves Russia, a country that has nearly 40 percent of the world's most valuable resources which makes it a key player in our twenty-first century world."
The costs breakdown is as follows: $1,315 for all of the flights, $2,590 for the land package, which includes all of the double-occupancy hotels, full breakfast and some lunches, and all of the tour sites with guides, transfers and other amenities, $230 for a first-class overnight train trip from Moscow to St. Petersburg, $190 for a Russian visa, and the balance to cover additional food. People who want single rooms will pay an $830 supplement on the land package.
For more information, do not hesitate to contact Pearson at pearson@monmouth.edu.
IMAGE TAKEN from siberiatraveldubai.com