University Bookstore Held "Salute to Seuss Soiree" in Honor of Read Across America Day
---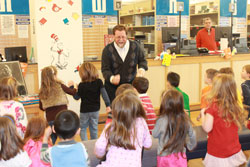 In celebration of Read Across America Day, the University bookstore held a "Salute to Seuss Soiree" on Friday, March 1. The bookstore was buzzing with pre-school students and University staff.
Children were given coloring activity packets as well as Thing 1 and Thing 2 shirts for older participants to take pictures in. Aramark baked Dr. Seuss-themed cupcakes for the event, The Lorax was played and stacks of Seuss books were available for children to read.
Nikki Hernandez, Assistant Manager of Course Materials at the bookstore, explained that they put the event together to encourage kids to read while having fun. "We all love to read, and not just because we work at the bookstore," Hernandez said.
There were five guest staff readers including Stanley Blair, English professor, and Claude Taylor, Athletics Professor-in-Residence. The readings ended with a surprise visit from "Cindy Lou Who," played by Barbara Coleman, bookstore employee.
Theodor Seuss Geisel was an American writer, poet, and cartoonist most widely known for his children's books written under the pen name Dr. Seuss. He published 46 children's books during his lifetime and March 2, his birthday, is now celebrated as Read Across America Day.
While the event was Seuss-themed, any children or reader's favorite book could be read.
The Seuss books "One Fish Two Fish Red Fish Blue Fish," "Mr. Brown Cow Can Moo! Can You?" and an excerpt from "Oh, The Places You'll Go!" were all read.
Michael Thomas, Assistant Dean of the School of Humanities and Social Sciences, read one of his favorite books, "Charlie Parker Played Be Bop" by Chris Raschka. "I wanted to diversify Read Across America readings and wanted something a little different that they haven't heard before," Thomas said.
"It gives them experience of reading but also the lyricism and musicality of language; it ties music and poetry and improvisation," Thomas continued. As a jazz enthusiast and poetry professor, Thomas appreciates that this book gets children aware that language can have music in it.
In the past, Thomas read to children for an Arts and Education program. This event was something that he looked forward to because it allowed him the opportunity to read to children again.
Christine Bant, Director of the Goddard School in West Long Branch, was invited by Hernandez to bring a pre-school class to be read to. The students usually participate in Read Across America in their own school, but Bant thought it would be a wonderful idea to collaborate with the University.
Bant said, "The kids just love looking at books and reading books, they read to each other a lot so this is nice to get a different experience for them."
"I invited the class because of course we wanted to encourage young readers to read," said Hernandez.
The bookstore received help in creating the Seuss-themed props and activities. "A lot of the art students who are the student helpers and a couple of the staff members who are artistic actually put it together. They did a great job," Hernandez continued.
The soiree wasn't just for the kids. The bookstore wanted the University students to participate as well. "We definitely wanted the entire community to come and support the event," Hernandez said.
"I understand it's a class day too and the people who are still on campus have classes during this time," said Hernandez. "We wanted to show we do more than books and can have fun."
PHOTO COURTESY of Amy Geis