The Magill Commons Dining Hall served dinner to students from 3 p.m. to 6 p.m. on Thanksgiving Day, due to the unprecedented volume of students remaining on campus during the break this year.
With a menu consisting of turkey, stuffing, and other Thanksgiving-themed foods, employees and residence hall assistants helped prepare and facilitate the meal.
The dining hall was limited to 10 students at a time, with the ability for students to take their meals back to residence housing. Isolated students could also have their food delivered. Brunch and dinner was served each day during the holiday weekend.
Jennifer Pomarico, Marketing & Office Manager of Gourmet Dining, adjusted the normal menu to reflect a more traditional Thanksgiving meal. The menu included carved turkey with gravy, sausage & fennel stuffing, brussels sprouts with bacon, short rib ravioli with a sage butter sauce, stuffed pork loin with cranberry stuffing, and much more.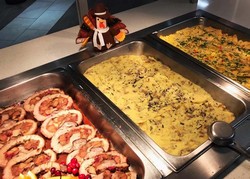 "The dinner menu was planned a few weeks in advance," Pomarico said. "We served about 20 students all day as well as the Residential Life staff. Everyone was very pleased with the meal and the offerings that we provided."
About 160 students are still living on campus, according to Mary Anne Nagy, Vice President for Student Life and Leadership Engagement.
"We knew we were going to have students [on campus] for lots of reasons," Nagy said. "Maybe home wasn't a safe place for them because somebody was sick, or maybe they were sick themselves. I think the other piece was students who might have traveled to a state that would require a quarantine on the way back."
The Crisis Management team began discussing plans for Thanksgiving around the middle of October, Nagy explained. The team weighed the possibilities of a meal after learning of the University's decision to commit to remote-learning after Thanksgiving.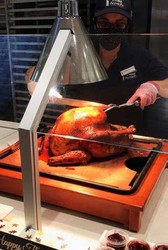 "Public health officials started to say campuses should try to keep students who need to isolate or quarantine on the campus," Nagy said. "[Our group] had people from Dining, Residential Life, Health Services, and Athletics."
The team decided to cover the cost of students' meal plans for the dinner, as they did not want money "to be a barrier to students staying," Nagy said. "We wanted [students] to make a good decision about staying and not worry about it costing more money. The University has covered the cost of their housing and their food for [that time period]."
Social distancing measures were the same as they have been all semester, Pomarico explained. "Everything was served in disposable containers, [with] social distancing markers on the floor encouraging students to remain six feet apart," Pomarico said. "Our indoor dining area has limited seating that promotes social distancing. Most students took their meals to go."
The fear of a winter snowstorm damaging the two outdoor dining tents caused their removal, Nagy said. In its place, the University is looking to create more indoor dining spaces.
"My hope is that students will start to eat inside a little bit more," Nagy said. "You can really stay socially distant while staying at a table. The tables and chairs are all at least six feet apart, so once students come in they basically have their own [safe area]. I think there's a real missed opportunity for building a sense of community."
Any student who had to isolate in their rooms because of a positive COVID-19 test result, regardless of the time of semester, can have their meals delivered to them during the day.
"We deliver breakfast, a lunch and then a hot meal for dinner," Nagy explained. "There's a menu they can choose from. We also make sure that we deliver extra bottles of water, Powerade and other things like that. If they have a fever, it's important that they stay hydrated. We've done that through the whole semester, but we've also done that on Thanksgiving as well."
Nagy found that over the course of the semester, students weren't getting up early enough for breakfast.
"For noon time, students wanted eggs, bacon, and pancakes," Nagy said. "We decided to adjust the menu going forward starting with Thanksgiving. We're doing more of a brunch, so you can get breakfast items as well as lunch items until 2-3 p.m. Then we switch over to a dinner meal."
PHOTOS COURTESY of Jennifer Pomarico