Eight Hawks Received All East Honors for their Performances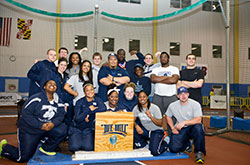 The men's and women's track teams took home two first place prizes in the Eastern Collegiate Athletic Conference and Inter­collegiate Association of Ama­teur Athletics the first weekend of March.
The men's distance medley relay (DMR) team took home a huge win. Racing against 30 teams on Saturday in order to qualify for the finals on Sunday were sophomores Andrew Lang­ille and Alex Leight as well as freshmen John Malespina and Graham Huggins-Filozof. Re­placing Malespina and Huggins- Filozof in the finals on Sunday were senior captains Ford Palm­er and sophomore Ben Boyd.
According to Palmer, the rea­son behind a six-man squad was because the competition lasted two days.
When asked if he was ner­vous that his squad would be at a disadvantage because of their youth, Palmer said, "No, not at all. We were working day in and day out throughout the year, so it was only a matter of time for their time to shine."
Head Coach Joe Compagni agrees with Palmer's opinion when it comes to the young team. "It's great to get them [un­derclassmen] the experience of not just being there, but being there and competing with the best folks of the east."
With the DMR win, this be­came Palmer's second IC4A victory in his career at MU. "Palmer actually won the thou­sand last year," Compagni said. "He was the first person to win a track event [in the IC4A]. We had other people win field events but we never had anybody win a track event."
Some may think an individual victory would be more reward­ing than a team victory, but not in Palmer's eyes. "This year is completely different because we won as a relay," Palmer said. "Running the relay is ten times better because you get to cel­ebrate with someone else."
All six members of the relay team were awarded All East Honors for their work.
Although junior Mariah Tous­saint did not win in the ECAC, she was also awarded with an All East Honor.
"Mariah did a great job. We always want to get to the end of our season and be our best," Co­mopagni said. "Maybe do some­thing we haven't done before. Sometimes that's hard to do, but that's what she did in her long jump."
Junior thrower Errol Jeffrey took home the team's second win in the IC4A as he came in first for the shot put with a distance of 59 feet and 9.75 inches on his second attempt. "I was excited [when I won]," Jeffrey said. "It ended the season on a good note. I didn't expect it, but I trained for it four times a week, four hours a day."
Jeffrey finished his indoor season with an All East Honor earning praise not only from his coaches, but also from his team­mates.
When asked who he thought was the most impressive this indoor season, Palmer replied, "Hands down Errol Jeffrey. He won IC4A, he swept NEC. He's been unbeatable."
With Jeffrey's All East Honor, MU had eight individuals given the award. Receiving an All East Honor, whether it be one's first year on the team or last, is al­ways treated as a big deal.
"It's [All East Honor] hard to get because we are talking about 98 schools from Maine to Vir­ginia," Compagni said. "It's all the division one schools in the Northeast. To be All East, you have to be in the top eight for your event."
The teams will hold their 18th Annual Monmouth University Track & Field Season Opener, sparking the outdoor season, on March 29-30.
When asked if he thinks the indoor season will reflect the outdoor season, Compagni said, "I hope so. We established what we do and we have to rebuild ev­erything as far as our training. We have to get better from week to week outdoors. I hope it's a good sign of things to come."
Starting time for field events on Friday, March 29 will be at 1:30 pm with the women first and the men to follow. Track events will begin at 9:30 am the follow­ing day, Saturday, March 30.
PHOTO TAKEN from Flickr.com