Outlook Thoughts on the Boston Marathon Bombing
---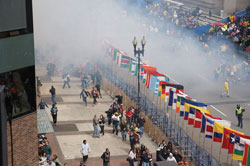 Every so often in our lifetime, an unspeakable tragedy strikes and impacts all of our lives in ways we never could have imagined. On Monday, April 15, 2013, several explosions occurred near the finish line of the Boston Marathon. Many of us at The Outlook immediately suspected it to be a terrorist attack, but little did we know that the search for the terrorists would put the city of Boston on lockdown for a day while the heroic officers of law en­forcement worked to catch the living suspect.
Although we are all very grate­ful that the suspects were found, we at The Outlook, as well as those around the world can't help but ask why? Why would anyone want to cause this much harm to innocent people taking part in a wonderful tradition?
It was a horrific sight to watch the videos of the explosion. See­ing people running in fear, crying out in pain and frantically search­ing for loved ones made those of us miles away want to hold our loved ones a little closer than usual. Three lives were claimed by this tragedy, including that of an 8 year-old boy that had just finished congratulating his father on completing the race. Sean Collier, a police officer at the Massachusetts Institute of Technol­ogy, also lost his life when he was gunned down late Thursday night by the two bombing suspects.
Those of us at The Outlook couldn't seem to put our reactions into words in the days following the tragedy. To us, the most disheart­ening aspect of the attack was that the Boston bombings occurred on a special day. Some people train their entire lives to be able to take part in a marathon, and it is a shame that the act of two deranged brothers can take all of that hard work away in a matter of a few seconds.
One of the editors noted that on this particular marathon day, there were runners who ran for the chil­dren killed in the Newtown tragedy, as well as gay rights or to honor someone who has passed. Some of these selfless runners who set out on a Monday morning to do some good now have to go through the rest of their lives with missing limbs and the painful memories of that fateful day.
Monday also happened to be Pa­triots Day in Boston, a day com­memorating the opening battles of the American Revolutionary War.
This particular day of the year was supposed to be a day of celebra­tion for Boston. However, instead of celebrating, people were mourning and praying that their families and friends would be okay, another edi­tor said.
Sometimes we claim that we have become desensitized to these random acts of violence because as one of the editors at The Outlook put it, "shoot­ings, stabbings, and killing have be­come a bi-weekly occurrence." It is almost as if something tragic is al­ways happening somewhere around the world, and we, as citizens, are no longer as surprised by such vio­lence, another editor said. However, it is impossible to get used to the idea that there are people in the world that want to cause harm to the innocent, either for no reason at all or to spread a fanatical ideology.
It is reasonable to say that we were caught off guard on Monday. One of the editors at The Outlook noted that in recent times people have be­come so concerned with schools, malls, and movie theaters that we have forgotten about the dangers that can happen walking down the street. Attacks such as those in Boston can happen anywhere, but it is incredibly unfortunate that they had to happen at a charitable event.
We also fear that because of these bombings, people will now be more suspicious of one another. The bomb­ers were of Chechnyan descent and, just like 9/11, we're worried that now all people of their nationality will be profiled because of the actions of these two men.
People who knew the suspects were shocked by the actions they took. As a result of this, it is very possible that people are now going to be more suspicious of friends and classmates. Maybe they have the right to be, but at the same time something like this has never happened before and there is a line between being rational and being paranoid. While it could be a good idea to be more skeptical, try not to go overboard on the paranoia.
If there is anything that 9/11 taught us, it is that we are a resilient nation. We may be down but we are never out. Whether we are supporting the victims in Aurora, Colorado, raising funds for the innocent children who lost their lives too soon in Newtown, Connecticut, or seeking justice for those affected by the selfish act of a terrorist in Boston, Massachusetts, we are a nation that always puts dif­ferences aside and supports one an­other in times of need. In tragedies like this, there are always ordinary citizens who step up and do extraor­dinary things to help people.
For example, at the first sporting event in Boston following the attacks, the entire crowd stood together and sang the national anthem before the game. This showed the pride of the country and that the tragedy was not going to bring us down. This attitude continued on Saturday afternoon, when the Boston Red Sox's had their first home game since the bombings. Red Sox hero David Ortiz aka "Big Papi" addressed the crowd before the game and told the crowd that "This is our f***ing city!" and the crowd at Fenway Park erupted into cheers.
Observing the event from a me­dia standpoint, we were a little dis­appointed with how this played out from a journalism perspective. Me­dia right now is the place where we can get information very quickly thanks to smartphones and social media. This is great when the cor­rect information is sent out quickly, but it makes news outlets look bad when the wrong information is cir­culated. On Wednesday, CNN re­ported that the police had someone in custody as the report looked down at his phone and read text messages from his source. However, the FBI soon released a statement saying this was a false report and it definitely did not boost the credibility of CNN. We think it's sad that instead of making sure all of the facts are correct, all the news cares about is being the first to report it. This is a major problem in the world of journalism right now, but we hope that news organizations will learn from their mistakes and keep in mind that being correct is more im­portant than being first.
With one suspect dead and Dzhokhar Tsarnaev now in custody, the question on everybody's mind at the time of the arrest was "Will he be charged as American citizen or an enemy combatant?" On Monday, it was reported by the Justice Depart­ment that he will be tried as an Amer­ican citizen, which guarantees him full constitutional protection.
America is a country that stands for freedom, and we will never let the unimaginable acts of a few diminish what we represent as a country. Truer words have never been spoken than those of President Gaffney when he reminds us that MU is a community and that we need to "be nice to each other and take care of one another." As one editor said, we cannot disre­gard the small acts of kindness we witness every day and feel compelled to shun the human race based on evil because there will always be violent people in the world, but that should not take away from the good still out there.
Our thoughts and prayers go to the victims in Boston, and the hearts of us The Outlook go out to those affect­ed both directly and indirectly.
IMAGE TAKEN from startribune.com
---
---
Correction:
In the April 17, 2013 issue of The Outlook a story was published titled Students Listen to Music From All Around the World. Jen Hom was given the wrong title, it should have read "graduate student and news director for WMCX Jen Hom, also known as 'Sonic.'"