After 10 years of being President of the University, Paul G. Gaffney II will be retiring on July 31. Many feel Gaffney has accomplished much in his time here and they appreciate everything he has done for Monmouth.
"I think President Gaffney was a phenomenal leader for our university because he's so connected to the students, faculty, and campus," senior Kate Nawoyski said. "He really showed students that he cared about us, and I felt so comfortable being at Monmouth because of that."
Oscar Sanchez, former Student Government Association President, said, "I have thoroughly enjoyed getting to know President Gaffney over my years on SGA. He is a president who puts the students first, is always open to listening, and has a desire to learn more about each individual beyond their student ID number." Sanchez added, "He has been such a pleasure to work with, and his dedication to SGA is going to be a tough one to match. As a mentor, leader, and role model, President Gaffney has exceeded all expectations."
Gaffney has seen a lot in his time here and he was able to bring new ideas to the University as well as expand on the plans made by Presidents before him.
"The University was always in great space with a great location. We had an opportunity to build some things, my predecessor had the MAC on the drawing boards and they had been talking about it for ten years," Gaffney said. "I would say Sam McGill (President 20 years ago) and Becky Stafford (President 10 years ago) got us on a really good track to be a University, to be a Division IA program and keep enrollment up between five and six thousand. They had good ideas and I just sort of kept them going and added some new energy to good ideas."
In his time here, the University has seen the addition of several new buildings like the Multipurpose Activity Center, Mullaney Hall, Rechnitz Hall and many more in progress. The University was able to afford these new buildings due to President Gaffney seeking out donors who were willing to help.
"He's been quite masterful at philanthropy and fundraising," Ed Christensen, Vice President for Information Management said. "We've put up a lot of buildings with a lot of fundraised money and some were built entirely from funding that was able to be set aside."
The first one of these donors was Norma Hess, wife of Leon Hess, who President Gaffney grew close with and admired. "When you see a name like Leon Hess with gas stations all around the world, oil drilling, and he was such a great philanthropist and a great man not only in this area but internationally. I think the fact that Monmouth University attracted that kind of support is good news," Gaffney said.
Naming the Business School after Hess is what Gaffney feels is his greatest accomplishment as President.
Under President Gaffney, the University has taken many strides from an athletic stand point, especially with the opening of the MAC in 2009.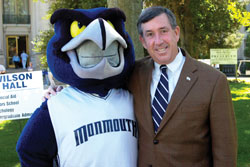 Marilyn McNeil, Vice President and Director of Athletics, said Gaffney believed in athletics and understood what it could bring to the University. "The first time somebody hears about Monmouth is in September on a football score or soccer game so our athletes are out there sort of marketing Monmouth sooner than everybody else is. It was really important that we look good and that we play well and respectfully," McNeil said. "Dr. Stafford was terrific, but President Gaffney really made it relevant and made it important and so I think our sense of stature here went up."
Shane Carle, senior and captain of the track and field team, noted Gaffney's love for athletics and enjoyed the support Gaffney showed for each athletic team. "He would come to practice every once in a while, would always shake my hand and ask how things were. He always knew what we were up to and was always there to cheer us on," Carle said.
In addition to helping the school move forward from an athletic standpoint, people also admired the fact that Gaffney didn't spend all day in his office. Instead he would walk around campus as often as he could, creating visibility and availability.
William Craig, Vice President of Finance, said "Almost any campus event you would go to, he would be there," Craig said. "He would also just walk around the campus and stop and talk to students. He also made himself available for students to come to his office and discuss problems."
University Photographer, Jim Reme, admired President Gaffney's visibility. His favorite memory of Gaffney is when he would help first year students and their families unload their cars on move in day. "He's unloading cars and he's helping people move in and I'm shooting pictures and I ask people if they know who he is and they say no and I say that's the president and people don't believe me," laughed Reme. "He loves that stuff and loves to be out there. He is just like a regular guy."
Gaffney made sure his presence was not only felt on campus, but in the outside community as well.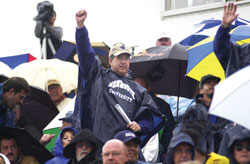 "President Gaffney committed himself to improving relations with the local community and had tremendous success in enhancing the perception of Monmouth University as a good neighbor. He immersed himself into the local community and encouraged others from the University community to follow his lead," Paul Dement, Director of Government and Community Relations said. "The result has led to a community surrounding the campus that is supportive, cooperative, and more receptive to our students while taking pride in seeing Monmouth University improve."
Gaffney said he is a firm believer that universities have a job both in and outside the gates. "I tried to do more things with our talent outside the gates, to get us more involved. The side benefit of that is that you get more well known in the region, the state, the governor's office, in congress, and around," Gaffney said. "That eventually helps enrollment and our reputation as well."
Besides being a presence on campus and bringing several new buildings to the University, Gaffney has also been known for his infamous hand shake, where he takes people by surprise by pulling them closer. Gaffney said it started about 30 years ago when he was still a commanding officer in the Navy. He had spent 300 days on a ship off the coast of Borneo, with about 200 sailors who he really liked.
"When you go up and shake hands with somebody, you know you're not going to hug a sailor, but you want to show a little bit extra and I started doing it," Gaffney said. "I did it at a ceremony one time and people noticed it and commented on it and I've been doing it ever since."
The handshake has frequently been seen at commencement. Gaffney admits he does worry that with the wrong kind of tug, the female students wearing high heels could fall over. Fortunately, no one has yet to take a tumble.
Gaffney also noted his high regard for the Board of Trustees throughout the years. He said that it was meeting the board members back in 2003 that made him realize that Monmouth was definitely the place he wanted to be.
"They're welcoming, kind, great people, and a great part of this job is working with them," Gaffney said. "They pretty much don't tell me what to do every day and we have a fantastic relationship."
Robert Sculthorpe, Chairman of the Board of Trustees, returned that feeling of respect and admiration. "We have enjoyed tremendously working with [him] and now his decade has come to an end. He's contributed mightily and has moved the University in so many ways down the road to the positive side of the ledger," Sculthorpe said. "We've had a terrific decade and a terrific president."
Following his retirement, Gaffney and his wife Linda will be moving down to Columbia, South Carolina which is located very close to the University of South Carolina. Gaffney is not sure what he is going to do yet, but he is sure once he settles down he will figure out what to do to occupy his time. Gaffney did state that he would not necessarily work at the University of South Carolina, but could still be a presence on their campus.
"I could sit at baseball practice, go to a play, go to a lecture, maybe take some courses," Gaffney said. "Maybe I'll be a journalist, you never know." As far as definite plans go, he looks to play some golf and do some traveling with his wife.
When Gaffney's term is up at the end of July, Dr. Paul Brown's presidency will begin. Gaffney and Brown speak on a daily basis, as Gaffney wants the transition to be an easy one for Brown.
Gaffney's advice for Brown is that he continues Gaffney's tradition of walking around campus.
"You need to go to games, you need to go to practice, you need to go to concerts, go to the student center twice a day, need to walk through the dining hall every once in a while, show up in a lecture or class and you need to be seen on this campus because it is a real benefit of this job," Gaffney said. "When you're frustrated with paper work, you can escape in a minute to a very pleasant environment. Walk around, be seen, get people to know you and not be terrified of you and you also get to see what's going on."
The Dining Hall and Student Center have both been named after previous Presidents. Gaffney, however, does not wish to see a building named after him. He believes buildings should be named after donors who have been generous to the University. "People who give a lot of money, get their names on things. Some day if I'm a zillionaire, I'll give money to the University and I'll be happy to have my name on a building, but until then I think we should save all the real estate we have here for the big donors," Gaffney said.
He did joke that if the University wanted to name something after him they could name the first lane of the indoor track after him.
Gaffney said he has learned a lot over the last 10 years.
After years of telling everyone at the University to take care of yourself and take care of others, it is now time for President Gaffney to take care of himself and to have a great relaxing retirement down in South Carolina.
Here are some others who would like to wish President Gaffney a happy retirement:
Petra Ludwig Shaw, Director of Public Affairs:"I am amazed how much has been accomplished during President Gaffney's tenure. He has helped raise the profile of the University regionally. It has been a pleasure and honor to work for him. He has handled media interviews with charm, intelligence, and savvy. Reporters are eager to talk to him because of his expertise in a wide variety of topics including higher education, campus safety, ocean policy, Fort Monmouth, and even weather forecasts. I thank him for all he has done for Monmouth University and the community."
Grey Dimenna, Vice President and General Council:"I will always remember the time he decided to hop on my Harley which was parked in Lot 9 to check it out. Since it weighs over 700 pounds it is a bit hard to handle if you are not used to it. I was afraid he was going to drop it but luckily for all he didn't. I told him he wasn't allowed to do that again. Admiral, sir, may I never see your name on the binnacle list."
Senior Sam Palmucci:"I feel really grateful that for four years I studied at an institution with such great leadership. There's something about a president who is so committed and invested in the students, someone who can be seen at a basketball game, an RA awards ceremony, a new student orientation session, a musical, etc. He really showed us what it means to be a Monmouth Hawk."
Alumnus Kevin Sanders:"Above all else, I remember President Gaffney as someone who went to work every day with the student's interests first and foremost on his mind. With all of his prestige and life achievements, he made a conscious effort to engage those who came to the school and understand their interests, accomplishments, struggles, and critiques. That level of care and dedication trickled down effortlessly through the rest of the administration and in the end, it made Monmouth a better university. Monmouth will move forward as a better place with Paul Gaffney having been its leader."
Vice President for Student and Community Services Mary Anne Nagy:"He's a terrific person and I've learned a lot from him. I've learned a lot from him from a leadership perspective and as a manager. I have tremendous respect for him and I am very happy that he will have some time to pursue some other interests that he may have. I have become very fond of him and he's been a great mentor and boss. So for me it's also a personal loss, but I think that it's always great when you can find some time to do the things that you want to do after you've worked a long career."
Additional reporting done by Alexis Orlacchio and Christopher Orlando.
PHOTOS COURTESY of Jim Reme