University students and faculty demonstrated school spirit through the celebration of Homecoming weekend by attending a pep rally in the Multi-Purpose Activity Center (MAC) on Friday, Oct. 18, and tailgating and attending the football game against Cornell University on Saturday, Oct. 19.
Many members of Greek life were present at the tailgate, as well as University Alumni and a handful of other on campus organizations, such as the Residence Hall Association (RHA) and the Alternative Spring Break group. Representatives from both Hawk TV and WMCX were also at the tailgate broadcasting the Homecoming festivities live to those tuned in.
Every year, Student Government Association (SGA) designates a specific theme for the University's Homecoming weekend. This year the theme was "Monmouth Through the Ages."
Various organizations at the University selected an era to represent during the Homecoming weekend. The University's sororities and fraternities created shirts and dressed up, while clubs and departments decorated tents and brought favors for the occasion.
The annual Homecoming parade began around noon, and featured several Greek organizations as well as a few on-campus clubs and organizations. Last year, those involved in the parade built their own floats, this year however, SGA decided changed the requirement to create banners.
Ashley McMahon, SGA Homecoming Chair, was in charge of this change from floats. "Banners are cheaper and much easier to make. Because of that, I felt as though the clubs and organizations would be more likely to participate and would actually enjoy the process of creating it rather than it being a big hassle," she said.
McMahon explained that this year there were far more banners than there ever have been floats, and that there was even participation from clubs outside of Greek life. The organization with the best banner was also awarded $300. The Monmouth University Dance Team won the competition and was announced at halftime.
Aside from the tailgate and football game, the announcement of Homecoming King and Queen at halftime was highly anticipated by the student body. The winners were announced during the halftime show, Lorenzo Russomanno was crowned Homecoming King and Eva Rosamilia was named Homecoming Queen. "In the moment, it was almost surreal. As a freshman, I remember seeing the Homecoming King and Queen being crowned on the football field and never in my life would I have thought I would be standing in the same position as all the past kings before myself," Russomanno said.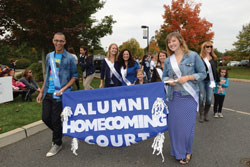 Rosamilia was expressed satisfaction be her win. "It was really exciting and I felt so honored. It was a great way to end my last Homecoming," she explained.
Brittany O'Gorman, sophomore criminal justice major said, "I liked how a majority of the student body was all together in one place for the same reason. Everyone was having a good time with friends while showing school spirit."
Russomanno's favorite thing about the weekend, aside from being crowned King, was seeing all of the school spirit as the University community came together to celebrate one of the biggest events of the school year. Rosamilia enjoyed celebrating with all of her friends and sorority sisters.
McMahon was especially happy to see all of her planning and hard work pay off in the end. "I think Homecoming Weekend was a great success. Everybody seemed to have a great time and I am honored that I was able to create that experience for everyone," she said.
PHOTO TAKEN by James Reme
PHOTO COURTESY of Jim Reme